Nature Preserves
Find Scenic Views and Abundant Wildlife at the Nature Preserves in NC's Brunswick Islands
From the area's 45 miles of pristine beaches to the unique inland ecosystems, North Carolina's Brunswick Islands is home to a range of diverse nature preserves where wildlife thrives. Visitors can enjoy beautiful scenery and discover native plants and animals, by foot, bike, kayak and more. Choose one of these five nature preserves for your next excursion in the Brunswick Islands, and read on to learn more about local efforts to sustain many of these picturesque spaces from Mansfield Fisher with The Nature Conservancy.
Bald Head Island
Accessible by ferry or private boat, Bald Head Island features 10,000 acres of salt marsh and 180 acres of protected maritime forest, all preserved by the Bald Head Island Conservancy. This distinct coastal area is also part of the NC Birding Trail, where visitors can spot Wilson's Plover, Painting Bunting and several types of wintering waterfowl. The kayaking and birding expeditions offered throughout the year by the Conservancy offer a non-intrusive and scenic view of these fascinating species.
Bird Island
Located on an undeveloped portion of Sunset Beach, Bird Island is a treasure with more than 1,200 acres of unspoiled salt marsh and tidal creeks, along with natural dunes and sandy beaches. The island serves as an outdoor laboratory and classroom for scientists and students to learn more about how the ecosystem functions and how we can help to sustain precious coastal areas. The Bird Island Preservation Society Stewards also lead educational walks at certain times during the year. Access Bird Island from the southernmost public beach access point on Sunset Beach to make the trip by bike or foot – be sure to look for the Kindred Spirit Mailbox in the dunes about a mile down the beach!
Boiling Spring Lakes Preserve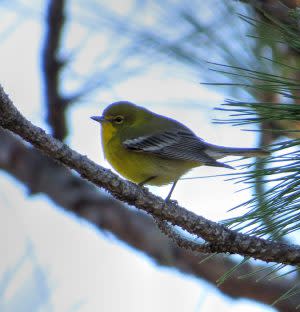 More than 6,000 acres make up this expansive preserve of rare plants and animals. Boiling Spring Lakes Preserve is home to the endangered red-cockaded woodpecker, carnivorous plants, rough-leaf loosestrife, and more than 400 vascular plant species, including the Venus flytrap. Visitors can see the stunning preserve for themselves on the Boiling Spring Lakes Nature Trail, accessible at the town's Community City off Highway 87. The preserve is also part of the NC Birding Trail where visitors can encounter species like the Pine Warbler, Indigo Bunting, Blue Grosbeak and more.
Ev-Henwood Nature Preserve – preserved by UNCW
Encompassing 175 acres preserved by University of North Carolina Wilmington, the Ev-Henwood Nature Preserve boasts an impressive variety of native plants and animals in the inland town of Leland. Sightings of the Prothonotary Warbler, Swainson's Warbler and Summer Tanager earned this preserve a spot on the NC Birding Trail. Visitors can take in this natural haven on seven miles of maintained trails throughout the preserve.
Green Swamp Preserve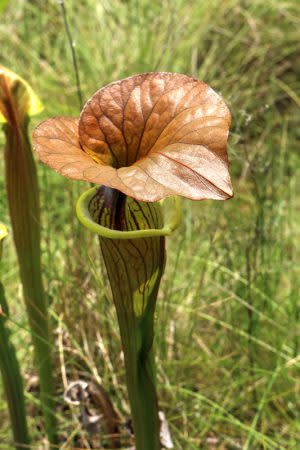 Sitting on 15,000 acres, the Green Swamp Preserve is an incredibly unique natural space, considered a longleaf pine savanna, with a diverse herb layer of orchids and insectivorous plants in the open areas. The Preserve is also home to four species of pitcher plants, a stunning sight and great photo-op for nature enthusiasts. Beyond plant life, a range of animals are native to the Green Swamp Preserve – notably the American alligator, fox squirrel, Henslow's and Bachman's sparrow and Hessel's hairstreak butterfly. Just minutes from the coast, visitors can park at the trail access point off Highway 211 in Supply to see this splendid preserve for themselves.

More on nature preserves with Mansfield Fisher of The Nature Conservancy:
Mansfield Fisher works with The Nature Conservancy at the Wilmington, NC-based field office, which focuses on Longleaf restoration through controlled burning. Much of Mansfield's work takes place at the Green Swamp Preserve in Brunswick County.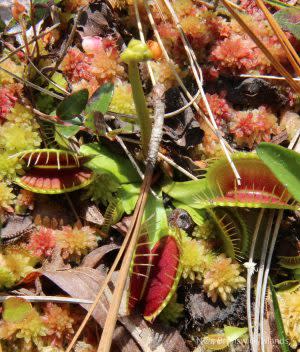 "Last year, our Longleaf program in North Carolina assisted or led on controlled burns totaling more than 25,000 acres. We are working to restore natural Longleaf Pine systems and preserve these threatened ecosystems that are home to many rare plants, like the Venus flytrap."
Why is the fall season a great time to visit the Green Swamp Preserve?
"There is always a reason to go out to the Green Swamp in Brunswick County because, as the seasons change, there will be many different plants to see. The fall is a great time to visit the Green Swamp because this is when many of the grasses flower. The wiregrass and bluestems produce seas of golden grass. Some of the showier plants that bloom in the fall are narrow-leaved sunflower, blazing star, goldenrod, and many kinds of asters."
What is some of the most unique wildlife you've seen in the Green Swamp Preserve?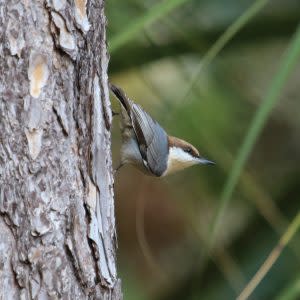 "There are 16 species of native orchids that can be found in the Green Swamp and 14 different species of carnivorous plants. You will see beautiful longleaf and pond pine trees throughout the preserve. The Green Swamp is a birdwatchers' paradise. Some of the bird species that can be found are Bachman's Sparrow, Brown-headed Nuthatch, Bobwhite Quail, Pine Warbler and Henslow's Sparrows. If you are lucky, you may see White-tailed deer, eastern cougar and bobcats."
What is your favorite fact about the Green Swamp Preserve that people may not know?
"My favorite fact about the Green Swamp is the important role that fire plays in maintaining the delicate balance of these ecosystems. Lightning and Native Americans maintained fire in these ecosystems and, therefore, many of the plants in the Green Swamp need fire to survive. Without periodic burning, the savannas would become overgrown with shrubs and crowd out many of the flowering herbaceous plants."