Travel & Maps
Hurricane Isaias Update 
(Updated 8:40 am  August 10, 2020)  Hurricane Isaias, a quick moving storm, left the area in the early morning hours of August 4, 2020. 
All towns in Brunswick County are open; however, there are some isolated areas that are closed:
Town of Oak Island: The mandatory evacuation for all non-residents (short-term renters, guests) is still in place, and no new short-term rentals are allowed in the following area: All areas west of SE 40th Street on Beach Drive, Dolphin Drive, Pelican Drive, Kings Lynn Drive and the side streets connecting to them (the Restricted Area). Short-term rentals are also prohibited on Beach Drive (the north and south sides of Beach Drive) from SE 40th to SE 58th Street.  The beach is closed from SE 40th Street to the west end of the island.
City of Southport: The Waterfront area is closed including East Bay Street and Atlantic Avenue through Bay Street, Brunswick Street, Yacht Basin Drive, and Short Street to the Southport Marina remains closed until further notice.
State officials advise against swimming in waters impacted by major events like hurricanes. The State will conduct testing as soon as testing sites are accessible. For more information click here.
Travel and Maps
With our mild year-round climate, North Carolina's Brunswick Islands is a perfect vacation spot for all seasons.  Use the maps and charts below to assist in planning your trip. 
Airports
Wilmington International Airport
​37 miles away from Shallotte, NC
910-341-4333
 Cape Fear Regional Jetport
5 miles from Southport, NC
910-457-6483
 Odell Williamson Municipal Airport
Ocean Isle Beach, NC 
910-579-6152
Myrtle Beach International Airport, SC
45 miles away from Shallotte NC
803-448-1589
Approximate Distance and Driving Time to Shallotte from Major Cities in the Southeast
Asheville, NC
320 miles5 hrs
25 mins
Atlanta, GA
390 miles
6 hrs 16 mins
Charleston, SC
135 miles
2 hrs 40 mins
Charlotte, NC
187 miles
3 hrs 30 mins
Columbia, SC
184 miles
3 hrs
Fayetteville, NC
92 miles
1 hr 47 mins
Raleigh, NC
165 miles
2 hrs 44 mins
Richmond, VA
292 miles
4 hrs 51 mins
Washington, DC
403 miles
6 hrs 22 mins
Winston-Salem, NC
219 miles
3 hrs 40 mins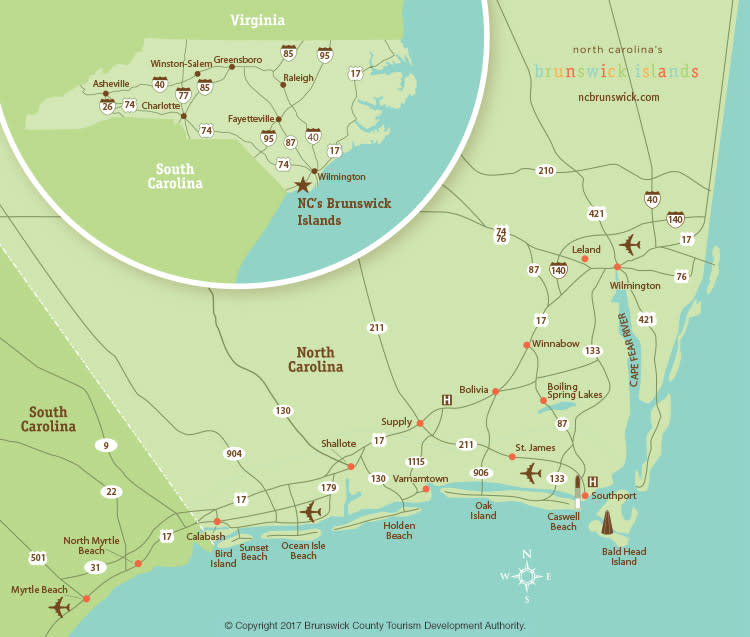 Explore NC's Brunswick Islands Fun & Adventure