If you're craving a relaxing, unplugged vacation, an escape to Bald Head Island in North Carolina's Brunswick Islands is just what you need. The magic of the island is that it remains completely untouched by time—and cars. It's only accessible by ferry or private boat, and visitors can explore the idyllic island on bikes, golf carts, or the old-fashioned way: walking! The natural beauty of Bald Head has been preserved for hundreds of years. From salt marshes and sand dunes to lush forests and beaches, the island is teeming with unique wildlife. A trip to Bald Head Island is like no other, so keep reading to get a glimpse of the adventures that await you!
What to Do on Bald Head
Bald Head offers one-of-a-kind thrills that every visitor should experience! Don't miss a thing with a guided Island Walking Tour. Offered by the Old Baldy Foundation, take your pick between a Civil War walking tour where you can see the remains of Fort Holmes, or see the island via golf cart on the island-wide history tour. Prefer to do your own exploring? With no cars allowed on the island, bikes are a popular mode of transportation for those on Bald Head and can be rented at any of the number of adventure outfitters in the community.
Don't forget to get your steps in at Old Baldy Lighthouse and Museum, North Carolina's oldest standing lighthouse (built in 1817)! Overlooking the Cape Fear River, the spectacular views make the climb to the top worth it. History lovers should also wander the adjoining Smith Island Museum to learn more about the island's rich past.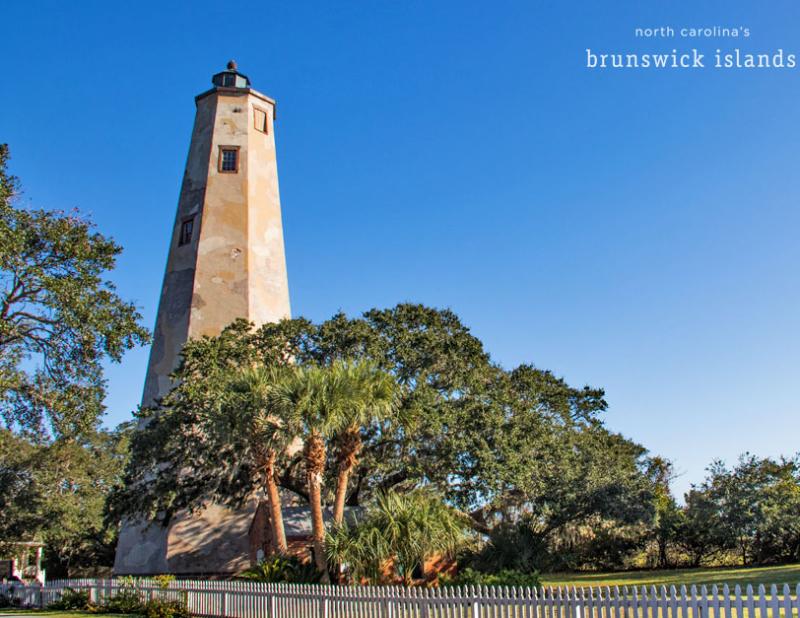 If you're looking for another unique way to see Bald Head, try paddling your way around the island with a guided kayak tour. The Bald Head Island Conservancy tours, led by expert naturalists, will teach you all there is to know about the flora and fauna of Bald Head so you can immerse yourself in the island's ecosystem. The Conservancy also offers hiking adventures, birding excursions, and kid-friendly programs like Sea Turtle Patrol, where kids ride along with staff members to help protect nesting sea turtles. You can also take a guided kayak tour, or even a fishing adventure, with Riverside Adventure Co., and they have everything you need to cruise around the island or paddle your way through the tidal creeks!
For avid golfers looking to get a round in on their vacation, check out the Bald Head Island Club, which has a premier course on the island. While private, guests renting homes on the island that carry a membership can purchase temporary memberships to snag a tee time. Check with your vacation rental manager regarding booking a tee time.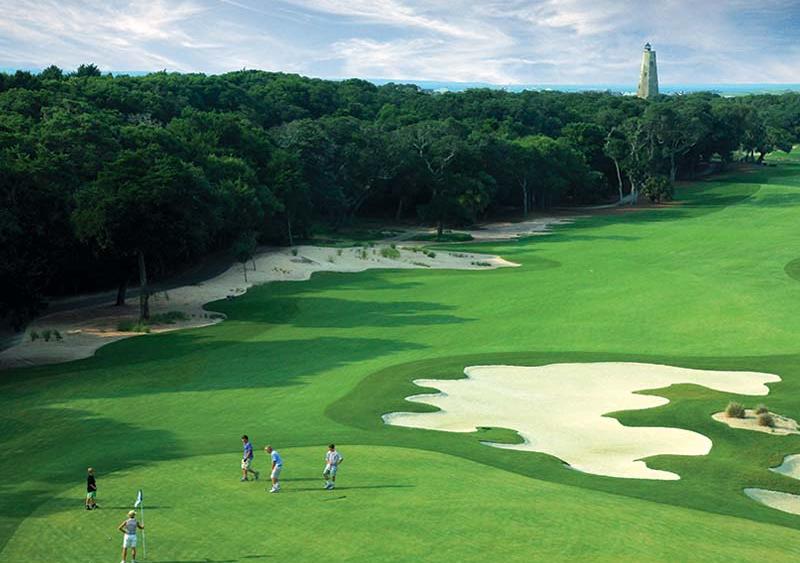 photo courtesy of Bald Head Island Club
Like with any trip to the Brunswick Islands, no vacation is complete without some beach time. With 14 miles of sandy shores, you'll have plenty of room to build sandcastles or just catch some rays on Bald Head Island. South Beach is ideal for family fun, and you're sure to find beautiful seashells along Cape Fear Point.
If all that time outside wears you out, treat yourself to a massage or facial while vacationing on Bald Head! Get pampered at the Island Retreat Spa, where you can choose from an array of soothing massages and treatments. Island Retreat also offers yoga and Pilates classes to help you unwind and leave your troubles behind.  
Where to Eat & Drink
There are plenty of spots to enjoy a meal and fuel up for your island adventures on Bald Head. Can't decide which cuisine you're in the mood for? You don't have to choose at Delphina Coastal Cuisine, a family restaurant cooking up Mexican dishes, American fare, and pizzas to go. If you're looking for dinner with a view, Jules' Salty Grub & Island Pub is the only Bald Head waterfront restaurant located on the marina. You can't go wrong with any of their seafood dishes or sandwiches. End the night sipping on specialty cocktails and wine while watching the sun set over the water. Then, grab some ice cream or specialty drinks next door at Sandpiper Coffee & Ice Cream.
Where to Stay
Bald Head's lodging options are just as charming and unique as the island itself! One option is staying in a cozy vacation rental nestled right on the beach. There are multiple rental companies on the island that you can use as a resource to find the perfect place. If you're looking for a homey bed and breakfast, check out the Inn at Bald Head Island. With themed rooms, breathtaking views, and daily refreshments, you'll never want to leave the inn! Located in the heart of it all, Marsh Harbour Inn sits right on the marina and is another stand-out option for your stay.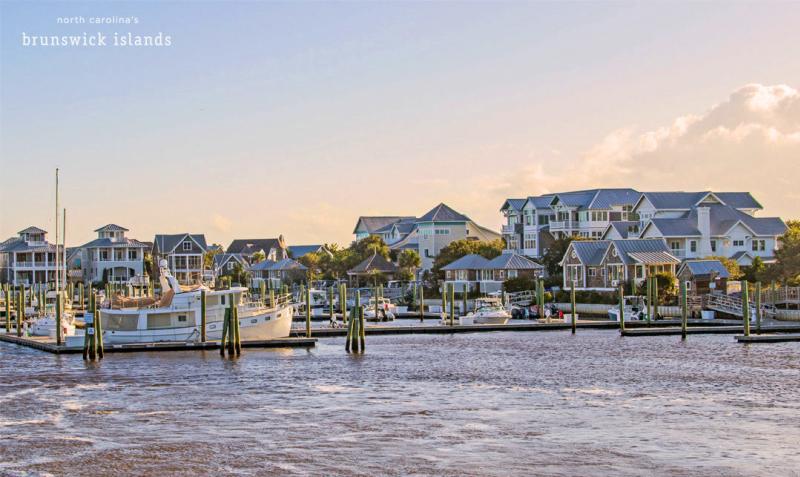 Take a step back in time and embrace the natural wonders and nostalgic charm of Bald Head Island. It's sure to be an unforgettable experience. Head over to www.ncbrunswick.com for more information on visiting!