Story Ideas
North Carolina's Brunswick Islands:
Small Town Charm, Bird's Eye-view, Stargazing, Golf Coast, Food Fights, Kindred Spirits, Sand Mazes and Lighthouses
In the southernmost corner of North Carolina, stretching from the Cape Fear River to the South Carolina border, lies North Carolina's Brunswick Islands. Five barrier islands provide secluded spots on six pristine beaches for families and nature-lovers. Quaint island and mainland towns beckon with friendly faces and family-owned B&Bs, restaurants and shops. Forts, lighthouses, historic architecture as well as boating, fishing and 30 golf courses offer plenty to do and see. Reminiscent of yesteryear's beach vacation, thousands of families fall so in love with the area that they return year after year, generation after generation.
---
Southport - Motion Picture Perfect
Southport, named "America's Happiest Seaside Town" (Coastal Living) and a 2021 top 5 best coastal small town (USA TODAY), boasts loads of history and picturesque beauty, so much so that it's attracted the attention of the film industry. Visitors can participate in a guided tour to see locations for iconic scenes from over 40 movies and TV shows, such as Safe Haven, A Walk To Remember and Under The Dome. Southport has also recently been the location of several soon-to-be-released projects, including The Summer I Turned Pretty from Amazon Prime, Boys of Summer with Mel Gibson and Netflix's Along for the Ride and Echoes miniseries. The historic maritime town in NC's Brunswick Islands, located just a short drive from Oak Island, has preserved its 18th century roots as a military and fishing village while developing a 21st century vibe with pedestrian-friendly streets lined with antique stores, unique boutiques, art galleries, and great local restaurants serving up fresh seafood. https://www.ncbrunswick.com/things-to-do/attractions-activities/brunswick-islands-in-the-movies/
---
Climb a ship's ladder 158 feet for a bird's eye-view.
Oak Island Lighthouse is one of only a handful in the country that use a series of ship's ladders, instead of the typical spiral staircase, to access the top. Those who climb the 131 steps are rewarded with a 360 degree view of the Cape Fear River and surrounding barrier islands. Oak Island Lighthouse and Bald Head Island Lighthouse, "Old Baldy," are both open to the public. When Oak Island Lighthouse was activated in 1958, it was the brightest lighthouse in America and the second brightest in the world. The paint colors are mixed into the concrete so the bands of grey, white and black will never need to be repainted. https://www.ncbrunswick.com/things-to-do/attractions-activities/lighthouses/
---
Experience Larger Than Life Sand Mazes
In addition to the stargazing, North Carolina's Brunswick Islands boasts several other unique experiences that can't be missed. Head over to Sunset Beach, which has its very own celebrity performance artist in the form of Hunter Gibbes, aka Sunset Beach Maze Man. Beachgoers who are lucky enough to come across his intricately designed sand mazes can take on the challenge of completing them. Gibbes has created more than 400 beach mazes in the over 15 years since he started, using just a shovel and his imagination. Each maze takes 45 minutes to 2.5 hours to create depending on the size and the complexity. The mazes often run the full width of the beach from dune line to the ocean — equivalent to 1/3 of a football field — and 100-175 feet in height.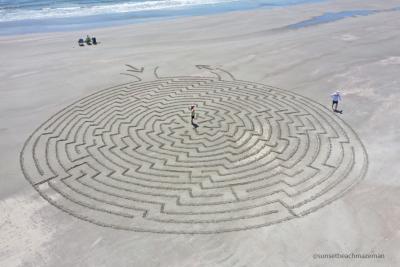 @sunsetbeachmazeman
---
Kindred Spirits Mailbox Personifies Laid-back, Intimate Vibe of NC's Brunswick Islands
Walking down a deserted beach in 1981, a mysterious lady had a vision: a shimmering mailbox near the tide line. Realizing it was a mirage, the Brunswick Islands resident decided to "plant" a mailbox near the spot and placed notebook and pencils inside. What started as a plea to help save Bird Island from development has morphed into a local treasure as residents and visitors from the U.S. and overseas convey fond memories, tales of love won and unrequited, letters of encouragement to lost souls, and other reflections. A 30-minute walk from the last public access on Sunset Beach gives writers time to reconnect with self and spirit.  www.ncbrunswick.com/blog/post/secrets-of-the-kindred-spirit-mailbox/
---
Destination Weddings Can Be More Than Just a Dream
How do I marry thee? Let me count the ways: North Carolina's Brunswick Islands offers options on land, sea and sand. Imagine the romantic memories of exchanging vows in a lighthouse, among the ruins of a historic church, with sand between your toes, at an elegant and art-filled winery, or under a lavishly-decorated tent or gazebo. Here, the sun both rises and sets over the ocean, setting the stage for romance in a way that few other places can. More than a dozen wedding planners, 30 caterers and 11 photographers in North Carolina's Brunswick Islands are available to help with beach weddings, rehearsal dinners and other details for a memorable event.  www.ncbrunswick.com/weddings
---
Adventure Beyond the Beach
The ecosystem of the Brunswick Islands produces the perfect place for some nature-filled fun. Adventurers can zip through The Swamp Park on a sustainable zipline course that navigates through a 300-year-old swamp and cypress canopy, or take an eco-boat tour through swamp. The ocean, rivers and Intracoastal Waterway offer a medley of water-based action like canoeing, kayaking, wind sailing, paddle boarding, surfing and fishing. Birding is especially popular in the spring, as the area's many bird sanctuaries offer views of a wide variety of species during their nesting season.  
---
See the Stars Like Never Before
Travelers are becoming more and more interested in destinations that specialize in providing once-in-a-lifetime nature experiences, stargazing being one. North Carolina's Brunswick Islands boasts some of the most amazing stargazing spots along the East Coast. Due to the area's lack of light pollution and high rises, as well as its south-facing beaches, stargazers can enjoy vast constellations surrounded by nothing but the ocean and sand. The Brunswick Islands offers the most epic views of the stars during the Milky Way season directly from the shores of any of its six beaches - Ocean Isle Beach, Holden Beach, Oak Island, Caswell Beach, Bald Head Island, and Sunset Beach. Sunset Beach is also home to Ingram Planetarium, where visitors can get a tour from a presenter paired with an up-close-and-personal view of the constellations, planets and stars in the area directly from the planetarium's dome ceiling; later, as they walk along the beach on a clear night, they'll be able to recognize the celestial sights they see by name.  https://www.ncbrunswick.com/blog/post/see-the-stars-shine-brighter-than-ever-stargazing-in-ncs-brunswick-islands/ 
---
Bird Watching at Its Best
For the bird enthusiast, North Carolina's Brunswick Islands are home to nine official sites along the NC Birding Trail where visitors can see numerous examples of indigenous bird species. Nature trails explore the area from Sunset Beach and the shores of the Cape Fear River to Brunswick Town-Fort Anderson State Historic Site and several nature preserves, offering plenty of places to perch and observe the Wilson's Plover, Piping Plover, Sandwich Tern, Least Tern, Painted Bunting, Summer Tanager, Prothonotary Warbler, Bald Eagle and waterfowl that make their home here. A ferry ride to Bald Head Island Conservancy provides access to 14 miles of pristine beaches and one of the stops on the NC Birding Trail.  www.ncbrunswick.com/things-to-do/nature/birding/
---
North Carolina's Golf Coast
Just a chip shot across the NC/SC border from more well-known and well traveled golf destinations, North Carolina's Golf Coast quietly features more than 30 championship courses boasting all the pedigree but none of the crowds. Designed by Arnold Palmer, Rees Jones, Fred Couples, Dan Maples, Tim Cate and other golf greats, courses with magnificent coastal scenery and challenging play come with easy availability of tee-times, great deals and packages for groups of every size. Accommodations range from inns, hotels and condos to resort settings.  www.ncbrunswick.com/blog/post/courses-offer-pure-golf-experiences/