Visitors to North Carolina's Brunswick Islands know that a balanced summer diet is not complete without a daily dose of ice cream! There is no better way to escape the summer heat than to indulge in a frosty treat at one of the many charming ice cream shops in the Brunswick Islands. Each town offers a splendid variety of delicious flavors that are guaranteed to satisfy your sweet tooth.
With countless options for delicious ice cream in the area, NC's Brunswick Islands is the best place to enjoy a tasty treat after a fun-filled day at the beach. Check out our list below for the inside scoop on some of the local ice cream shops in the area!
Calabash may be the "Seafood Capital of the World," but they are scooping up more than just the daily catch! At Calabash Creamery, experience homemade and unique seasonal and traditional flavors packed with fresh ingredients. During the month of July try "Sunset Peach," made from fresh, locally grown peaches and named after the neighboring town of Sunset Beach! Traditional flavors such as Mint Chocolate Chip and Cookies & Cream are also available. Other great ice cream options in Calabash include Back Porch Ice Cream, where frozen yogurt is served alongside ice cream, and Calabash Sweets & Ice Cream, serving a variety of candies and sweet treats to accompany its ice cream options.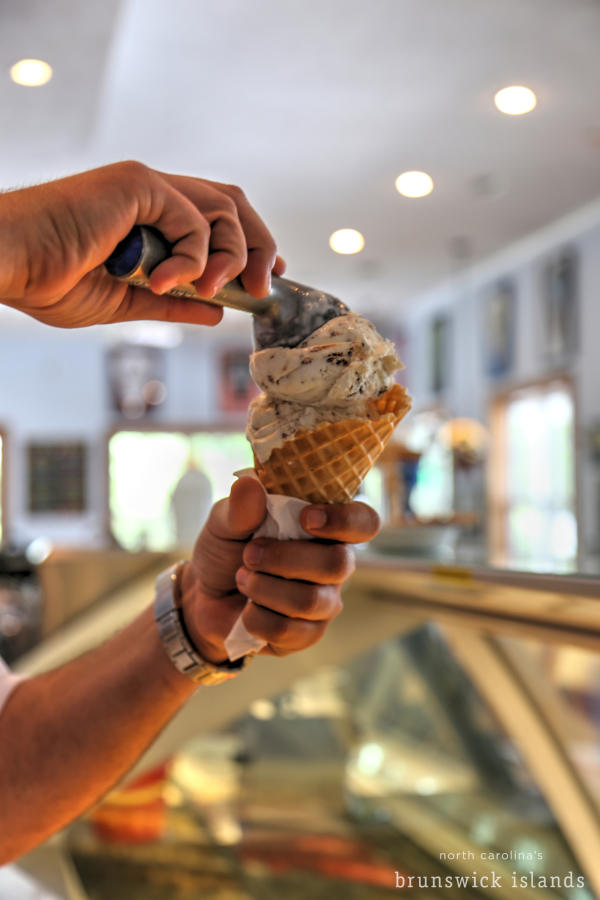 For a sensational sweet treat in Sunset Beach, check out the locally owned, family-friendly ice cream shop, MooTown. Located near the Intracoastal Waterway in Sunset Beach, MooTown offers sugar cones, milkshakes, and bowls of ice cream, with more than 30 flavors for you to choose from. They also make their own custom waffle cones, such as the confetti cone! MooTown offers table seating both indoors and outdoors for you to enjoy your delectable dessert.
Just minutes from the Ocean Isle Beach Pier is the delicious ice cream parlor, Ocean Isle Creamery. Ocean Isle Creamery offers various mouthwatering flavors to choose from that are guaranteed to leave you wanting more. Locals suggest a scoop (or two) of strawberry ice cream on a freshly made waffle cone. Sit and savor your sweet treat on the lovely wrap-around porch furnished with rockers or bring it to go and take a stroll to the nearby Ocean Isle Pier. Visitors to Ocean Isle Beach can also pop on over to The Ice Cream Shoppe or 2 Ladies and a Scoop for more yummy ice cream shops in town. 
Everyone needs a daily scoop of ice cream on vacation, right? Well, we agree! In the city of Shallotte, The Daily Scoop on Main is the perfect hot-spot to fulfill all of your cravings. Fro-yo, soft serve and 24 great flavors will keep you going through those long days on the beach. Personalize your frozen treat with a variety of flavorful toppings that will make your taste buds squeal. For those seeking a healthier option, The Daily Scoop offers sugar-free, gluten-free and nondairy choices so everyone can enjoy. Or if you are looking for something more nostalgic, grab an old fashion chocolate dipped cone from the Dairy Queen.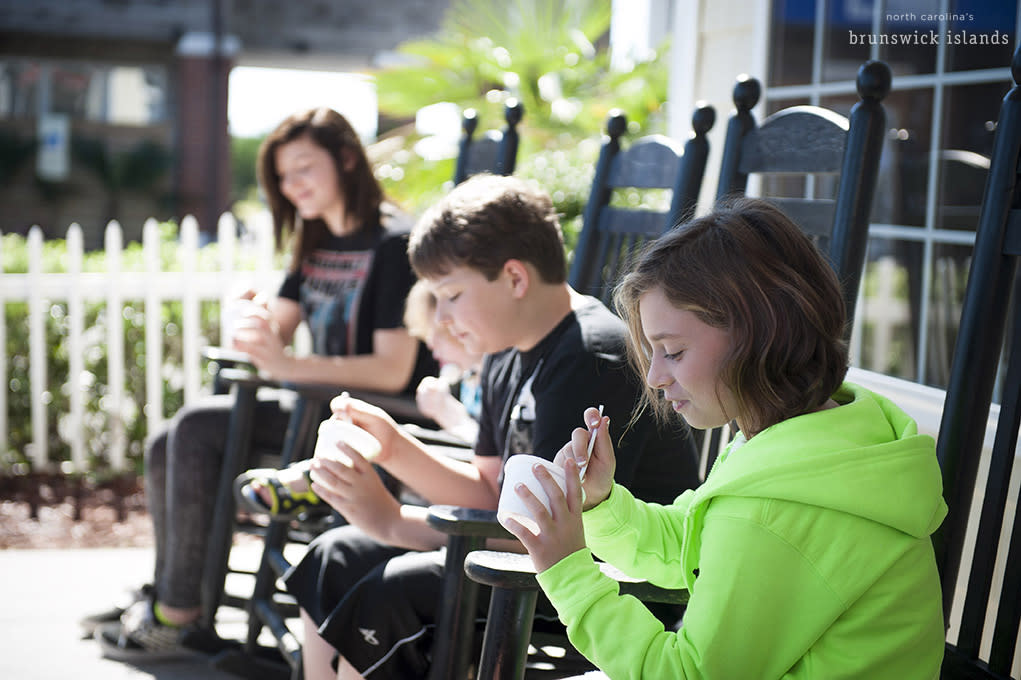 For ice cream fanatics, hop on over to Holden Beach for Beaches-N-Cream, a local favorite famous for serving creative, fresh and top-notch ingredients in many mouthwatering flavors. More than 20 flavors are offered at this charming blue-house shop! From Brookie Dough to Buttercream Cupcake, Beaches-N-Cream's delicious creations make guests' ice cream dreams come true! Visitors can also explore other can't miss ice cream shops in Holden Beach like The Scoop, Fantasy Isle Ice Cream & Mini Golf or Saltwater Shanty.
One island over sits Oak Island and the beloved Frosty's Ice Cream shop. This dessert destination doubles as a souvenir and antique shop filled with adorable island finds and a variety of authentic seashells found on the local beaches. Frosty's offers new flavors each year and authentic malts that blast visitors into the past. Oak Island also is home to Lil & John's Sweetreat Ice Cream Parlor, OKI Scoop Shop and Donuts, Dairy Queen, and Tropical Treats.
Calling all sundae seekers! Flava's Ice Cream in Southport is a premier, old-fashioned ice cream shop featuring four signature sundaes, classic milkshakes, ice cream sandwiches and even Flava's floats. Grab your chilly treat and enjoy the warm weather out on the porch in one of Flava's comfortable rocking chairs. After indulging in your refreshment, take a stroll through the gift-shop and browse an abundance of souvenirs you won't want to miss! Visitors can also check out Chuck's Homemade Ice Cream for farm fresh, made from scratch ice cream or visit Spikes Dairy Bar for an authentic family owned ice cream shop that uses only premium ingredients.
Just a short walk away from North Carolina's oldest lighthouse, Old Baldy on Bald Head Island, is Sandpiper Coffee & Ice Cream. This ice cream shop is a great place to grab a cone and walk over to the beach to enjoy the sunset! A can't miss treat offered at Sandpiper is the Java Shake, the perfect option for cooling off and energizing on a long, hot summer day. Sandpiper serves homemade ice cream made by local vendors.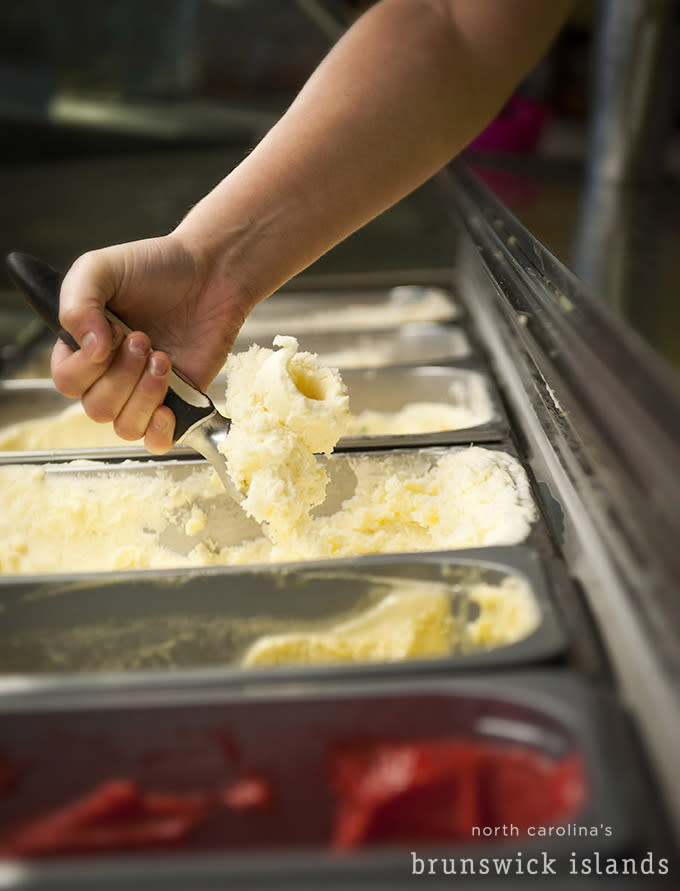 Why settle for just one scoop when you can taste all of the delicious flavors that the Brunswick Islands have to offer! For more information on North Carolina's Brunswick Islands, please visit www.ncbrunswickislands.com.