With 45 miles of unspoiled beaches, you're never without a "something blue" when you hold your wedding ceremony in North Carolina's Brunswick Islands. Whether your ideal setup is an intimate microwedding on the beach walking down the aisle with sand between your toes or eloping at the top of a lighthouse overlooking the water, you can find the ideal venue for any wedding in NC's Brunswick Islands. 
Check out our suggestions below for planning the perfect wedding with beautiful venues, mouthwatering restaurants and accommodations fit to house any size party in the Brunswick Islands.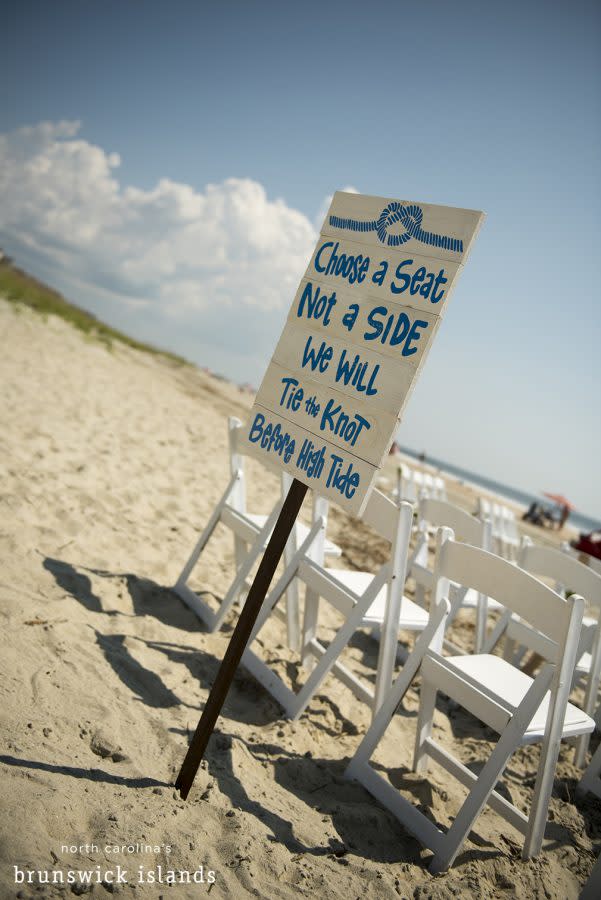 Wedding Venues for Every Couple
The five barrier islands and coastal towns that make up NC's Brunswick Islands offer numerous unique wedding venues sure to make your big day memorable. No surprise here, but our favorite venue option for couples on their wedding day is right on the beach! With six to choose from, there's a beach fit for every bride and groom in the Brunswick Islands. 
For those looking to hold a microwedding with loved ones at a more "official" venue there are many options to consider including the Silver Coast Winery, The Barn at Rock Creek, Brick Landing Venue, Brunswick Town/Fort Anderson Historic Site, Ingram Planetarium or the Museum of Coastal Carolina.
Silver Coast Winery boasts acres of breathtaking landscapes and a picture-perfect vineyard, making it the ideal place for a fairytale wedding. The indoor art gallery provides a contemporary yet sophisticated location for smaller events, while those looking to stay outdoors can opt for the patio and lawn area that overlook a beautiful woodland setting. The Barn at Rock Creek is perfect for couples looking for an authentic farm setting. This venue celebrates the simple things in life with a rustic yet elegant backdrop for any kind of celebration. For those looking for a venue with in house catering and gorgeous, panoramic views of the Intracoastal Waterway, look no further than the Brick Landing Venue. Located in Ocean Isle Beach, a variety of indoor and outdoor spaces are sure to please you and your guests. 
For those wanting something a little more untraditional, Brunswick Town/Fort Anderson, Ingram Planetarium and the Museum of Coastal Carolina are great options. Sitting on colonial Brunswick Town/ Fort Anderson are the historic remains of St. Philip's Church. Hidden among the oaks and Spanish moss along the western bank of the Cape Fear River, this serene and tranquil waterfront setting is available for wedding ceremonies and receptions as well as rehearsals and rehearsal dinners. Ingram Planetarium and the Museum of Coastal Carolina are also available for weddings. Both would make for a truly unique wedding venue, allowing guests to explore the museum's galleries or the planetarium's stars and add some extra fun and magic to the night.
Feeling spontaneous and looking to elope? The sky is the limit! In North Carolina, the only requirements for a wedding are an officiant, two witnesses and the happy couple! Adventurous couples can trek to the Oak Island Lighthouse, which was the last lighthouse to be built in North Carolina. Switch out those wedding heels for sneakers and climb to the top for a truly unique wedding with a spectacular view out over the water that can be seen for miles.
This is only a taste of all the possible venues in the Brunswick Islands! Check out a full list of venue options to find your perfect fit.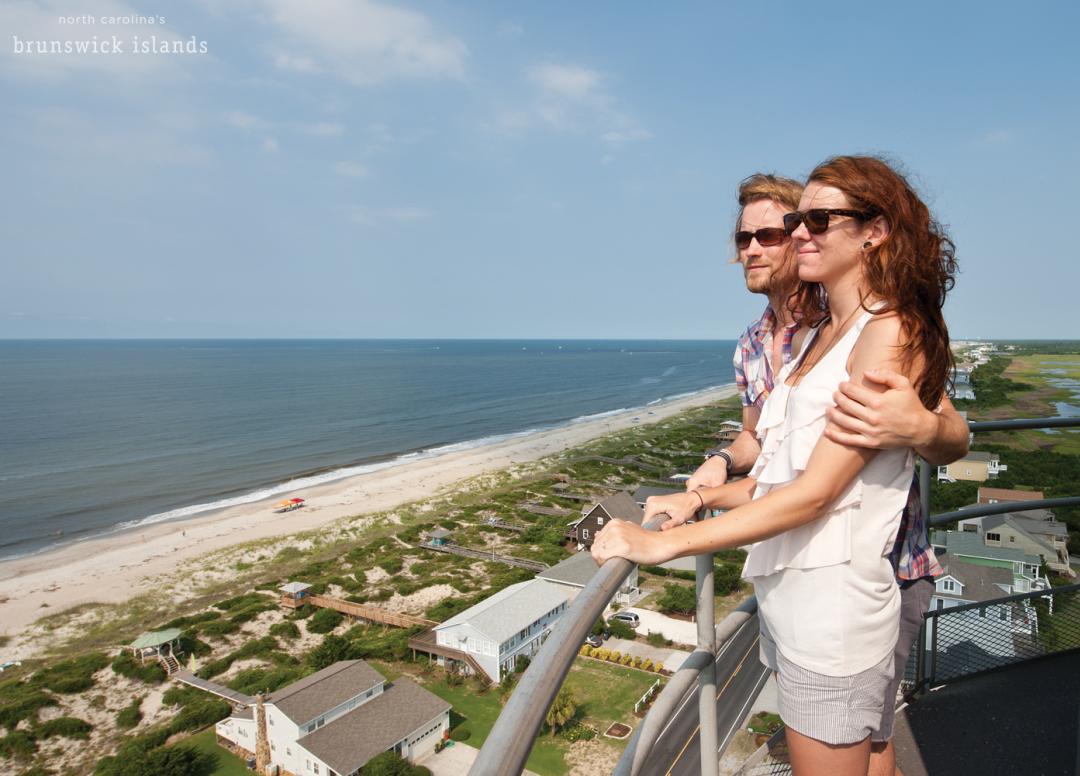 Catering Options Galore
NC's Brunswick Islands is a foodie lover's paradise, meaning you will have no shortage of delicious options to cater your reception, no matter the size of the party. The area has a number of catering companies that can take care of everything food-related for the big day. Whether you prefer crowd-pleasing BBQ from The Bar-B-Que House or a personalized, elegant menu cooked onsite from Coastal Catering & Events, there is something for everyone.
If you would rather hold your reception at a different location than your ceremony, we suggest any of the waterfront restaurants that pepper the islands and towns. Clink wine glasses while indulging in fresh seafood at the famous Fishy Fishy Café, take in a spectacular sunset at Jinks Creek Waterfront Grill, or check out the elegant cuisine and views at Oliver's On the Cape Fear. The Isles Restaurant & Tiki Bar is another great option for those that want a wide variety of food options, delicious tropical cocktails from the tiki bar and stunning views overlooking the ocean.
End your night on a high note with breathtaking views and even better food! For more restaurant options in NC's Brunswick Islands, visit www.ncbrunswick.com/restaurants.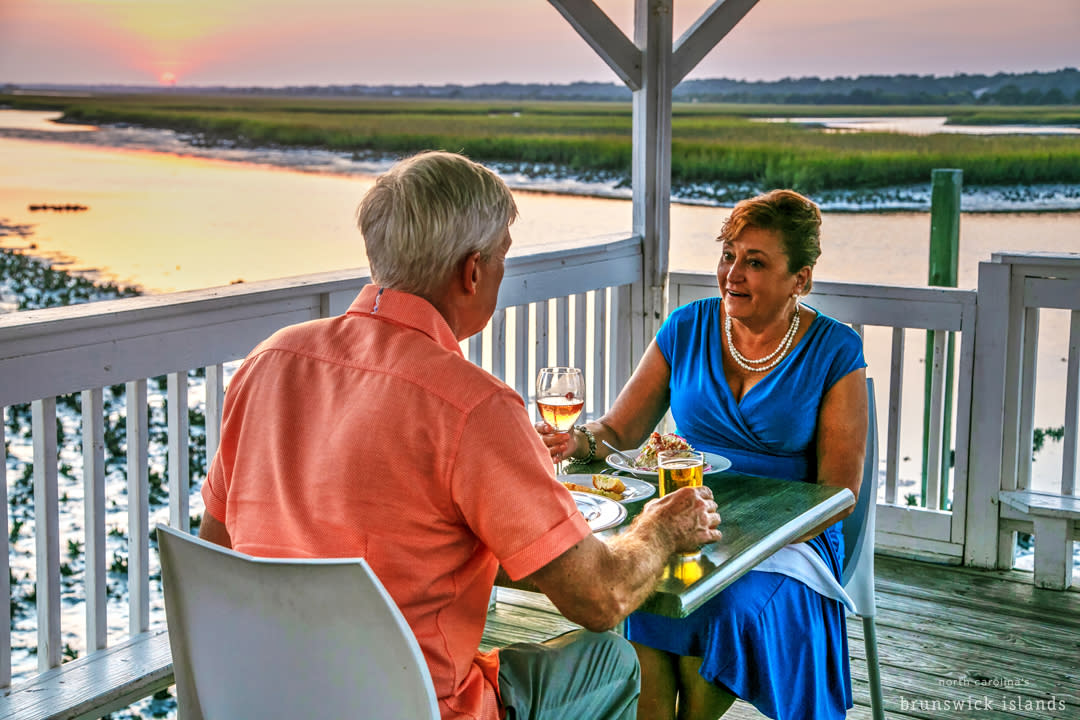 Accommodations to Please Everyone
Finding accommodations for everyone can be a pain, but it's easy when you have your microwedding in NC's Brunswick Islands. For an incredible experience for the whole family, and a bonus beach getaway, check out the array of private rental homes right on the water. With vacation homes of all sizes, you're bound to find the perfect fit. Those looking for a more romantic experience can make a reservation at a quaint bed and breakfast. This is especially ideal for an elopement, as B&Bs offer a private getaway for the happy couple but still enough room to include any witnesses or officiants they would like to have staying near them on the special day. Looking for a middle ground? Friendly motels and inns are a great option for small wedding groups that would like to spread out but also want to be in one place. Couples shouldn't leave out golf resorts, either. They provide a luxury experience that can transition right into a honeymoon.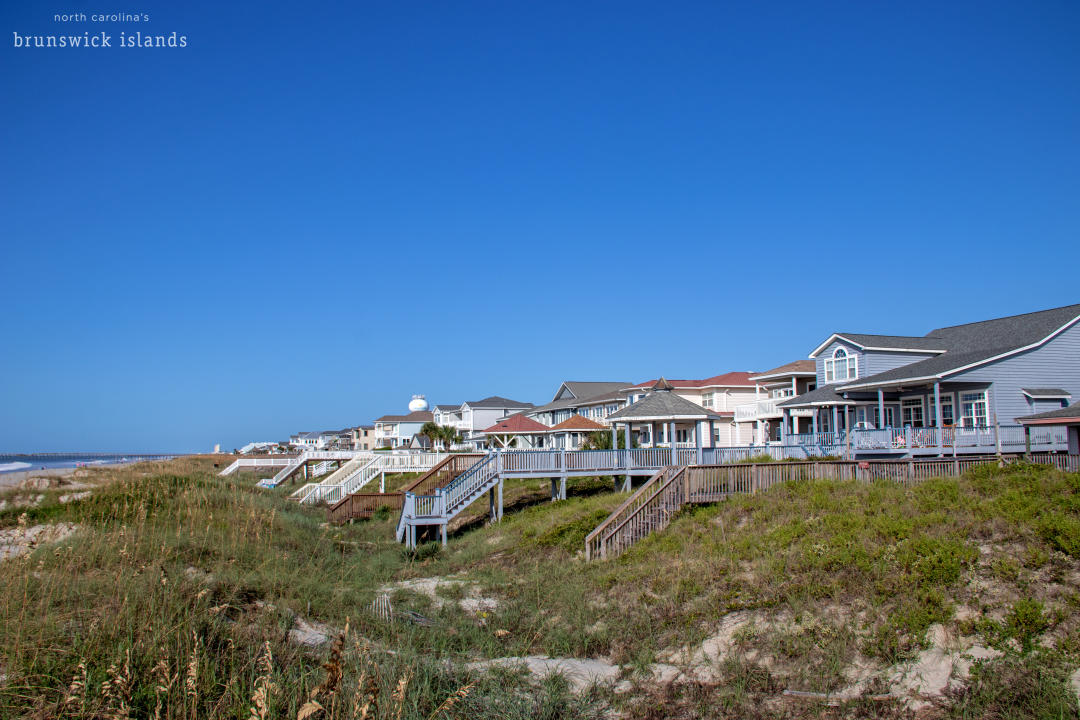 No matter what you're looking for in your perfect microwedding or elopement, North Carolina's Brunswick Islands has something fit for everyone. Make sure to check out www.ncbrunswick.com for more information to help plan your big day.