Boasting more than 45 miles of unspoiled beaches, North Carolina's Brunswick Islands is the ultimate beach getaway destination. Few natural phenomena give Brunswick Islands beachgoers a better sense of place than watching the sun paint the sky in signature hues of orange, pink and purple over the ocean or the area's waterways at sunrise and sunset. Our charming coastal towns and beach communities offer countless ways to witness spectacular sunrises and sunsets during your stay, but check out our suggestions of great spots for scoring a seat to the sun's daily feat.
On the Beach
No matter what time of year you come to the Brunswick Islands, prepare to be wowed. Not only do the pristine sand and surf create a peaceful atmosphere for sunrise and sunset chasers, but in the fall and winter the uniquely south facing beaches in North Carolina's Brunswick Islands provide a remarkable sunrise/sunset viewing experience. Named one of "10 Incredible Phenomena You Have to See in Fall" by Weather.com, beginning in late fall, the east-west orientation of the Brunswick Islands means that you can sit on the beach and watch both the sunrise and sunset over the ocean without having to move your beach chair!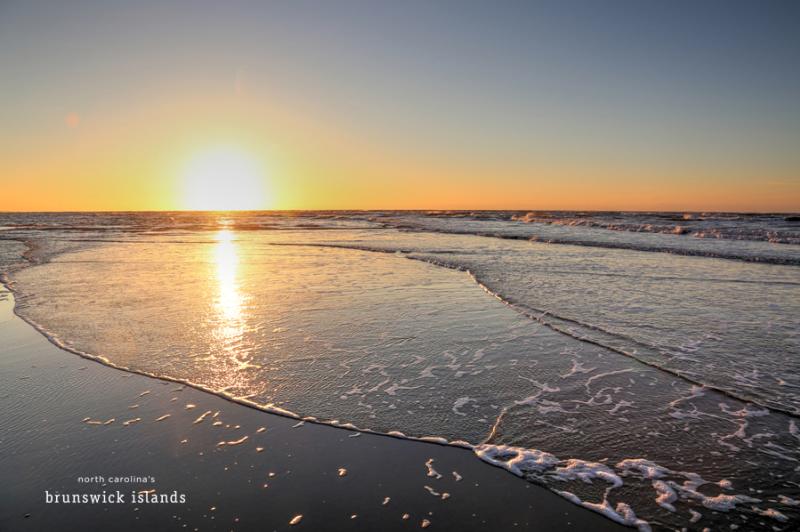 Ocean Piers
Few settings offer a classic beach feel like an oceanfront pier. North Carolina's Brunswick Islands is home to five ocean piers, perfect for both starting and ending your day with a front row seat to the sun's daily pilgrimage across the sky. Ocean pier viewing spots include: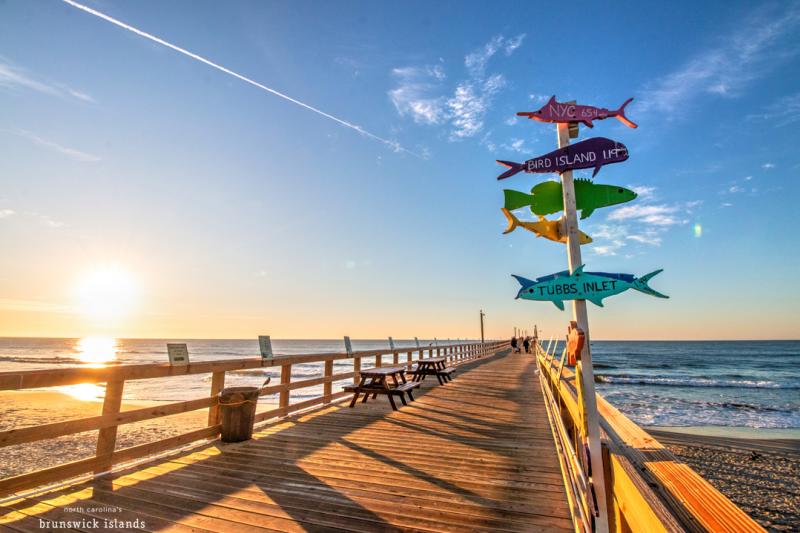 Seize the Sunset by the Waterway
The stunning Brunswick Islands sunsets can also be seen off-shore with serene sunset kayak trips in the area's marshes and waterways. Individual kayak rentals and guided tours are available to give visitors the equipment and expertise they need to observe some of the best views of the Brunswick Islands. To make an even bigger splash, boat rentals and sunset cruises are a sure way to enjoy beautiful scenic views.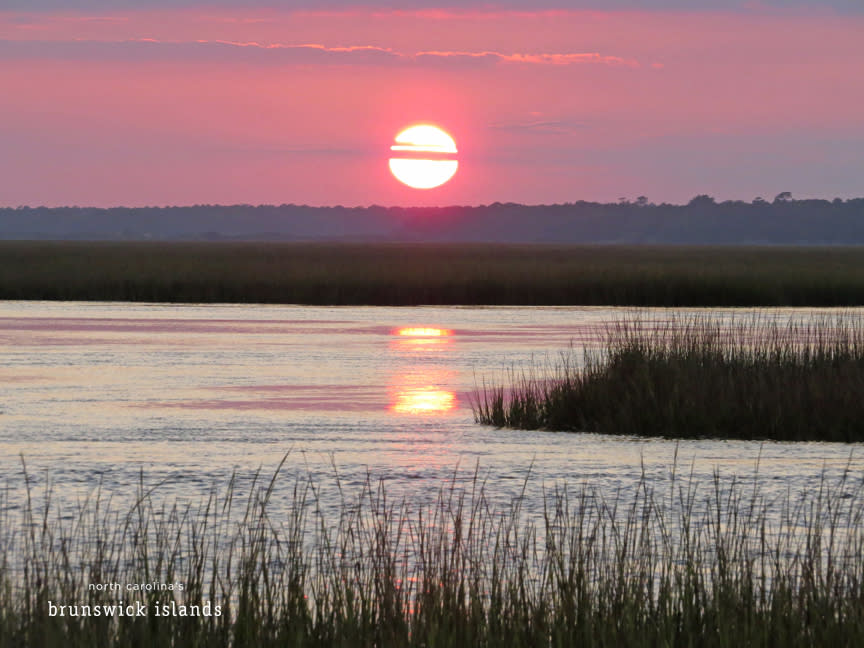 Dinner and a Show
Who doesn't love dinner and a show? A nature show that is! In North Carolina's Brunswick Islands there is an impressive array of waterfront dining options that are guaranteed to not only serve up tasty coastal cuisine, but also a stunning view of the sun making its daily descent. One great spot to grab a bite and watch the summer sun set over the marsh is Jinks Creek Waterfront Grille. Located on Jinks Creek on the Intracoastal Waterway side of Ocean Isle Beach, Jinks Creek Waterfront Grille offers great seafood dishes as well as an amazing view.  Another local hotspot for scrumptious food and scenic views is the Yacht Basin in Southport. With restaurants like the Provision Company, Fishy Fishy Cafe and the Yacht Basin Eatery, it has some of the best outdoor waterfront dining in Southport. Lucky diners may even score a little live music to accompany their dinner and nature show. For more wonderful waterfront dining spots throughout Brunswick Islands, please visit blog.ncbrunswick.com/waterfront-dining-ncs-brunswick-islands/.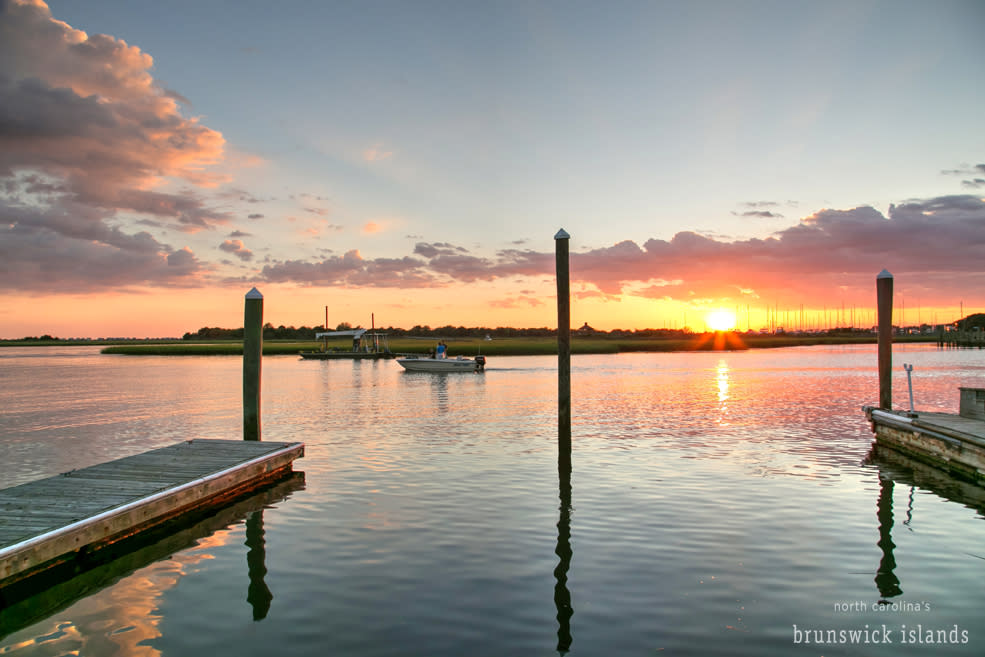 The Point at Oak Island
North Carolina's Brunswick Islands is full of quiet stretches of beach that almost seem like you are on your own private island. The western tip of Oak Island, at the inlet that separates Oak Island from Holden Beach, is just one example. Affectionately known as The Point, this section of beach offers unique sunrise and sunset views over both land and sea. Like many of our pristine beaches, The Point is a tranquil spot for enjoying nature and quality time with family and loved ones.
Other Favorite Spots
There are so many places to find breathtaking sunrises and sunsets in the Brunswick Islands that it can be hard to choose. To make the decision a little harder here are some other amazing viewing spots.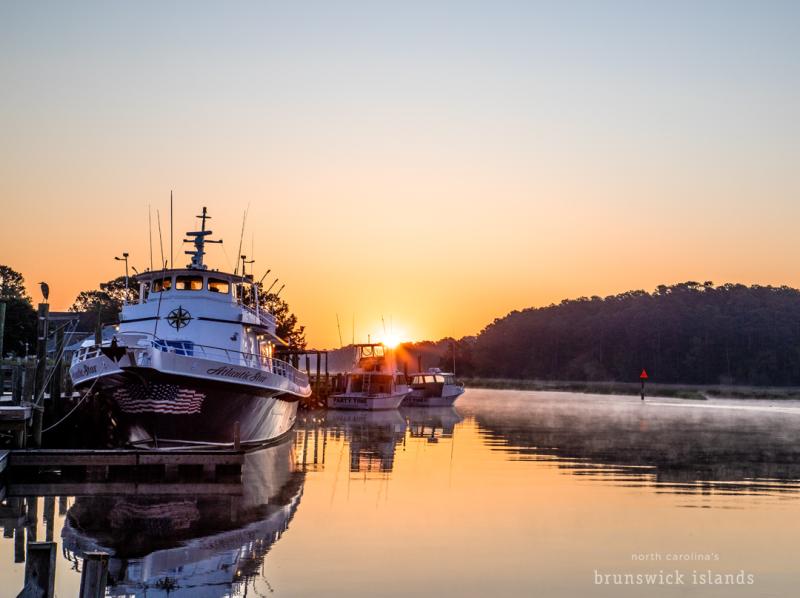 We may all watch the same sunrise and sunset each day, but at North Carolina's Brunswick Islands the view is as grand as the ocean is wide. For more tips and tricks to planning your next spectacular beach vacation, please visit www.ncbrunswick.com.