When searching for the perfect spot for a spring vacation, look no further than North Carolina's Brunswick Islands, a destination offering 45 miles of pristine beaches alongside plenty of beautiful weather to take it all in. To help plan your spring getaway, read on for reasons why the Brunswick Islands should be at the top of your list of vacation spots, as well as tips and ideas for things to do during your stay. 
Reasons to Vacation in the Brunswick Islands this Spring 
More Beach for Your Blanket
The Brunswick Islands offer plenty of beach for your blanket year-round, but visitors will have the islands to themselves when they visit during the off-season on a spring vacation. Families with children can enjoy the sand and surf on their spring break at one of our six spacious beaches and have plenty of room to set up their beach umbrellas and spread out the sand toys. After a day in the sand, families can enjoy waterfront dining at one of our many restaurants and indulge in a frosty treat at one of our delicious ice cream shops. 
Mild Spring Temperatures 
A beach trip isn't much without some great weather, and it's no secret that spring is one of the most wonderful times of year in the Brunswick Islands. Not too hot and not too cool, spring visitors can look forward to staying out longer, from morning till night, enjoying all the area has to offer in nice spring weather. Whether you prefer rising at dawn and heading straight to the beach to begin your day with the sunrise, or you prefer walking the shore in the late evening and catching a colorful sunset, you will feel great in mild spring temperatures. 
Off-Season Rates 
When looking for a spot to stay on your beach trip, you'll certainly get more bang for your buck with off-season rates for accommodations around the islands. Whether you're on the hunt for a weekend cottage for two or a house large enough to fit the whole family, NC's Brunswick Islands has vacation homes available to fit any budget and group size for your spring vacation.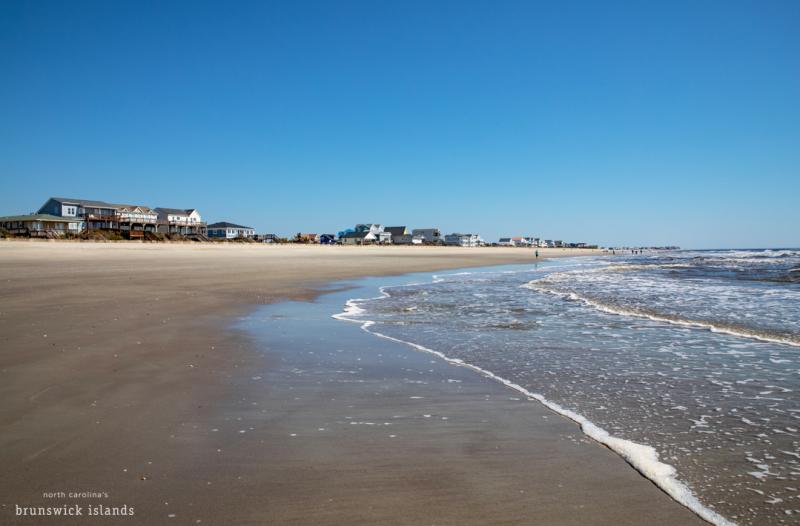 Things to do During Your Spring Vacation in the Brunswick Islands 
Kayaking and Stand-Up Paddleboarding 
Ready to go beyond the beach and discover a new side of NC's Brunswick Islands? Spring is one of the best times of year to enjoy some kayaking and stand-up paddleboarding. Venture to where saltwater meets fresh in our scenic salt marsh creeks and rivers as well as the pristine Intracoastal Waterway. If you prefer sunsets instead of blue skies, plan a twilight kayaking tour and watch the sun as it sets over our beautiful marshes. Looking for something a bit more thrill-seeking? Check out this list of active adventures you can take in the Brunswick Islands. 
Golfing and Fishing 
Golfers looking for long days on the fairways in the cool, salty air of the coast are sure to love the lush golf courses of NC's Brunswick Islands. Prefer to reel in your prize from the water? The Brunswick Islands is an ideal destination for anyone looking to spend their vacation fishing. Choose from one of our five ocean piers, book a trip with a charter captain, or surf fish from your favorite spot on the beach. 
Birding and Nature Preserves 
Prefer to stay grounded? Opt for a relaxing stroll along the beach collecting shells, or explore the area's beautiful parks and nature preserves. Best of all, spring marks the beginning of migration and nesting season for birds, so visitors can look forward to extra scenery wherever they decide to explore. Brid lovers will be happy to find that eight birding sites along the North Carolina Birding Trail are located here in the Brunswick Islands, and our varied ecosystems create a natural haven for hundreds of species of birds.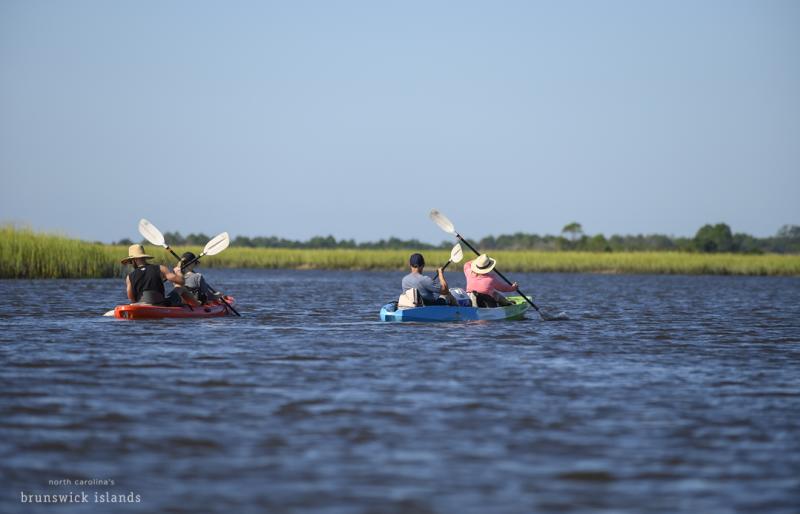 From golfing and paddleboarding to bird watching and fishing, there are endless ways for you to spring into spring in the Brunswick Islands! The ideal weather, wide sandy beaches, and outdoor adventures for the whole family make it the perfect spot to land on. Find more information and start planning your spring vacation here.