Venture out of your comfort zone and into nature on an active adventure in North Carolina's Brunswick Islands. Parkside, seaside or riverside, the Brunswick Islands are filled with excursions for all levels of adventurers. Explore freshwater and saltwater activities, such as charter fishing, kayaking, surfing or paddle boarding, or discover the rich history of the islands on a guided tour. From the surf to the sky, North Carolina's Brunswick Islands set the bar higher for adventure seekers in the southeast.
Sand and Surf Adventures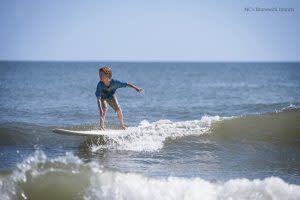 Surfing and Scuba Diving
Don't just dip your toes in the water! Dive straight into the surf with your board or if you're certified in scuba diving take a saltwater adventure during your visit to the Brunswick Islands. Several factors make the Brunswick Islands the perfect location for surf classes.  Number one, and most important, the gentle sloping beaches allow for waves to break softly, meaning beginner surfers can take their time getting on their feet. The second reason is the relatively smaller waves seen in the area. Waves of 2'-3' are ideal to start your surfing adventure on. And third, the warm summer waters invite everyone to come experience the beauty of surfing.
Kayaking and Paddle Boarding
Feeling landlocked lately? Your next adventure could lie just around the bend balancing on a paddle board or seated in a kayak in a river, tidal creek, or the Intracoastal Waterway. Island adventurers can pick their intensity from a meandering paddle downstream to kayaking on the ocean tide. Visitors are welcome to bring their own gear or rent equipment during their stay.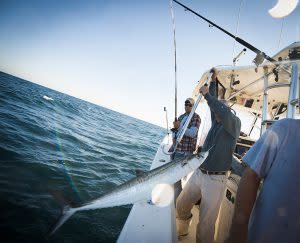 Charter Fishing
Let our local charter captains help you find the big catch whether it's out in the Gulf Stream or in-shore fishing. You'll be sure to have plenty of "fish tales" from your adventure along with the fresh catch of the day.
Adventure By Land
Parks
Reconnect with nature on a blissful stroll through one of the many Brunswick Islands parks or nature preserves. Explore the environment and native animals on a journey from longleaf pine savannas to cool Carolina marshes and sandy shores, or hit the trails for biking, hiking or horseback riding. Take a break from the surf and trade sandy beaches for unspoiled woodlands, riverwalks and expansive estuaries.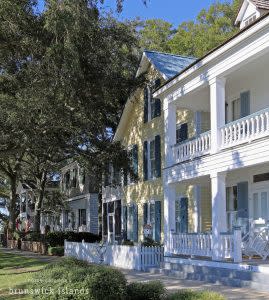 Tours
From the breezy comfort of a tram or bicycle to a classic walking tour, opportunities abound to explore the rich and unique history of the Brunswick Islands. Tours give visitors opportunities to discover those who have called the island home, from movie crews filming the latest Hollywood hit to pirates of the past. You're invited to journey back in time strolling past classic Southern architecture or popular waterfront attractions in the charming coastal towns.
Biking
Treat yourself to the quintessential seaside experience by renting a bike and exploring the enchanting island towns for yourself. Discover the hidden gems of the Brunswick Islands as you wind through the quaint seaside towns. Feel like a local as you breeze past scenic ocean views and colorful storefronts searching for your next adventure.
High in the Sky Adventure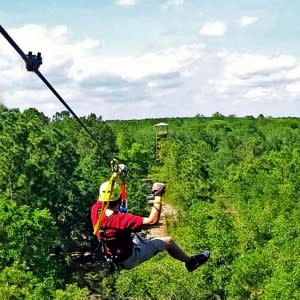 Zip Lining
Take your coastal excursion to new heights as you soar above a swamp on a zip line at Shallotte River Swamp Park. Swing into adventure while flying through a 300-year-old swamp cypress canopy. Large and small groups alike are welcome to enjoy a bird's eye view while flying through the lush treetops.
Lighthouses
For those looking for a middle ground between a high-flying adventure and grounded escape, climb one of the lighthouses essential to the Carolina coast's history. These charming lighthouses are filled top to bottom with the history of the seaside towns and boast spectacular sights of the endless beaches and ocean.
Helicopter Tours and Biplane Rides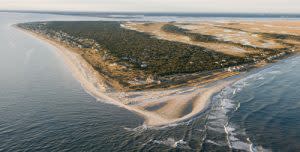 Climb to even greater heights on a biplane or helicopter tour with the clearest view of the Carolina coast. Hop into a helicopter or an open cockpit biplane for perfect marine life and lighthouse spotting opportunities.
Summer weather beckons travelers to find their adventurous side, whether that's exploring the surf and saltwater or soaring over southern swampland. Soak in the rays of summer in North Carolina's Brunswick Islands where you will find activities to quench anyone's thirst for adventure.