For many people the word "summer" evokes mental images of sandy beaches, gentle waves, glowing sunshine, pearly white sea shells and freshly caught seafood. While these classic coastal elements are key parts of a summer escape to North Carolina's Brunswick Islands, locals and visitors alike know that the 45 miles of picturesque, uncrowded beaches bring in more than happy beachgoers each summer. For centuries, the beaches of North Carolina's Brunswick Islands have been home to loggerhead sea turtles. These spectacular creatures travel great distances to lay their eggs along the shore from May to August, with hatchings happening July through October. Many visitors book their stays to have front row seats to this bit of maritime magic, making summertime sea turtle time in the Brunswick Islands. With so many ways to take part in the action, it is easy to see why!
Museum of Coastal Carolina
Turtle loving travelers can venture to Ocean Isle Beach for the Barrier Island Gallery at the Museum of Coastal Carolina. The museum shares The Legend of the Loggerhead with an exhibit featuring a sand dune model complete with mother loggerhead turtle laying a nest and hatchlings emerging from the nest. Visitors can walk through the dune to check out interior views of the nest and watch a video about the lifecycle of Ocean Isle Beach's loggerhead turtles. With one of the largest dry aquariums on the East Coast, the Museum of Coastal Carolina also gives guests an opportunity to see life-size loggerhead turtles and other native wildlife displayed.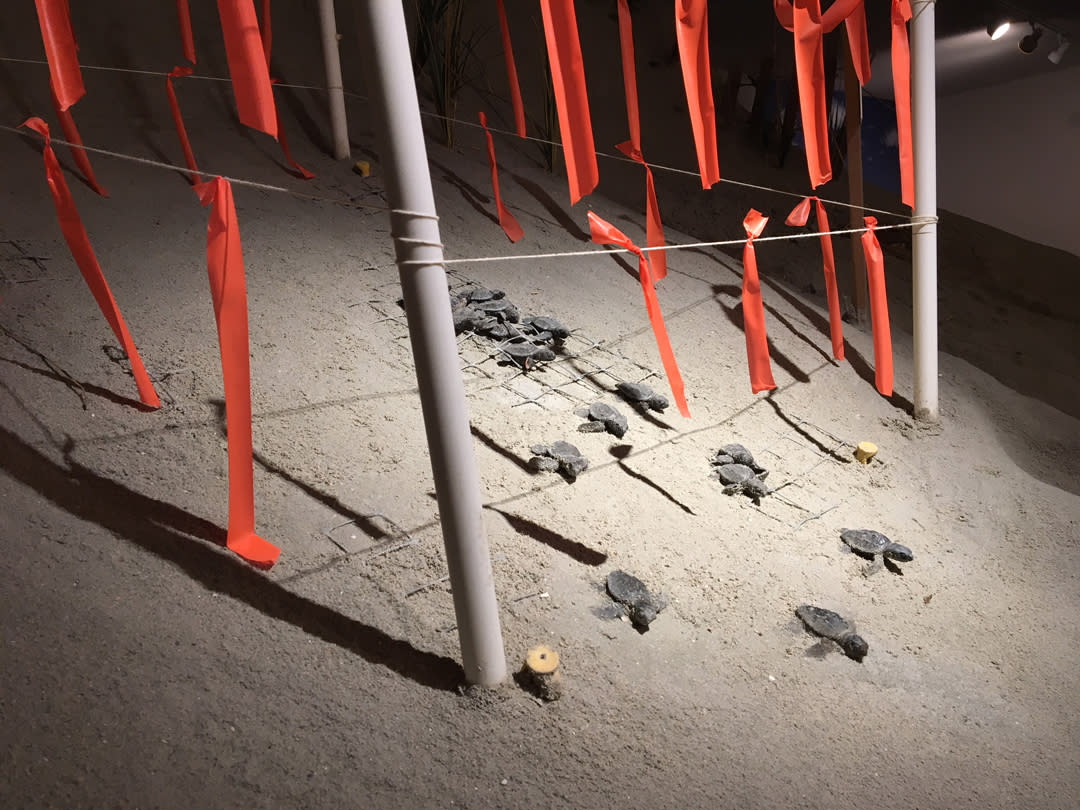 Turtle Talks
The Brunswick Islands has sea turtle protection organizations in Sunset Beach, Ocean Isle Beach, Holden Beach, Oak Island, Caswell Beach and Bald Head Island. Many of the local sea turtle protection organizations offer free weekly family-friendly seminars, designed to share important information about loggerhead sea turtle protection efforts. These "Turtle Talks" are held in Holden Beach, Sunset Beach, Ocean Isle Beach and Oak Island late spring through summer. With different locations and times throughout the summer season, there are plenty of opportunities to entertain and educate your family about these magnificent creatures during your stay in the Brunswick Islands.  Visit our calendar of events for details.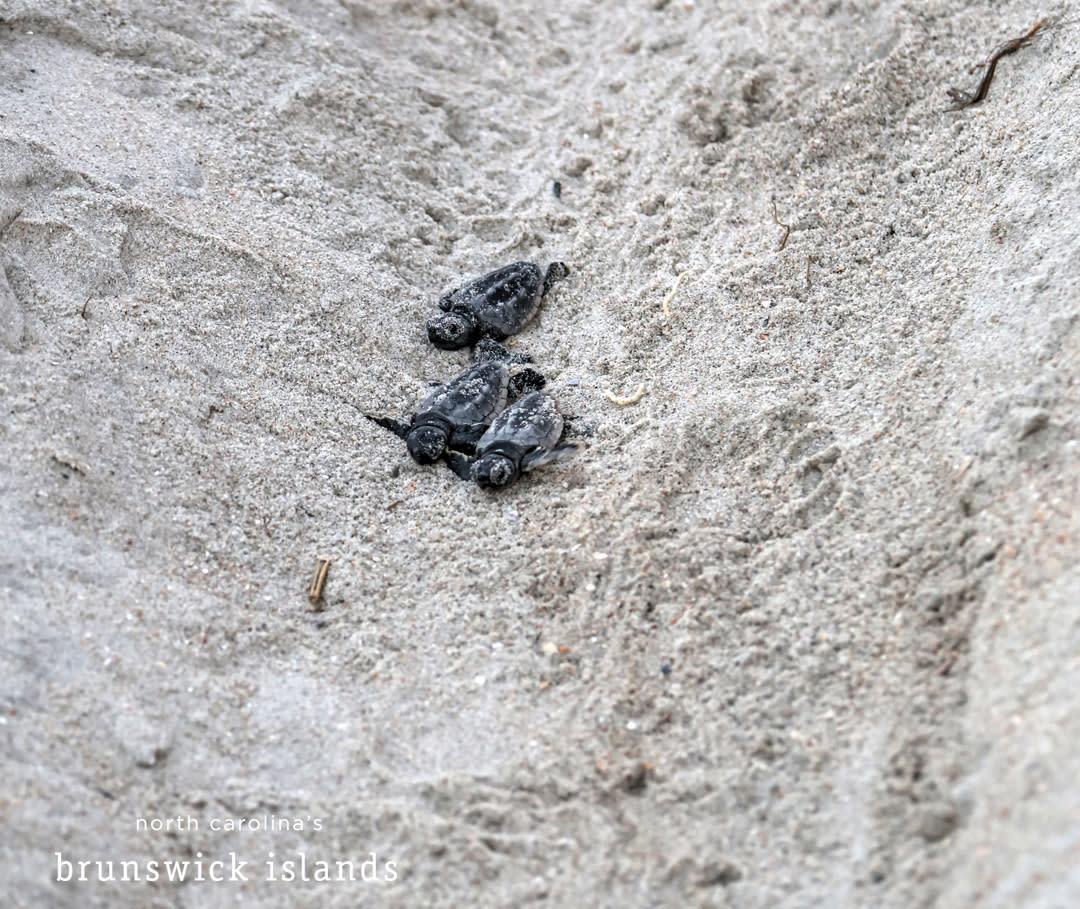 Summer Internships
The Ocean Isle Beach Sea Turtle Protection Organization offers several week-long summer internships for middle and high school travelers ages 13-18. During this interactive experience, interns and their parents assist in monitoring sea turtle nests, collecting and logging sea turtle activity and by supporting visitor and resident awareness initiatives. Interested families can apply online. Insider tip: be aware of application deadlines to secure your spot on the sea turtle conservation team.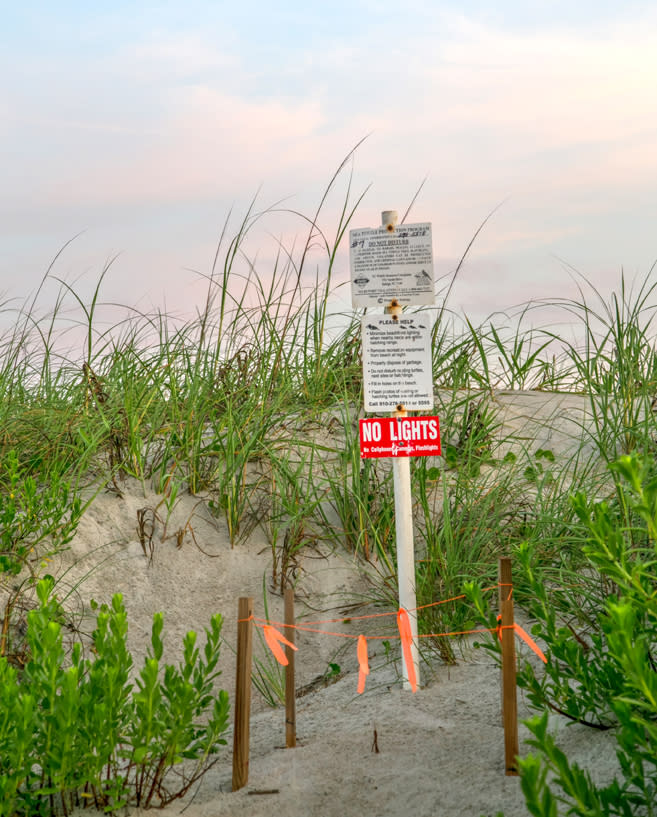 Visitor Tips for Sea Turtle Conservation
Sea turtles are a special part of the summer experience at North Carolina's Brunswick Islands. While sea turtle sightings are exciting, we all must do our part to support the loggerhead turtles' journey and keep them returning to our beaches for the next 100 years. Check out our tips to creating a better beach environment for the sea turtles:
Do not disturb a sea turtle as it makes its way to or from the ocean.
Know how to spot a sea turtle nest and do not disturb. Nests will typically be numbered and marked by surrounding fencing.
Lights may confuse the sea turtles, so avoid shining lights at the turtles and turn off all lights near the beach, including outdoor lighting.
Be a responsible beachgoer and pick up all litter, fill in beach holes and remove your beach equipment.
Avoid the use of flash photography in capturing a sea turtle sighting.
Do not ever pick up a sea turtle.
For more information on ways to stay and how to plan a terrific turtle experience at North Carolina's Brunswick Islands, please visit www.NCBrunswick.com.