have your wedding where the something blue is a given. The Carolina blue sky. The deep blue Atlantic at the edge of the sand on a barrier island. North Carolina's Brunswick Islands offers a variety of wedding venues for couples to say "I do" on their special day. Whether your ideal wedding is on the beach, walking down the aisle with the sand underneath your feet and a nice sea breeze catching your veil, or a lavish inn or golf resort with romantic grounds filled with southern charm, we have the perfect venues to host any couple's wedding. You don't need a passport to celebrate a destination wedding; the five islands that make up the Brunswick Islands are filled with 45 miles of pristine, uncrowded beaches, charming accommodations for you and your guests, mouthwatering restaurants and savvy wedding planners who can help with every last detail of your big day. Make our unique coast the ideal location for your memorable wedding. It's all up to you, but there's one thing you can count on – North Carolina's Brunswick Islands can accommodate any fairy tale wedding.
Swing into Nuptials
Whether the groom needs another round before he says "I do," or you are looking for that gorgeous lushly landscaped venue with a stately clubhouse, our golf clubs and resorts offer both indoor and outdoor space, like Sea Trail Resort and Brunswick Plantation and Golf Resort. Indulge and relax on your special day knowing everything is being taken care of by the professional staff. And don't forget to take those gorgeous wedding shots by the green!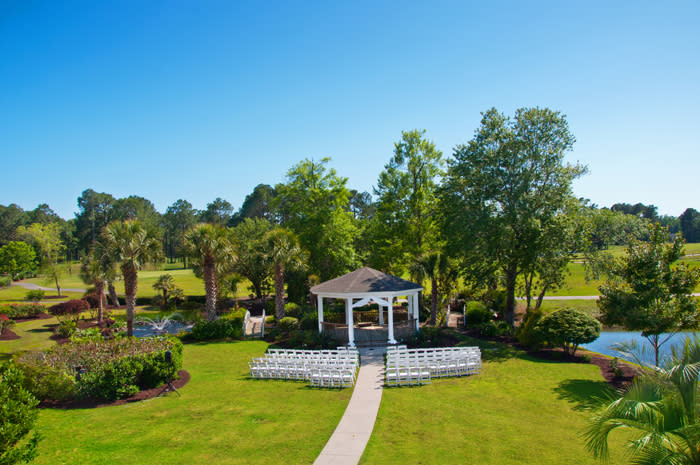 Foodie Lover's Paradise
If food is one of the most important components of your dream wedding, allow one of our many restaurants serve as the host of your wedding. The Isles Restaurant and Tiki Bar, for instance, has gorgeous views and secluded banquet rooms for your wedding party, and it will also give your guests a savory experience they'll never forget.
Sandy Toes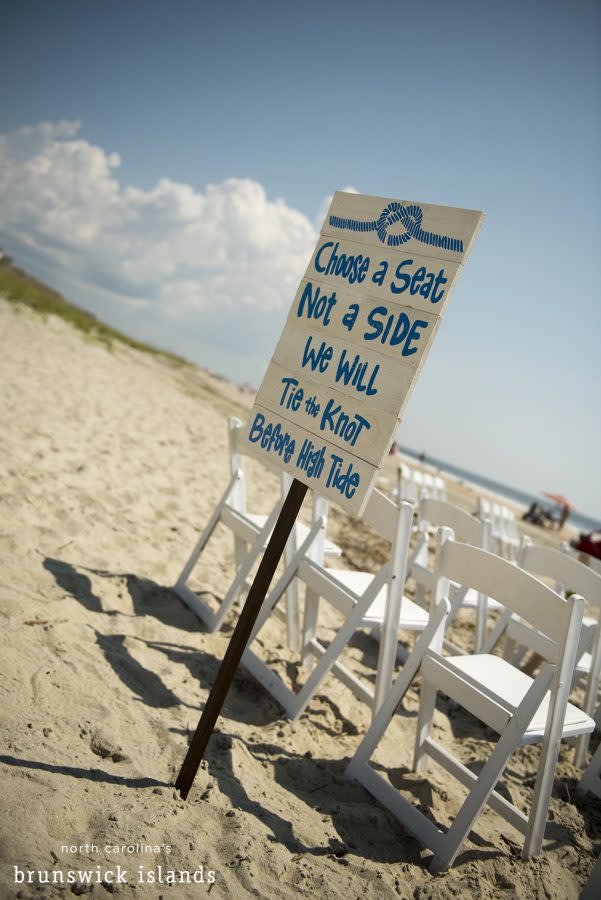 Feel the sand between your feet with the perfect beach wedding at North Carolina's Brunswick Islands. Resorts and inns such as The Winds Resort Beach Club, Ocean Isle Inn and The Islander Inn, will take care of all the planning so you can enjoy your special and everlasting moment. Besides, nothing beats a beach wedding on our uncrowded and romantic shores.
Making History
Historical sites and museums are can also be rented for weddings that need a little more of a rustic and unique touch. Imagine a ceremony at Brunswick Town/Fort Anderson State Historic Site, with the sun peering through the large oak trees around the magnificent ruins of a colonial church. You will be surrounded by the extraordinary history of the site while you begin create your own special moments.
Something Borrowed
For a casual and family-oriented wedding experience, consider renting a generous-sized beach house. A private wedding is perfect for any bride looking to have friends and family close together to experience such nuptials. There are an abundance of options ranging from "do it yourself" to a perfectly planned wedding ceremony. There are no limits to what your North Carolina's Brunswick Islands beach house wedding can be.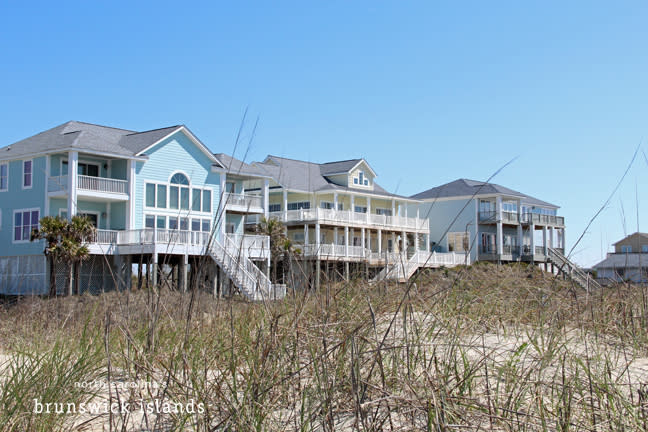 A Fresh Start
Maybe you want a blank slate. A clean palette. There are multiple event centers in which will house your dream wedding. The Southport Community Building, with its large event space and waterfront setting, will give you the opportunity to be the artist and transform the space into what you have always imagined.
From fairy tale, to classic, to modern and from beaches, to golf fairways, to lighthouses and sailboats, there is the perfect venue waiting for you in North Carolina's Brunswick Islands.
For a complete list of accommodations, wedding services, and even honeymoon options, visit here.
Post updated 1/5/2018.