There are not many things more exciting than the initial tug on the end of your rod as a king mackerel grabs hold of your bait and dashes away in the cool fall waters of coastal North Carolina. This long and slender species is one of the most exciting fish to catch due to their elusiveness and strength, which makes them a fun fight for any angler. Some of the defining features of the king mackerel, or kingfish as many refer to them as, is a shiny silver side with a greenish-blue back and a large forked tail. King mackerel also have two dorsal fins and are known to have some pretty sharp teeth. While some of the larger king mackerel are measured in the seventy inch range, most that are caught typically measure thirty to forty-five inches. Any king mackerel weighing more than thirty pounds or measuring more than forty-five inches in length are considered citation sized. Don't confuse king mackerel with Spanish mackerel, which are very similar in appearance but can be differentiated by looking for the dark yellow spots that cover the Spanish and not the king.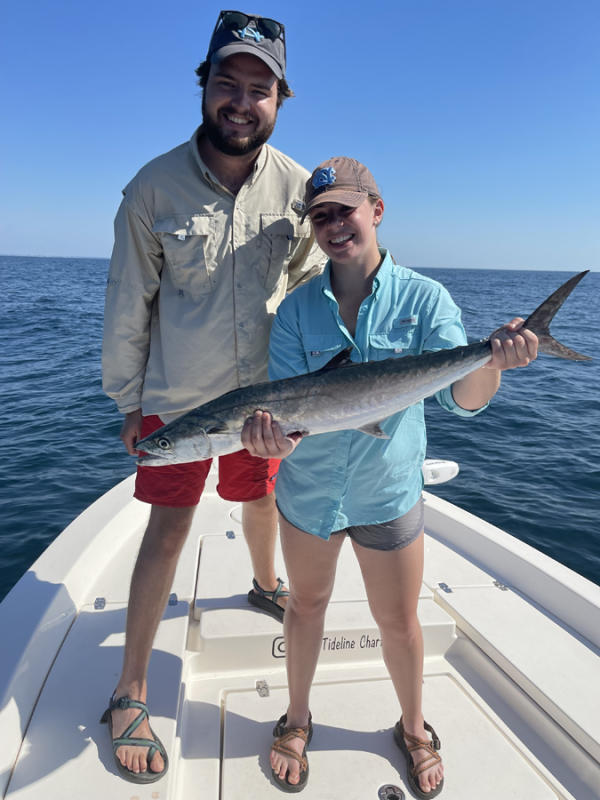 So when, where, and how should anglers be targeting this popular gamefish? King mackerel are a pelagic species, meaning they roam the waters from the Gulf Stream all the way to the shores of East coast beaches. Starting in September, the Brunswick Island's coastline finds itself right in the middle of the mullet migration while a vast amount of Atlantic menhaden (known locally as "pogies") begin moving closer to shore. This provides the perfect scenario to draw king mackerel closer to the coast as they follow their food source. Once they arrive, they tend to congregate along bottom structures including area reefs and patches of live bottom where abundant seaweed, live coral and sponges are located. The prominent northerly winds in the fall season make for calm seas which is a delight to those wishing to target this species further offshore. There are a plethora of ways to catch a kingfish, but slow trolling is commonly agreed upon as the tried and true technique. Slow trolling with live baits along the previously mentioned structures has resulted in many anglers catching tournament-winning king mackerel.
Speaking of tournaments, who doesn't like a little competition? The Brunswick Islands host a variety of fall king mackerel tournaments that test your angler skills as you try to catch the most impressive fish with a chance to win an equally impressive prize. Part of division two of the Southern Kingfish Association Tournament Trail, the area hosts one of the most notorious king mackerel tournaments of the season - the U.S. Open. Headquartered in Southport and Oak Island, the U.S. Open brings in hundreds of eager fishermen each October that see the tournament as the 'super bowl' of the sport.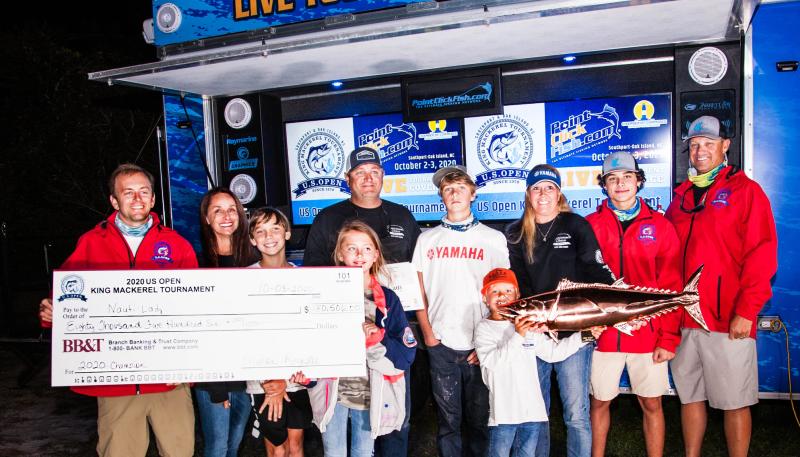 Forty-four years ago the U.S. Open King Mackerel Tournament was created to showcase the amazing fall fishing that the Southport/Oak Island area has to offer. Today, it is one of the largest and most anticipated kingfish tournaments on the East coast. Drawing in over five hundred boats, this tournament is a unique and great way for locals and guests alike to mingle, fish, and share memories of the tournament's past. The environment is like no other as hundreds of eager fans crowd the scales awaiting the boat that has caught the behemoth kingfish that are often told in stories. The tournament follows a two day format, meaning there are two days that each boat is eligible to fish (October 7th and 8th in 2022). The day before the tournament, there is a welcome party for all involved where everyone has a chance to eat some local favorites, make a toast with libations, and enjoy some live music. This event is followed by the captain's meeting where the rules and regulations of the tournament are explained. Though the entry fee per boat is $340, many claim that it is a small price to pay for the memories made, friendships gained, and the chance at winning the $25,000 grand prize (with over $100,000 in total cash prizes up for grabs). In fact, the winner of the 2021 tournament received over $58,000 in total winnings. Up to the challenge?
Another highly anticipated king mackerel tournament hosted in the Brunswick Islands is the Fall Brawl, which is headquartered in Ocean Isle Beach and takes place toward the end of October. In 2022, the event will be held October 21 - 23. The Fall Brawl also follows a two day format and offers an abundance of cash prizes ripe for the taking.
For more information about area fishing in the Brunswick Islands including local tournaments, charters, and fishing piers, visit www.NCBrunswick.com.
                ***BONUS ADVICE: Now that you have caught a king mackerel, it is time to bring it home for dinner! Locals insist that king mackerel is best cooked either grilled or smoked. If grilling, season your mackerel filets with salt and pepper, brush your grill with cooking oil, cook on both sides for approximately three minutes, and then take them off and let them rest. Once done resting, brush each filet with a combination of melted butter and crushed garlic followed by a squeeze of lime. Serve with cilantro-rice for an outstanding mackerel meal! If smoking the mackerel, place mackerel steaks in a bag with a brine consisting of water, iodized salt, and brown sugar and put it in the fridge for an hour. Take the steaks out and let them rest for thirty minutes before smoking. After smoking low and slow for about three hours, either eat the steaks as they are or crumble the meat in a mixture of cream cheese, pepper, and lemon juice for a mouth-watering smoked mackerel dip!