Fall is in the air, which for many area residents and visitors means it is time to cast a line and get hooked on a good time in North Carolina's Brunswick Islands. Our 45 miles of pristine coastline offers ample access to both fresh and saltwater fishing hotspots that are sure to excite both amateur fishing enthusiasts and seasoned pros alike. As the seasons change, so does the natural stock of fish and marine wildlife awaiting your fishing expertise. Planning your fall fishing excursion in North Carolina's Brunswick Islands? Check out our insider info and tips for making your visit a memorable one.
Fishing Finds
Several species of fish are highly migratory, with circuits ranging from a few miles to massive distances. While the motives for these migratory treks is a mystery even to scientists, we do know that these mighty movements make for even better sport fishing in North Carolina's Brunswick Islands. According to local expert Captain Jerry Dilsaver, this natural phenomenon really gets the fish biting. In preparation for the migrations south, fish along the Brunswick Islands are feeding hard in the fall to store energy for the long journey ahead.
Depending on the time of year and where you cast your line, popular fishing finds include flounder, speckled trout, red drum, bluefish, cobia, king mackerel, wahoo, grouper, mahi-mahi, tuna and even blue crabs. Fall in particular provides fishing parties with the opportunity to snag speckled trout, flounder, red drum and black drum inshore; flounder, red drum, black drum, whiting and pompano along the surf; Spanish mackerel, king mackerel, bluefish, gray trout and large red drum in the nearshore ocean; as well as king mackerel, wahoo, dolphin, blackfin tuna, grouper, snapper, black sea bass, porgy, grunt and the occasional hog snapper and African pompano in the offshore ocean.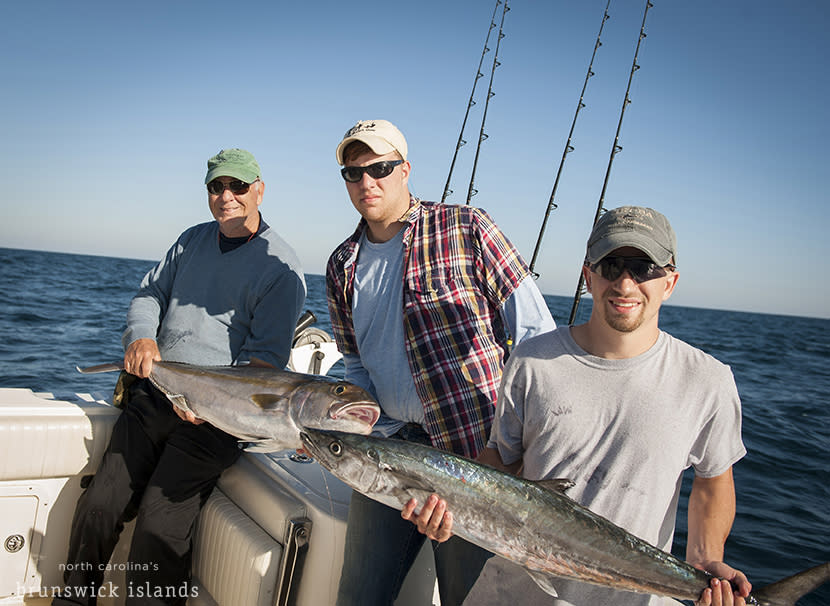 Exploring by Boat
According to Captain Dilsaver, the wide variety of fish and knowledgeable charter fishermen are part of what makes North Carolina's Brunswick Islands a fantastic fishing destination. For a taste of the high seas, book one of the experienced charter services located throughout the Brunswick Islands. The charter services are owned and staffed by seasoned pros with in-depth knowledge of local fishing and weather conditions. With both half-day and all-day excursions, charters can traverse the deep sea of coastal North Carolina or prime inshore fishing sites. Whether you are looking for a freshly caught dinner, a few laughs or simply a day spent out on the sea, the fishing community of North Carolina's Brunswick Islands is here to help craft a perfect and memorable experience for your fishing party.
For a smaller scale boating experience, guests can rent a kayak and venture out on Captain Dilsaver's favorite fall fishing excursion. Captain Dilsaver notes that trophy drum, measuring 40+ inches, can be caught September through Thanksgiving. "They are a favorite of kayak fishermen, and there is a dedicated group of them that launch almost every calm morning from the beach accesses on Oak Island," said Captain Dilsaver. "This is my personal fall favorite."
Cast a Line from the Coast
Those looking for an on shore fishing experience can find it in the Brunswick Islands. Our expansive stretch of beautiful beaches boasts countless spots for surf-casting. Get your feet wet and sink into the sport with this time-tested method. For a more scenic approach, venture to one of the five ocean piers located throughout the Brunswick Islands. Each pier has its own unique flair to make your experience both convenient and fun! Drop a line and soak in the signature North Carolina coastal views. Don't have your fishing equipment on hand? Not a problem! Several local vendors offer rods, reels, basic tackle and more.
No two Brunswick Islands' fishing excursions are ever the same. Whether casting your first line or returning for an annual trip, there are always more reasons to get hooked on fishing in North Carolina's Brunswick Islands. For more information on area fishing opportunities, please visit www.ncbrunswick.com/fun_and_adventure/fishing_and_charters.