It can be tempting to hit the snooze button while on vacation, but with plenty of morning activities and scrumptious breakfast dishes to enjoy, early wake up calls have never been more satisfying in North Carolina's Brunswick Islands! From appreciating the soothing sounds of the ocean to perusing the local outdoor markets to sampling delicious breakfast treats, the Brunswick Islands offers several opportunities to make the most out of your mornings.
For one-of-a kind finds, check out our list below for some amazing morning activities and dishes to inspire visitors to rise and shine:
Sunrise on the Beach
The sunset gets its fair share of hype, but choosing to wake up at daybreak is when you find some of the most peaceful sights in North Carolina's Brunswick Islands. With 45 miles of beaches, the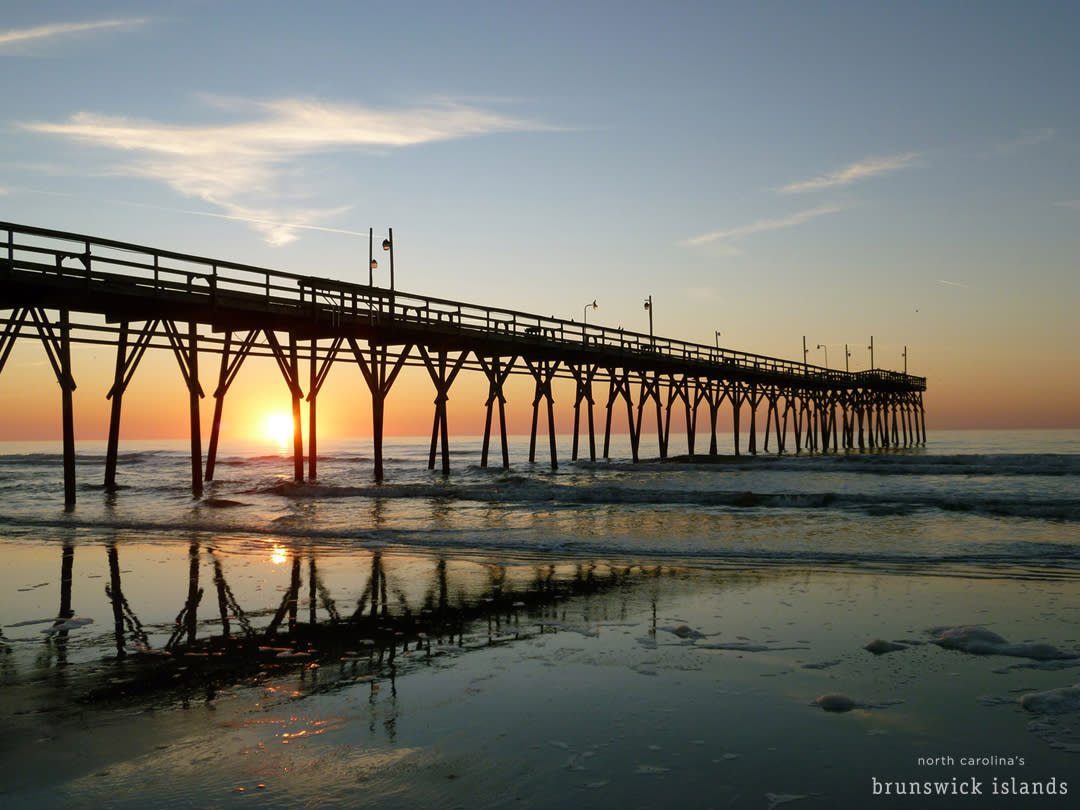 Blueberry Pancakes at The Purple Onion Café
Satisfy your sweet tooth with a stack of oversized, hot-off-the griddle pancakes at The Purple Onion Café in Shallotte. The Purple Onion has been a community favorite since 2004, serving visitors and locals breakfast and lunch. Stop in for traditional breakfast items along with blueberry pancakes. These fluffy blueberry pancakes are packed with tart blueberries that are just calling your name!
Fried Chicken and Waffles at Taylor Cuisine and Catering
The historic town of Southport boasts gorgeous scenery, rich heritage and a wide array of culinary options. Taylor Cuisine and Catering has been a Southport staple for 14 years and counting, offering a variety of unique omelets, sweet and savory waffles and much more. Try a southern staple by ordering their impeccable homemade waffles served with crispy fried chicken. It's sure to leave your taste buds craving more! Taylor Cuisine and Catering invites guests to revel in their timeless, southern breakfasts that resemble Grandma's old-fashioned home-cooked recipes.
Outdoor Markets
Get a head start on your day and discover the unique treasures featured at any of the Outdoor Markets located in the Brunswick Islands. The Outdoor Markets take place in Southport, Ocean Isle Beach, Sunset Beach, Oak Island and Shallotte. They feature a large variety of fresh baked goods, local produce, handcrafted art and jewelry and much more. Show up ready to shop till you drop and discover all the handcrafted goodies and yummy treats around the Brunswick Islands. The Outdoor Markets are open on different days of the week at various times, so be sure to visit www.ncbrunswick.com/events for additional information.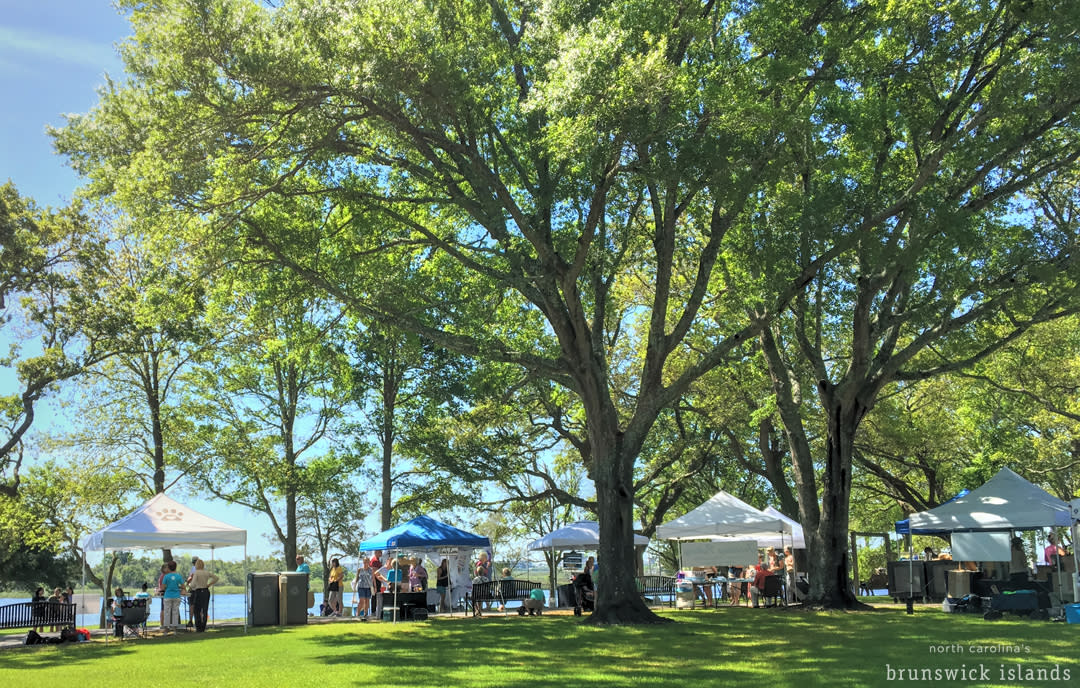 Sunrise Omelet at Sunrise Pancake House
Nationally known for its seafood, Calabash is also home to one of the best ways to start your day. Boasting some of the tastiest breakfast creations in town, start your day at the Sunrise Pancake House. This family owned spot offers visitors and locals a variety of delicious breakfast and lunch items, including a tasty Sunrise Omelet that consists of ham, potatoes, onions and cheese topped with diced tomatoes.
Sunday Brunch at Shagger Jacks
No Sunday is complete without brunch, and Shagger Jacks in Oak Island is a great place to enjoy a hearty meal with family and friends. Guests can enjoy all the unique offerings like the Hippy Chick Granola, made from a local conveyor, and brunch favorites including the Island Spiced French Toast. This dish invites guests to enjoy spiced rustic white bread topped with coconut rum infused syrup, fried plantains and bacon. Need we say more!
Seashells by the Seashore
Enjoy a peaceful beach walk in the morning as you search for a loads of beautiful seashells. Make your way to the shores early in the morning for first pick of a great variety of shells strewn across the beach. But before you take home your treasures, make sure that there are no living creatures occupying the shell! Some examples of area treasures waiting to be discovered are Angel Wings, Olives, True Tulips, Sand Dollars and Scallops.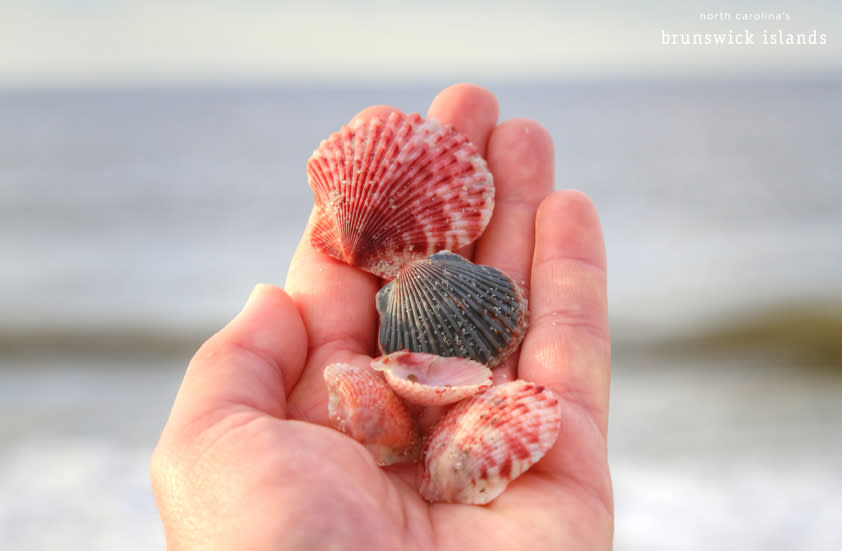 Eggs Charleston at the Backstreet Café
Nestled on the southern tip of the Brunswick Islands lies Sunset Beach, home of the Backstreet Café. Visitors can settle in and savor the "Eggs Charleston," an elevated take on Eggs Benedict. For this dish, Backstreet Café replaces Canadian bacon with authentic crab cakes drizzled in hollandaise sauce, topped with perfectly poached eggs and served over an English muffin. A choice of ground grits, fresh fruit or crispy hash browns completes this breakfast masterpiece.
Classic Combos at Mainstreet Grill
Are you more of a classic breakfast lover? If so, the classic combos at Mainstreet Grill are a must have for your taste buds! Located just minutes from the beach in Holden Beach, the Mainstreet Grill offers locals and visitors a causal dining experience with fresh and local food from farmers and fishermen in the area. Be sure to stop in and try any of the classic combos, served with eggs, toast or a biscuit, your choice of bacon, sausage links or sausage patty and either hash browns, home fries or grits. You also have the option to add buttermilk pancakes.
Avocado Smash at Drift
Millennials may be behind the avocado craze, but with all the health benefits you get from the fruit, there's no wonder avocado dishes are a crowd favorite! Spoil your taste buds and get your caffeine fix at Drift in Ocean Isle Beach. For an unforgettable breakfast with a healthy twist, try the Matcha Latte and the Avocado Smash. Ripe smashed avocados are served on organic 21-grain toast and topped with crunchy pumpkin seeds, an almond peppercorn blend and extra virgin olive oil. This can't miss treat is a must for early risers. Drift offers guests unique coffees, fresh fruits and handmade pastries served in a relaxed and friendly environment.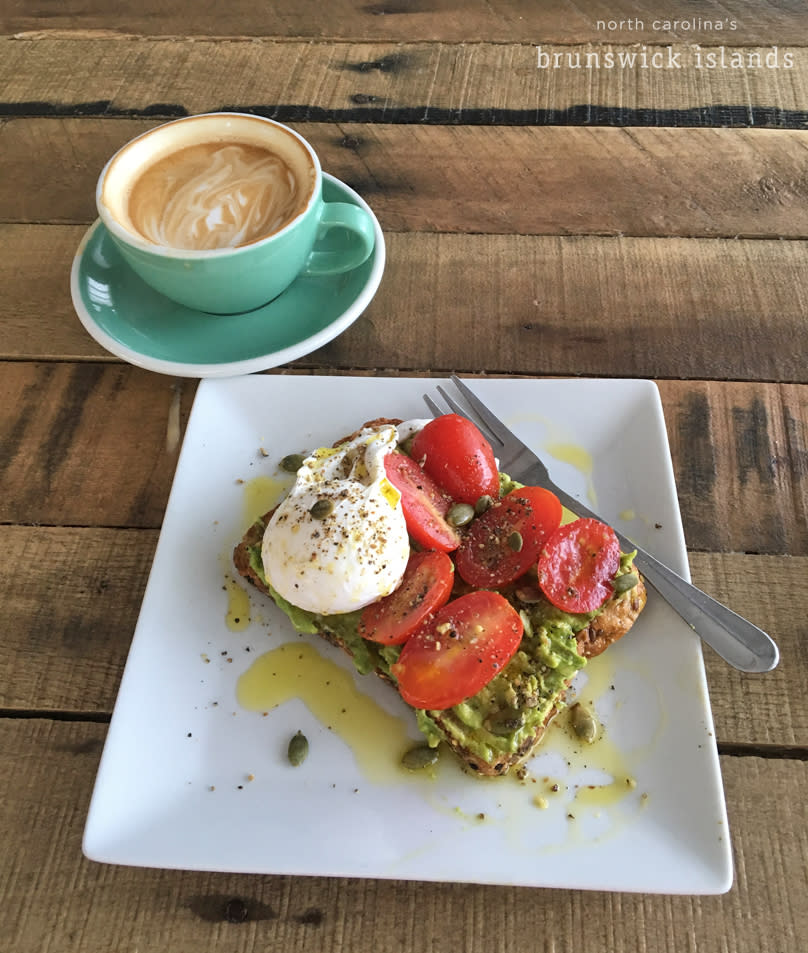 Now that you have enjoyed the most important meal of the day, spend the rest of your time adventuring around the six barrier islands, 45 miles of beautiful beaches and the quaint coastal towns. Didn't see your favorite breakfast dish? Check out all the delicious culinary options and waterfront dining experiences in North Carolina's Brunswick islands! For more information on activities and dishes to experience on your next vacation to the Brunswick Islands, please visit www.ncbrunswick.com.