Beyond the beautiful beach scenery, North Carolina's Brunswick Islands boasts unique experiences that can't be missed. On Sunset Beach, one particularly a-MAZE-ing artistic phenomenon has captured the fascination and curiosity of locals and visitors alike. Local celebrity artist Hunter Gibbes, better known as the Sunset Beach Maze Man, adorns the beach with his larger-than-life sand mazes. If you're lucky enough to come across one of his intricate designs, you can face the challenge of completing it! Read on to learn more about this local legend.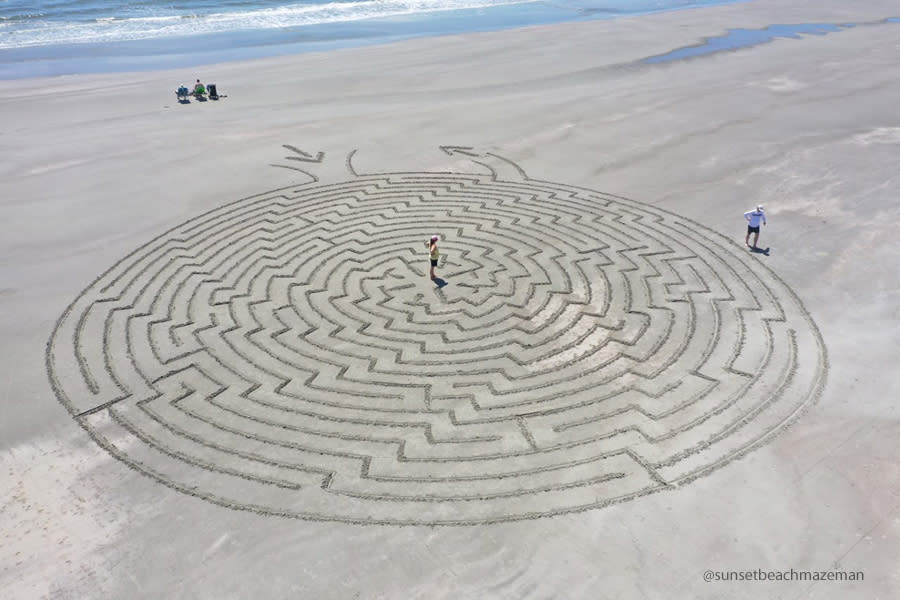 A Stroke of Sand-Sational Genius  
Hunter started out just like any of us, a beachgoer who loved making sandcastles and sculptures to pass the time. One fateful day in 2006, armed with just a shovel, Hunter began making small doodles in the sand that eventually transformed into his very first sand maze. 15 years and 400 mazes later, Hunter's art has turned into the ultimate beach playground – adding to the natural charm of Sunset Beach.  
Get Lost and Find Fun 
Today, Hunter's mazes can take anywhere from 45 minutes to two hours to complete and onlookers can often be seen watching in awe as these giant mazes come to life. The Maze Man's extensive labyrinths are no small feat for beachgoers. Spanning from dune line to ocean line, the width of his mazes can stretch to one-third the size of a football field. The sandy puzzles are packed with twists and turns, inviting you to lose yourself in the challenge! It's a thrilling adventure that guarantees laughter and a definite sense of accomplishment.  
Made with Love for All Ages 
Apart from his love for creating these puzzles, Hunter's main goal is to bring fun to those visiting Sunset Beach. The Maze Man's original maze-goers were his wife and two daughters, who loved working their way through his tricky puzzles. Hunter's wife, known as the Maze Man manager, passed away in 2021. He continues to make his mazes in loving memory of his wife and to bring joy to the young at heart. Whether you're a kid with insatiable curiosity or an adult seeking a playful escape, we guarantee the Maze Man will bring a sense of excitement and adventure to everyone.  
Visit ncbrunsiwck.com to discover how you can enjoy the beautiful scenery of Sunset Beach, see the Maze Man's incredible designs, and have the perfect beach vacation.