Those intrigued by learning new things and who love to enjoy the great outdoors will find North Carolina's Brunswick Islands to be the perfect vacation destination. Our five unique barrier islands are bursting with wildlife to explore and history to uncover. If you're interested in learning something new during your next vacation and prefer to stay outside, look no further! Below are five outdoor educational adventures you can take in NC's Brunswick Islands! 
1. Delve into the habitats of a coastal reserve on a guided walk to Bird Island.  
Discover 1,200 acres of beautiful salt marsh and tidal creeks just waiting to be explored on the Bird Island Reserve in Sunset Beach. Filled with high natural dunes and pristine sandy beaches, Bird Island is one of the 10 sites preserved by the North Carolina Coastal Reserve and National Estuarine Research Reserve; Its preservation creates the perfect coastal ecosystem for visitors to tour. During summer you can experience the history and habitats of this unique coastal area on a guided educational walk with members of the Bird Island Preservation Society Stewards. Learn about the plants and animals that make Bird Island a special place as you explore its estuaries, grasslands, marsh and sound, wildlife trackings, marine life, and more. Walks to Bird Island begin at the 40th street walkover in Sunset Beach and typically last about 2 hours.   
2. Explore unique wildlife living along the Intracoastal Waterway at the Oak Island Nature Center.
Nestled 11 feet up in the middle of the forest, between oak trees, tall native pines, and a gorgeous salt marsh ecosystem, the Oak Island Nature Center is home to a variety of educational programs hosted by the Oak Island Recreation Department throughout the summer to Labor Day. Step inside the Nature Center during the summer season and learn about native shorebirds, reptiles, butterflies, the marsh ecosystem, and more, or venture outside any time of year and explore the surrounding area that features a Talking Trees Walking Trail, butterfly garden, floating dock, fishing tee, and more. The Oak Island Nature Center is located within Malcolm Register Park in Oak Island; It's the perfect place to learn about the wildlife living along the Intracoastal Waterway.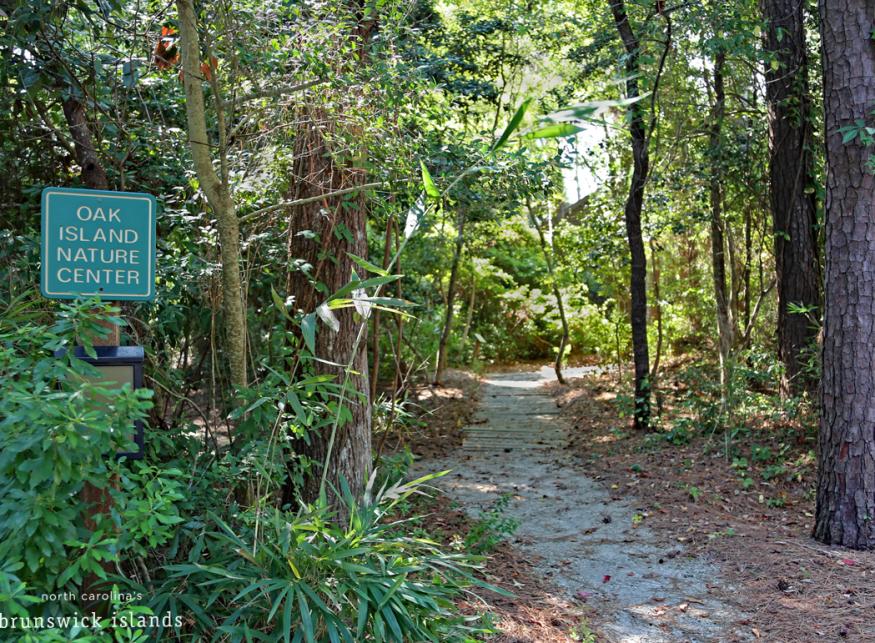 3. Tour the natural environment of a river on a Swamp Boat Eco Tour.
Looking for an up close and personal view of nature? Head on over to The Swamp Park and discover the Shallotte River Swamp's natural environment on a swamp boat eco-tour! Located in Ocean Isle Beach, you'll find plenty of nature to explore and history to uncover on a swamp boat eco-tour; including a landmark possibly used by George Washington himself back in 1791! As you wind your way through the river, you'll learn about its ecological benefits and have plenty of chances to spot wildlife such as alligators and a variety of bird species. Swamp boat eco-tours generally last about 50 minutes and they also come with the park's mile-long swamp-side nature trail on an elevated walkway for you to stroll along after your boat ride. The Swamp Park also offers zipline and guided ATV tours as well. 
4. Venture through wildlife hotspots on a Bald Head Island Nature Tour.
Preserved and teeming with wildlife, Bald Head Island is an eco-lovers paradise with acres of natural space to explore. Join members of the Bald Head Island Conservancy on an Island Nature Tour to truly discover what makes this area such a unique place. During the tour, you'll search for animals at several wildlife hotspots among the island's maritime forest, salt marsh, and pristine beaches. As you venture through the beach, marsh, and maritime habitats, you'll also learn about how the conservancy works to protect these beautiful areas. The Bald Head Island Conservancy also offers birding and kayaking tours along with other programs. 
5. Discover the natural wonders of a salt marsh on a kayak tour.
Looking to discover the natural wonders of salt marsh ecosystems and the rich local history of the area? Join the Adventure Kayak Company on a guided kayak tour and choose from two salt marsh adventures! Tour Sheep's Island, which is part of the Cape Fear Civil War Shipwreck District and located on a marsh creek next to the Lockwood Folly River Inlet, or explore Montgomery Slough, a saltwater marsh area that runs from the Lockwood Folly Inlet to East 40th Street on Oak Island. Both tours include history to uncover and many opportunities to spot wildlife, such as great blue herons, pelicans, egrets, dolphins, and more! Best of all, guided kayak tours allow you to access marshland areas that are inaccessible by larger boats, so you'll enjoy a unique perspective on the area's wildlife habitats. Located in Southport, the Adventure Kayak Company also offers blackwater river kayak tours, kayak lessons and rentals, and historical Southport bicycle tours. You can also explore the marshes and wetlands of the Brunswick Islands on a guided kayak tour with Summertide Adventure Tours in Ocean Isle Beach, Riverside Adventure Co. on Bald Head Island, and Long Beach Paddle Company in Oak Island. 
In NC's Brunswick Islands, the opportunities to learn something new without being stuck inside are endless. Ready to take your next outdoor educational adventure? Click here to start planning your Brunswick Islands vacation!