North Carolina has plenty of beautiful beaches for both visitors and residents to choose from, but there's one destination that remains the state's best kept secret. Located in the southernmost corner of North Carolina between busier and more developed Wilmington and Myrtle Beach, the Brunswick Islands offer a serene, laid-back environment and scenic escape. Five barrier islands – Sunset Beach, Ocean Isle Beach, Holden Beach, Oak Island and Bald Head Island – separate the mainland from the Atlantic and supply 45 miles of spacious beaches that continue to bring families back year after year. Quaint coastal towns like Southport, Calabash, Shallotte and Leland boast charming family-owned, one-of-a-kind restaurants, galleries and shops. Add in a temperate climate ideal for year-round beach fun, waterfront dining, and festivals; lighthouses and historic architecture; and attractions for the whole family, and the stage is set for the perfect coastal getaway. 
Six Unique Beaches  
With six different beaches, The Brunswick Islands isn't lacking in variety. Although all pristine and uncrowded, each beach has its own allure and personality, ensuring there's something for everyone:  
Sunset Beach is a haven for wildlife and home to a hidden gem, the Kindred Spirit Mailbox.  
Ocean Isle Beach's easygoing yet active spirit has made it a repeat favorite of adventurous families for generations.  
Holden Beach, with its small-town charm and endless family fun, has been named one of the country's best family beaches by National Geographic Traveler.  
Oak Island provides an old-fashioned summer beach vacation and is known for being extra pet-friendly, so much so that it was named as one of the state's most dog-friendly beaches.  
Caswell Beach specializes in quiet seclusion as the least inhabited of the beaches, and it's also home to the last lighthouse built in North Carolina, the Oak Island Lighthouse.  
Bald Head Island, accessible only by ferry or private boat, has a resort-style atmosphere and is home to the oldest lighthouse in the state, Old Baldy.  
All of the beaches also offer a wide variety of large beachfront vacation rental homes that can accommodate the whole family, including pets – perfect for a spring break getaway or reunion with friends and family this summer or fall.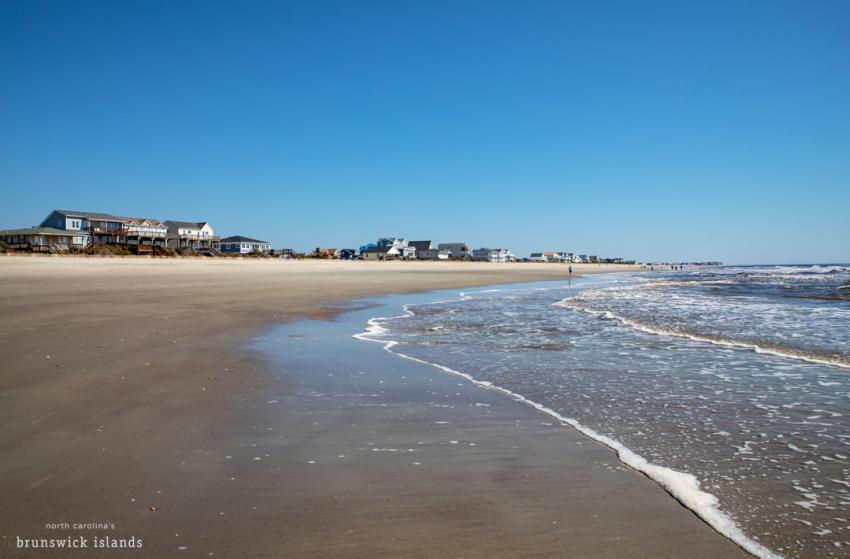 Motion Picture Perfect Southport  
Southport charms residents, visitors and even Hollywood with its views of the Cape Fear River, ancient live oaks drizzled with Spanish moss, and waterfront Victorian homes on flower-edged lanes. The rich history and picturesque beauty of this maritime village make it one of the best coastal small towns in the U.S. Brimming with antique stores, waterfront restaurants offering locally caught seafood, and unique boutiques and shops, it's a Norman Rockwell painting come to life. More than 40 productions have filmed here, including Safe Haven, A Walk to Remember, and Under the Dome. Tours of Southport take visitors on a walk or golf cart ride to see every Hollywood set location in town.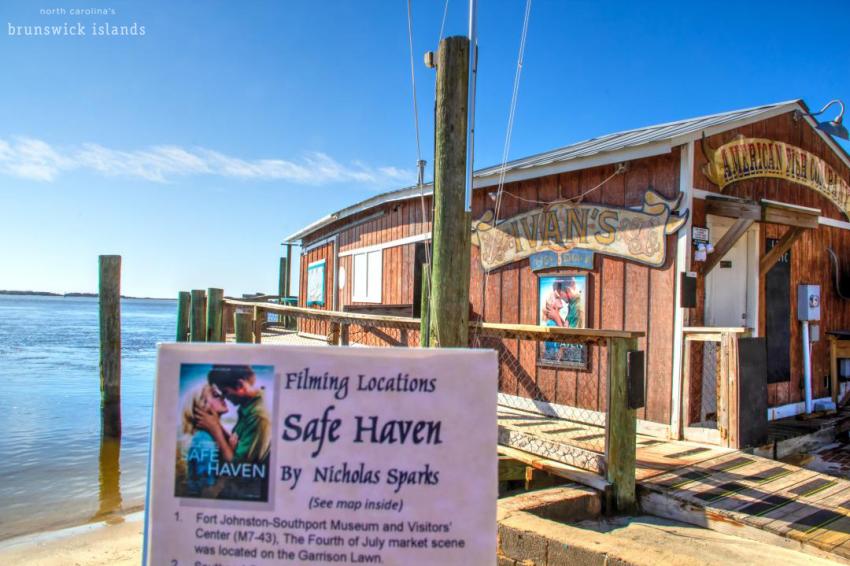 Nature-Filled Outdoor Activities  
The ecosystem of the Brunswick Islands produces the perfect place for some nature filled fun. Adventurers can zip through The Swamp Park on a sustainable zipline course or ATV tour that navigates through a 300-year-old swamp and cypress canopy. While the ocean, rivers and Intracoastal Waterway offer a medley of water-based action like canoeing, kayaking, wind sailing, paddle boarding, surfing and fishing. Birding is especially popular in the spring, as the area's many bird sanctuaries and nature preserves offer views of a wide variety of species during their nesting season. Stargazing is another must-experience activity; thanks to the area's lack of light pollution, stargazers can enjoy spacious constellations surrounded by nothing but the ocean and sand. Not to mention the Brunswick Islands, affectionately dubbed "NC's Golf Coast," remains a top golfing destination with over 30 courses in the area.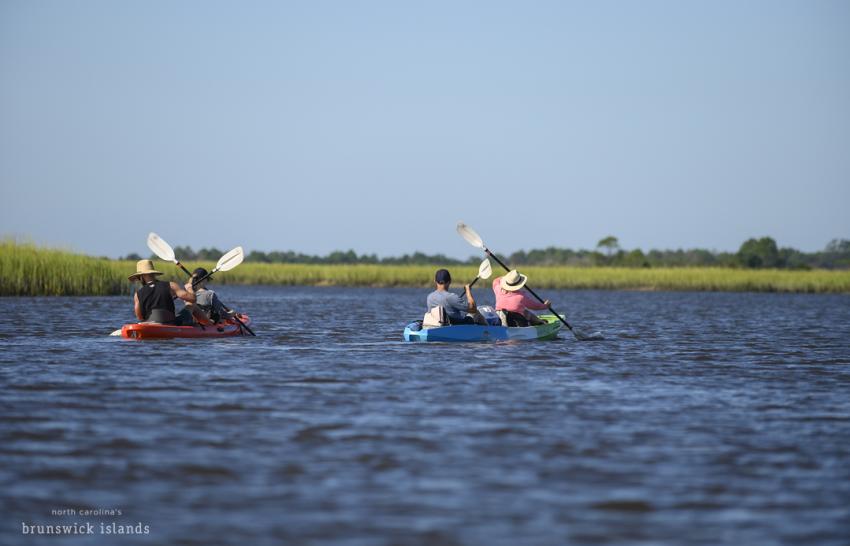 The World-Famous Calabash-Style Seafood 
Travelers may have already heard of the lightly breaded and fried Calabash-style seafood. What they may not know is it's named after the fishing village in Brunswick Islands that has been dubbed the "Seafood Capital of the World." Located next to Sunset Beach, Calabash has undergone a resurgence that embraces both the old and the new. While it still offers the traditional Calabash-style seafood at the long-standing favorites that have been around since the 1940s (when the specialty took off in popularity), visitors can also experience great new restaurants with waterfront views, like Oyster Rock and Waterfront Seafood Shack. After dinner, visitors can enjoy Calabash's unique shops and homemade desserts.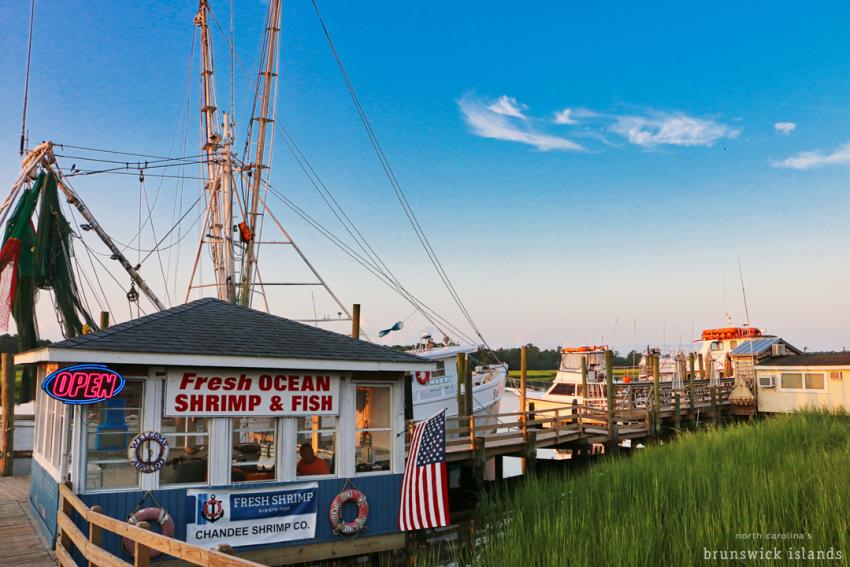 Festive Celebrations Year-Round  
Numerous annual events invite exploration of the sights, sounds and flavors of North Carolina's Brunswick Islands. 
NC Fourth of July Festival – July 

NC Oyster Festival – October 

NC Festival by the Sea – October 
Annual U.S. Open King Mackerel Tournament – October 

Southport Wooden Boat Show – November 

Holiday Flotillas and Festivals – November and December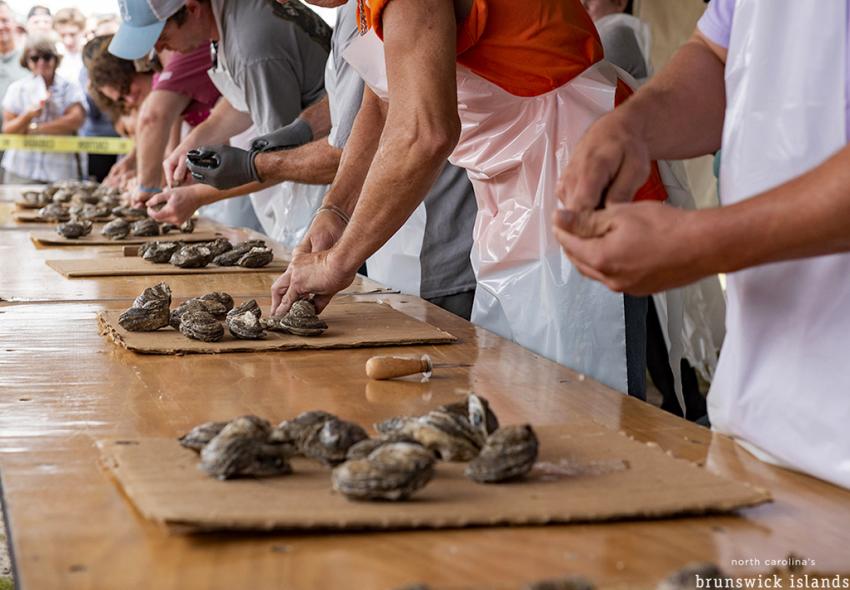 No matter who you are, you're sure to find something that indulges your interests to create the perfect island getaway in North Carolina's Brunswick Islands. Find more information and start planning your trip here.