Summer is in full swing, and there is no better way to enjoy the sweet summer air and beautiful ocean breeze than with a picnic in North Carolina's Brunswick Islands. Equipped with more than 45 miles of spacious and uncrowded beaches, as well as a variety of nature parks, the Brunswick Islands provides the ideal backdrop for social distancing with your loved ones. One of the best ways to enjoy the summer weather and great outdoors is to plan a scenic picnic on the beach or at your favorite park! From grilling out to casual dinners on the porch, summer is the ideal time to take meals outside. Whether you are planning a picnic with your significant other or gathering the family on a beautiful summer day, check out some of our tips to help plan the perfect picnic in NC's Brunswick Islands:
Bring the Right Gear:
For starters, you will want to ensure that you bring the proper gear for your afternoon adventure. This can vary depending on the distance from home, how long you plan to stay out, and what kind of food you are bringing with you. Generally, you cannot go wrong with a picnic basket or a cooler as well as cups, sturdy paper plates, cutlery, and napkins. For ease of cleanup we also suggest a plastic bag for garbage and a picnic blanket for laying out on and taking in the views.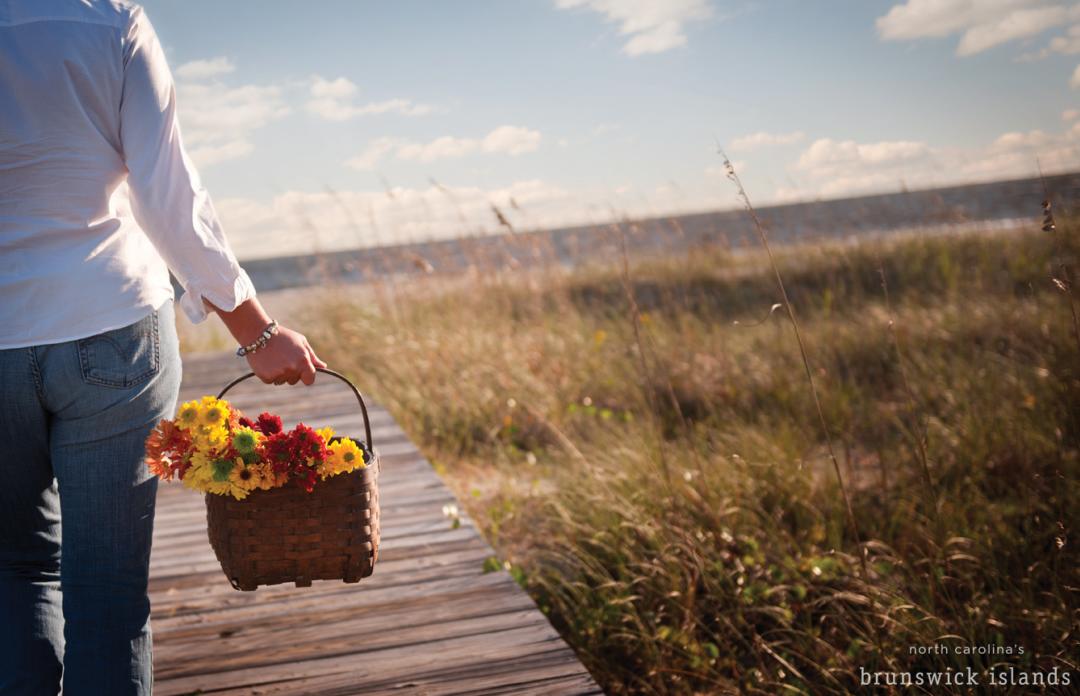 Have the Right Food:
Of course, you will need something special to fill that picnic basket with, and the Brunswick Islands has no shortage of delicacies to pick up and pack for your picnic. For some to-go specials check out Causeway Gourmet, a local spot for delicious dining, take-out, delivery, and catering. The Cape Fear Dip, a delicious blend of blue crab, artichoke hearts, and creamy four cheese gratin, served with crackers and crostini, is an amazing option to start your beach picnic. Add on a Salmon Power Salad, fresh salmon served over mixed greens with tomato, avocado, bacon, cucumber, and red onion, and you will be able to taste the ocean while keeping your toes in the sand! Causeway Gourmet also has tasty desserts that complete any picnic basket. For those looking to fill their basket with delicious sandwiches or salads, Moore Street Market in Southport has a wide variety of options. No matter what you are craving, NC's Brunswick Islands is home to tons of restaurants that cater to every taste bud and offer to-go options!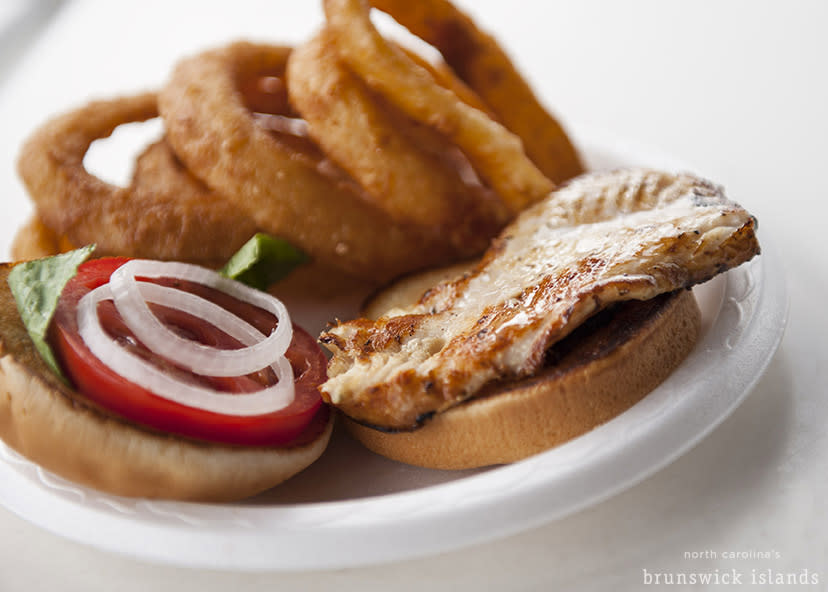 Pick Your Ideal Backdrop:
Once you have your gear packed and have picked up your favorite take-out, it is time to stake out the perfect picnic location. While beautiful backdrops abound in NC's Brunswick Islands, we have compiled a list of locations for a scenic picnic that you will not soon forget.
For a beach picnic, check out Sunset Beach, Ocean Isle Beach, Holden Beach, Oak Island, Caswell Beach, or Bald Head Island. All of these beaches will have plenty of wide-open spaces well suited for a picnic in the sunshine that ends with a dip in the ocean and sandcastles on the beach.
Looking for greener pastures? The Brunswick Islands have a multitude of gorgeous nature preserves and parks around the area. Those looking for a traditional park with playgrounds, and picnic tables of course, can visit Leland's Founders Park, Shallotte's Mulberry Street Park or the Ocean Isle Beach Park. For a park setting that includes stunning waterfront views check out Sunset Beach Town Park, Southport's Waterfront Park, Oak Island's Malcolm Register Park or Holden Beach's Bridgeview Park.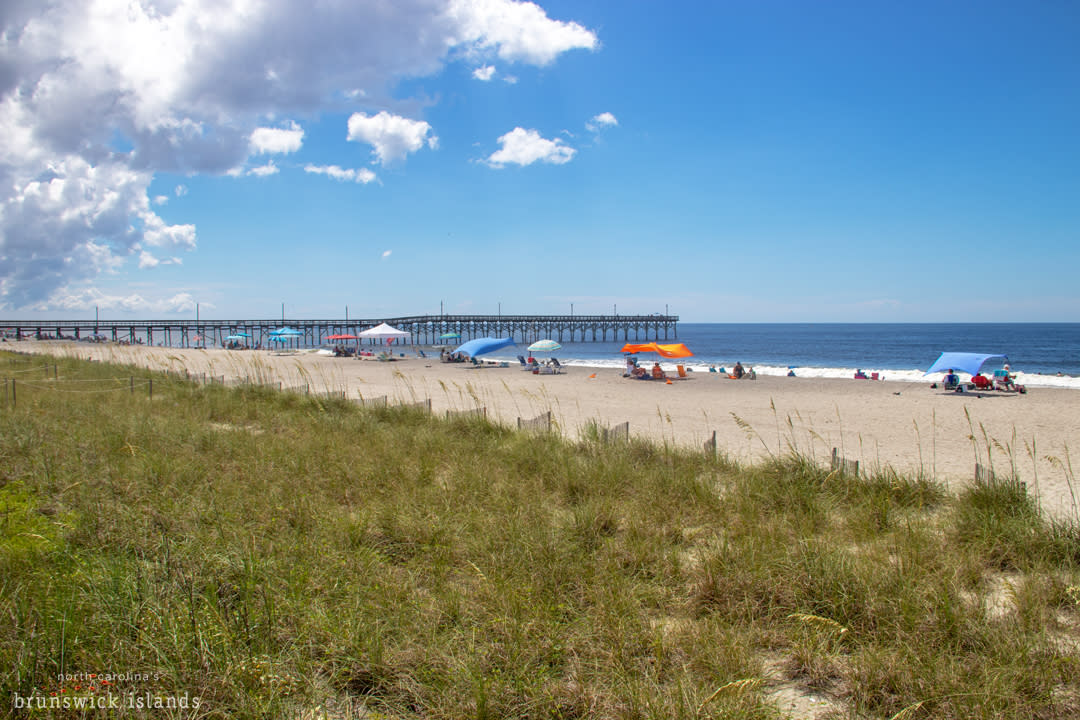 Play it Safe:
Above all, make sure you are staying safe as you go about your adventures! Time flies when you are having fun, so make sure to keep track of how long your food has been out and throw away anything prepared that hasn't been eaten within two hours to avoid any food poisoning possibilities. Also, be sure to check out the regulations at your selected beach or park and remember that glass containers are prohibited on all Brunswick Islands beaches. Finally, double check as to whether your favorite park locations require you to reserve a picnic table before making your way over. 
Now is the time to make your plans! Whether you are looking for a romantic date or a fun family activity there is no better time to plan your perfect picnic in North Carolina's Brunswick Islands. For additional information on the Brunswick Islands and to plan your trip, please visit www.ncbrunswick.com.