It's never too early to start planning a family reunion your loved ones will remember for years to come. With the area's central Mid-Atlantic location, plenty of affordable accommodations, more than 45 miles of beautiful beaches, endless outdoor activities, and fairways as far as the eye can see, it is easy to see why hundreds of families host their annual reunion at North Carolina's Brunswick Islands each year. There is no better place to get the family together than at the beach, and the Brunswick Islands has offerings suited to every member of the family.
We spoke with Cheryl Summer, an Ohioan who has been visiting North Carolina's Brunswick Islands for more than 35 years. Cheryl originally started visiting the area with a few couples, and it has now morphed into a 20-person, two-house annual reunion with family and friends traveling from all over the country.
Check out Cheryl's six tips on making the most of a family reunion, from planning to feeding a crowd:
Find Accommodations That Can Hold Your Entire Family:
The Brunswick Islands has plenty of accommodations and meeting space that can accommodate families of all sizes! One of the most popular accommodations is a vacation rental home. Cheryl recommends booking one or more large houses, with spacious, equipped kitchens, lots of bathrooms, laundry facilities and plenty of areas to gather.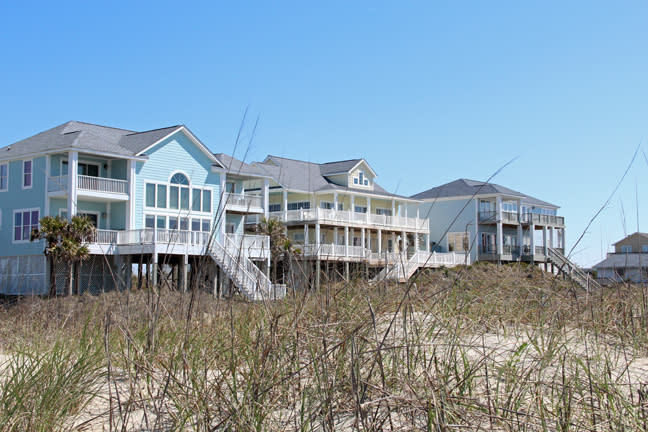 Plan Well in Advance:
Cheryl suggests that families start preparation for each beach reunion at least one year in advance. "We reserve the same two houses for two weeks every September," she says. "We have families that stay for various lengths of time, and attendees from the current year get first pick on dates for next year's reunion."
Organize and Delegate Shopping and Meals:
Feeding the entire family three times a day is no small feat! Cheryl suggests assigning each family a night to provide dinner. "They buy and prepare the main course, dessert and beverages," says Sumner. Through the years, it's developed into a friendly competition as each group tries to outdo the other. To save on labor, they use paper plates and cups.  "We don't come on vacation to do dishes," she laughs.
For the other meals and staples, Cheryl suggests that every person contribute $30 to the "kitty."  At the beginning of the trip, Cheryl and her two organizing friends, Rosie and Debbie, make a grocery store run to purchase breakfast and lunch items, paper towels, zip bags, ice and other kitchen items.
"We designate one house for breakfast and lunch," says Sumner, "and the other for dinner." This provides the dinner crew a clear kitchen and enough prep time. "But both refrigerators have drinks, snacks and condiments for everyone," says Sumner.
Themes and Games Make It More Fun:
Perhaps the most fun and memorable part of each reunion is the changing theme. "We have a different theme each year. Once it was Christmas in July, another it was pirates, we vote on the next year's theme at the end of the reunion" says Sumner.
Tuesday is designated as party night, with everything revolving around the theme, from costumes, décor, quizzes, music and activities. "The year of the pirate we created a treasure hunt throughout the house and onto the beach," says Sumner. "Participants searched the house for clues, and followed a map onto the sand, where we had placed nine different 'Xs' to mark potential treasure." These fun themed activities bring the family together in a fun and exciting way!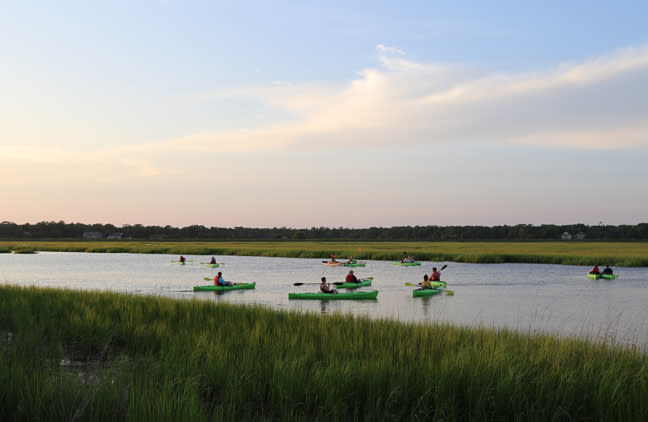 Choose a Location with Many Activities:
Cheryl recommends that families pick a beach that's not too busy and crowded, such as those in this southernmost corner of North Carolina. Yet the location should have activities for each age group. While each of the beaches of North Carolina's Brunswick Islands – Sunset Beach, Ocean Isle Beach, Holden Beach, Oak Island, Caswell Beach and Bald Head Island – has its own character and charm, they all offer plenty of activities for every age and interest. On the islands and the mainland are mouthwatering dining, museums and shops, boating, kayaking, fishing and championship golf, and riveting maritime and military history.
Book Ahead:
While North Carolina's Brunswick Islands is a well-loved, best-kept secret, it's best to book a vacation beach rental, especially very large or oceanfront homes, a year ahead or at least by January if visiting from May – August, as many families like Cheryl's come back year after year to build upon what they call their best vacation memories ever.
Come see why the Brunswick Islands brings families together! To plan your family reunion in North Carolina's Brunswick Islands, and to learn more, visit www.NCBrunswick.com
Follow NC's Brunswick Islands on social media at www.facebook.com/NCBrunswick/ and www.instagram.com/ncbrunswickislands/