Located along the southern coast of North Carolina, between Wilmington and the South Carolina border, lies the 45 miles of beautiful uncrowded beaches, endless sunshine and delicious seafood that is North Carolina's Brunswick Islands. While all these things make for a great beach getaway, the Brunswick Islands' prime Atlantic seaboard location also make it a premier fishing destination!
Cast Off on a Great Guys (or Gals) Getaway:
For a perfect and productive day on the water, many charter services in NC's Brunswick Islands offer a variety of half or full-day excursions for inshore, nearshore, and deep sea fishing. Whether you are staying within sight of land or heading 45 miles offshore to the Gulf Stream, all charter services in the area are owned and staffed by seasoned professionals whose skill and local knowledge ensure the trip is productive, enjoyable and filled with fish. Most charter services include fishing licenses, bait, tackle, and ice. However, it is easy to secure a fishing license for saltwater fishing or freshwater fishing should you wish to forgo a guided charter.
On Holden Beach, check out Catch 22 Charters, Ollie Raja Fishing Charters, or Holden Beach Marina and Fishing Charters, which depart from the island and head into the surrounding waters. Follow Me Charters and The Ocean Isle Fishing Center charters depart from Ocean Isle Beach and offer multiple options for both deep sea and inshore fishing. Hurricane Fleet, one of the very first fishing fleets in North and South Carolina, is conveniently located along the waterfront in Calabash, where numerous restaurants are located to welcome you back to dry land with a scrumptious meal and cool beverages.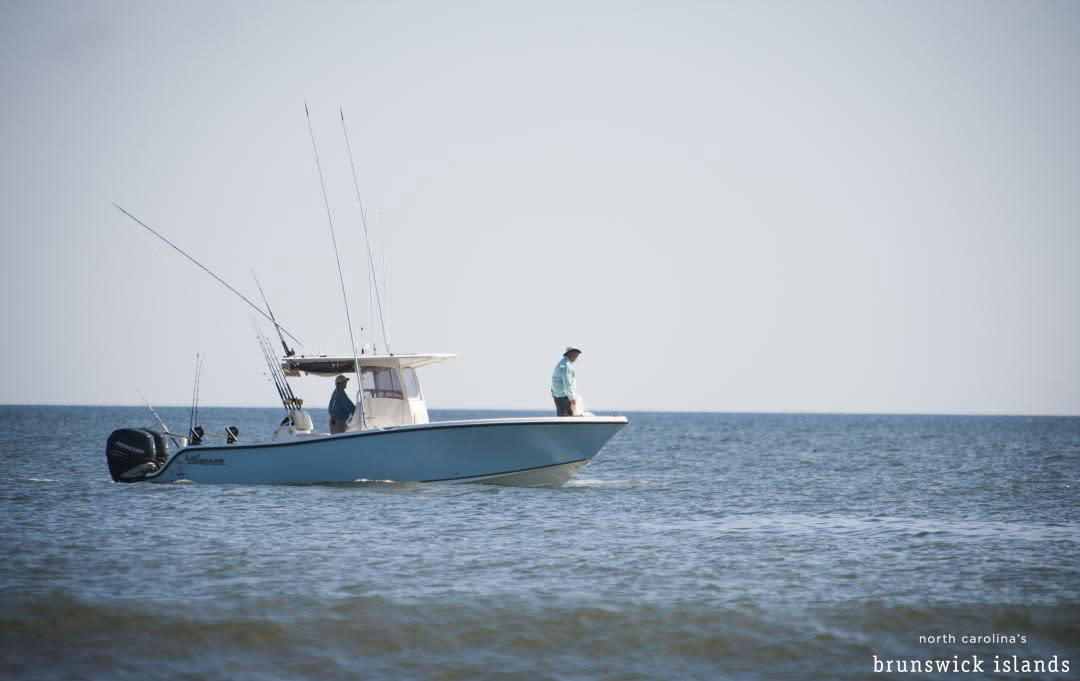 Fishing for Family Fun:
For a shorter and more athletic excursion, don swimsuits and take the crew out on kayaks. Your family will love gliding through salt marsh creeks, black water rivers, and coastal bays while casting for trout, flounder, and redfish. Lucky families may spot blue and green heron, otters, turtles, or even a deer! Kids will love watching brown pelicans dive for their dinner, so you can focus on casting a line while the whole family enjoys a unique outdoor nature adventure! If you don't have your own kayaking gear, there are many rental equipment outfitters located throughout the Brunswick Islands that can set you and your family up with all of the necessities. And once you are ready to go, designated launch spots are located across the five islands and many vacation rental homes have docks along the canals or Intracoastal Waterway.
A unique option offered by Oak Island Fishing Charters is the children's fishing charter, an experience designed to take kids on a deep dive into the world of fishing. This three-hour specialized charter provides children with all the fundamentals of fishing and lets them experience the excitement themselves by fishing for spots, croakers, bluefish, and Spanish Mackerel in a beautiful location. Children will gain a love of fishing, and parents will love seeing their little ones making memories that will last a lifetime.
When the sun heads down, the family fun does not have to stop. Enjoy a sunset river cruise aboard the Calabash Fishing Fleet, located along the Calabash waterfront. Munch on some Calabash-style shrimp (or a hamburger and fries for the non-seafood eaters) before boarding a charter boat and heading out to sea. Multiple excursions are available, including a four-hour evening fishing tour and a shorter evening sunset tour.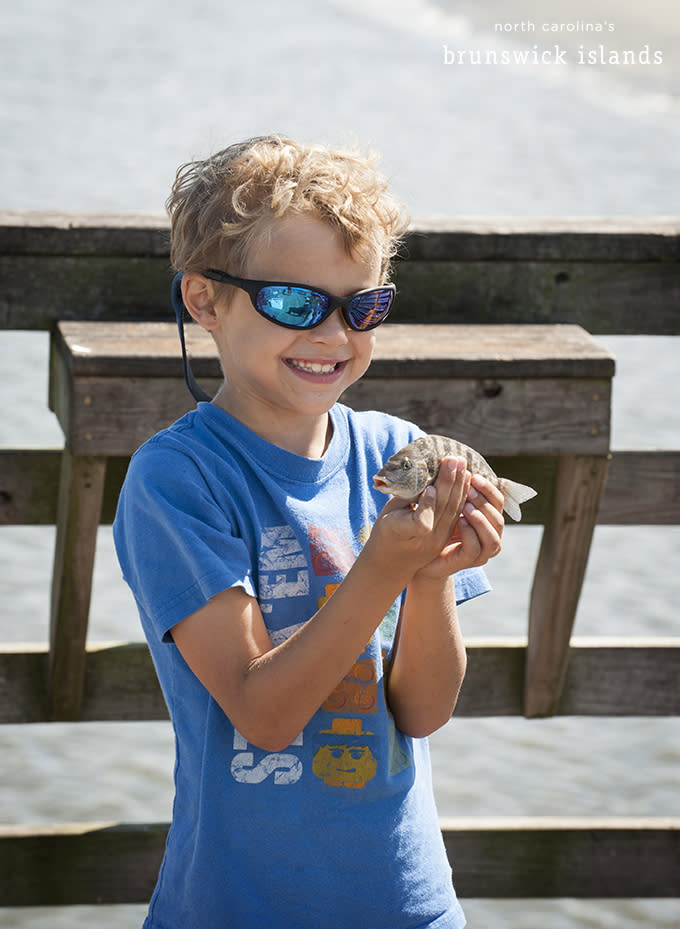 Flying Solo:
Heading out alone? Fishing can be one of the most serene ways to get out amidst nature. One of the wonderful things about the Brunswick Islands is that places to cast a line are always nearby.
Get up early to enjoy the sunrise while surf fishing along an expansive stretch of uncrowded beach along any of the five barrier islands. No two locations will offer the same view, so find a spot tailored to your fishing needs and spend the day taking in the beautiful ocean air and sea breezes.
Another popular option is fishing off one of the five ocean piers located in the Brunswick Islands. Enjoy lunch at the Oak Island Pier restaurant, KoKo Cabana, and fill up on supplies at the Pier House Tackle Shop. At the Ocean Crest Pier, also located on Oak Island, check out the live bait tank and get the forecast from their on-site weather station for additional information on what the day holds. The Ocean Isle Beach Pier is another favorite for anglers and families, with a bait and tackle shop, equipment rental, arcade room and grill that is a favorite spot for breakfast and lunch. Stretching out 900 feet into the ocean is the Sunset Beach Pier, home to a snack bar, game room, and bait and tackle shop. A family favorite, the Holden Beach Pier is not only a great spot for fishing but one can also stay at the near by Holden Beach Campground!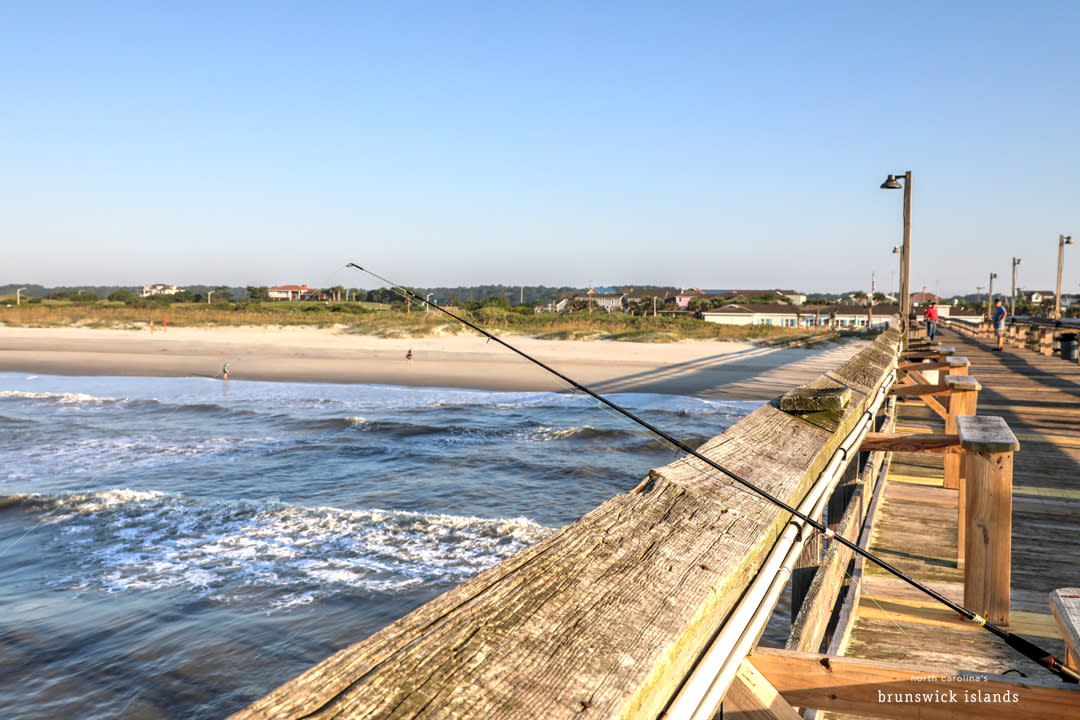 Fishing for your Supper:
Whether heading out in search of bluefish in the inshore waters, just a mile or two from the shoreline, or for the grouper that reside farther out in the Gulf Stream, let the expert guides in the Brunswick Islands direct you to the best place and time to reel in a great catch! While inshore fishing for red drum, bluefish, cobia, and Spanish Mackerel, check out Spektator Inshore Fishing Charters in Ocean Isle Beach. Offshore fishing, or fishing more than about nine nautical miles off the shore, is where you'll catch fish like wahoo, grouper and tuna. Check out Impulsive Charters or Southport Angler Outfitters in Southport for an unforgettable offshore fishing excursion. Located in Oak Island, Fugitive Fishing Charters, NautiGirl Charters, and Yeah Right Charters offer both nearshore and offshore excursions. Many charters will clean and bag your catch for you so that when you get home all that is left is to cook your delicious seafood!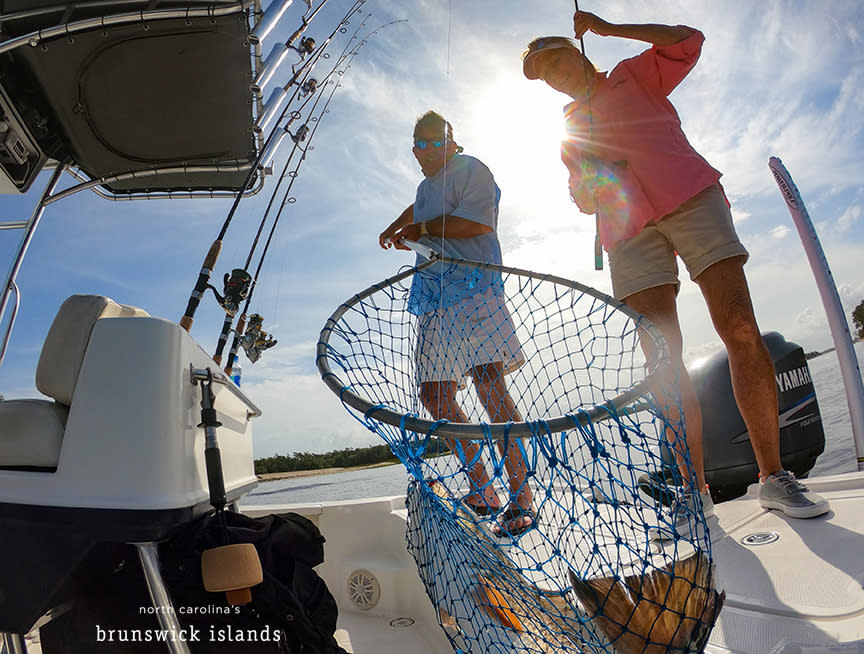 Whether planning your next big friends or family adventure, there is no better place to reel in great memories, and even better seafood, than in North Carolina's Brunswick Islands! To plan your next visit or fishing trip, please visit www.ncbrunswick.com.