Along the shores of North Carolina's Brunswick Islands, one of the South's most stunning natural phenomena occurs every fall through winter. Named one of "10 Incredible Phenomena You Have to See in Fall" by Weather.com, our islands have the unique characteristic of running east-west along the coastline with our beaches facing south. Beginning in late fall, this orientation means you can sit on Oak Island, Caswell Beach, Sunset Beach, Ocean Isle Beach or Holden Beach and watch both the sunrise and sunset over the ocean without having to move your beach chair!
Whatever the time of year, North Carolina's Brunswick Islands features some of the best sunrises and sunsets you'll experience anywhere.  And no more proof is necessary to highlight this fact than the numerous entries in our first ever Sunrise/Sunset Facebook Photo Contest.  With such a large number of exceptional photos to consider, it was difficult to select four finalists!
Congratulations to our grand prize winner and recipient of a $100 Visa Gift Card and North Carolina's Brunswick Islands beach towel, Donna Cone.  Donna captured this moment from the shores of Ocean Isle Beach.  Donna's vibrant sunrise shot received the most likes during the Facebook contest.  For Donna "there is no better time than rising early before others are out to catch a gorgeous ocean sunrise. Truly a spectacular sight."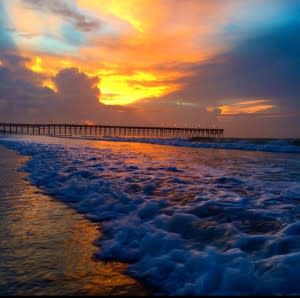 Ilona Miskell's "Sunset at the Dock" shot on Ocean Isle Beach in September received second place honors. Her entry of a tranquil marsh sunset earns her a North Carolina's Brunswick Islands rolling cooler and beach towel. Ilona told us that her son asked "Mom, don't you think you have enough sunset pictures."  She replied "Never!" She adds that "I feel like its a gift at the end of a splendid day."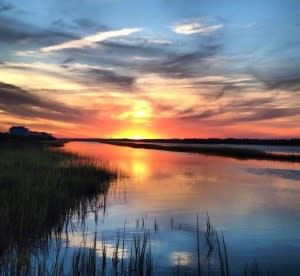 Kelly Clemmons' gorgeous shot of sunset captured from along the tide's edge on Sunset Beach earns her third place honors and a North Carolina's Brunswick Islands beach towel and hat.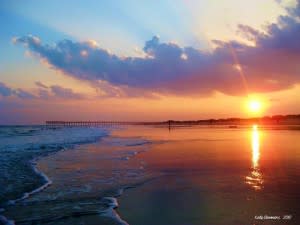 Shot on Sunset Beach, the wistful and artistic "Child's Play at Sunset" submitted by Rochelle Aycoth rounds out our 4 top photos.  Rochelle believes "The Brunswick Islands offer the most unspoiled beaches around. The sunsets, especially heading into the fall, are particularly breathtaking."  Rochelle will receive a North Carolina's beach towel for her entry.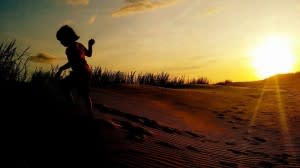 Once again, congratulations to our four fabulous finalists!  And thank you to everyone who participated in the contest. Our random prize winner from all entrants is Stephanie Hogston, who wins a rolling cooler. Stephanie submitted a sunset shot from Oak Island.  Our random voter winner is Jeff Broughton who wins a North Carolina's Brunswick Islands beach towel.
On your next Brunswick Islands visit, be sure to bring your camera and capture those amazing sunrises and sunsets. Who knows, you might be the winner of our next contest.