You don't need a passport to have your dream destination wedding. In North Carolina's Brunswick Islands, five unique barrier islands are filled with 45 miles of pristine beaches, charming accommodations for you and your guests, delicious restaurants, and savvy wedding planners who make beach wedding planning as effortless as possible for brides and grooms. Read on for a helpful list of everything from wedding venues to guest accommodations, so you can be sure your bases are covered without all the stress.  
Choosing The Perfect Venue 
Whether your ideal wedding includes walking down the aisle with sand beneath your feet and the calming sea breeze catching your veil, or a lavish reception surrounded by romantic grounds filled with southern charm, the Brunswick Islands is sure to have the perfect scene for your dream wedding. If a picturesque beachfront ceremony is your goal, it can be found at Ocean Isle Inn, where they specialize in destination weddings with an on-site wedding director, discounted group rates on rooms, and wedding packages that can be tailored to your preferred design.
For a more eclectic option, the Silver Coast Winery provides couples and guests with a picturesque vineyard, art gallery, and barrel room with an enchanted waterfall on their special day. Looking for a unique wedding with some history behind it? The Brunswick Town/Fort Anderson state historic site provides a beautifully rustic and natural setting for an inexpensive price. To narrow down your favorite from the many amazing locations the Brunswick Islands offer, explore our full list of venues and get every detail necessary, from guest capacity to indoor/outdoor space, catering, and local accommodations.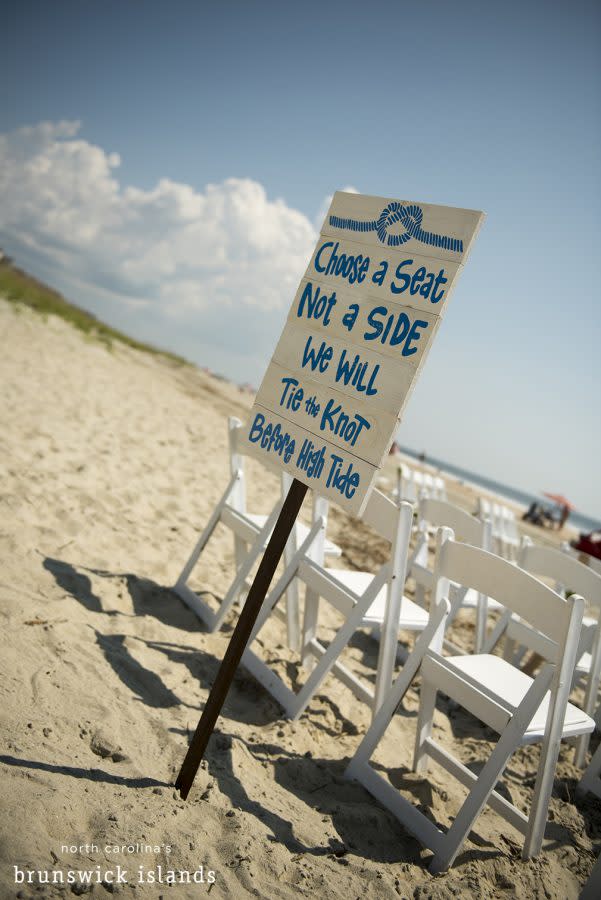 What About The Guests? 
Two of the most common but unexpected stressful parts of planning a beach wedding include selecting accommodations for guests and keeping guests entertained outside of the wedding. Luckily, we have you covered on both. NC's Brunswick Islands has accommodations to suit every interest, from hotels and resorts to charming bed-and-breakfasts. Our list of places to stay helps you choose lodging based on your desired style, sizing, and budget.
The area also boasts a long list of fun attractions and activities to satisfy everyone's interests. Guests can play golf on more than 30 championship courses, peruse antique shops and art galleries, go kayaking to view the beautiful scenery of our marshes, or simply relax and unwind on the beach. With so many amazing options to choose from, you may want to schedule an outing for your entire party or simply let your guests fan out to explore on their own.  
Services – Wedding Planners, Photographers, Caterers, and More  
There can be what seems like a million details that must come together to create your perfect wedding day, but our wedding services directory helps put all of those details together by placing wedding planners, photographers, and caterers in the area directly at your fingertips. Your Brunswick Islands wedding can be as extravagant or intimate as you want it to be. Our wedding professionals have received high ratings and rave reviews for their unique ability to take your personal style and add touches that bring your mind's picture to life. Due to the variety of people who call the islands home, we also have every possible service available locally, from boutiques and bakeries to musicians and DJs, seating and equipment rentals, limo services, and more.  
Logistics – Weather & Traveling  
Weather is one huge factor for beach weddings and, although the Brunswick Islands remain temperate throughout most of the year, your personal preferences for weather conditions are important to take into consideration. We've laid out the average temperatures for each month of the year to help you plan for your optimal experience. Another large factor for you and your guests is the logistics of traveling. The beaches and towns of NC's Brunswick Islands are conveniently located within driving distance of two international airports and many major southern and east coast cities. We have you covered with the average drive times from surrounding major cities and local airports laid out on our planning page. 
Beach Wedding Basics  
There are a few general beach wedding tips that you should be aware of, especially if you have a more intimate reception and decide to forego one of the area's expert wedding planners. Here are some important things to consider before you start planning your Brunswick Islands wedding.   
Is the beach accessible to everyone?  
Consider a sound system if you don't want your vows to mix with the sound of waves.  
Make sure your decor is windproof, especially your flower bouquets.  
Is there enough shade for everyone? This one is particularly important if it's a warm, sunny day.  
Have refreshments on hand along with proper food storage to avoid spoiling.
Select appropriate beach wedding attire.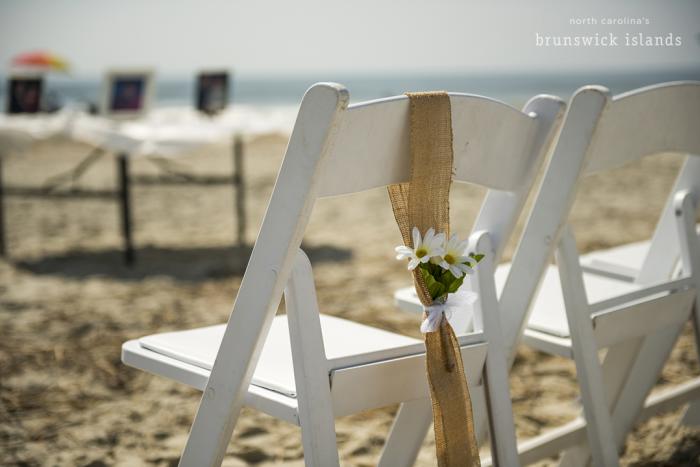 Wedding service providers in the Brunswick Islands work with you to make our unique coast the ideal location for your dream beach wedding. It's all up to you, but there's one thing you can count on – the islands and towns in NC's Brunswick Islands can accommodate any fairytale wedding without hassle or limits. Personal, poetic, picturesque, passionate – perfect.
To begin planning, visit our wedding page. To see the Brunswick Islands Wedding Guide, Vacation Guide, or Golf Guide visit here.