Pristine beaches and amazing, fresh-off-the-coast seafood draw visitors to North Carolina's Brunswick Islands year-round, and in the fall the moderate climate, uncrowded shoreline, and easily accessible location make our five barrier islands and coastal towns the perfect place to spend the holidays. With Thanksgiving just around the corner, we have looked to our chefs and restaurants for their favorite ways to enjoy the flavors of the Brunswick Islands. Check out their Thanksgiving-inspired menu ideas - from make-at-home recipes to dining in or taking out – they have tons of delicious ways to bring a taste of the Brunswick Islands to your table this Thanksgiving!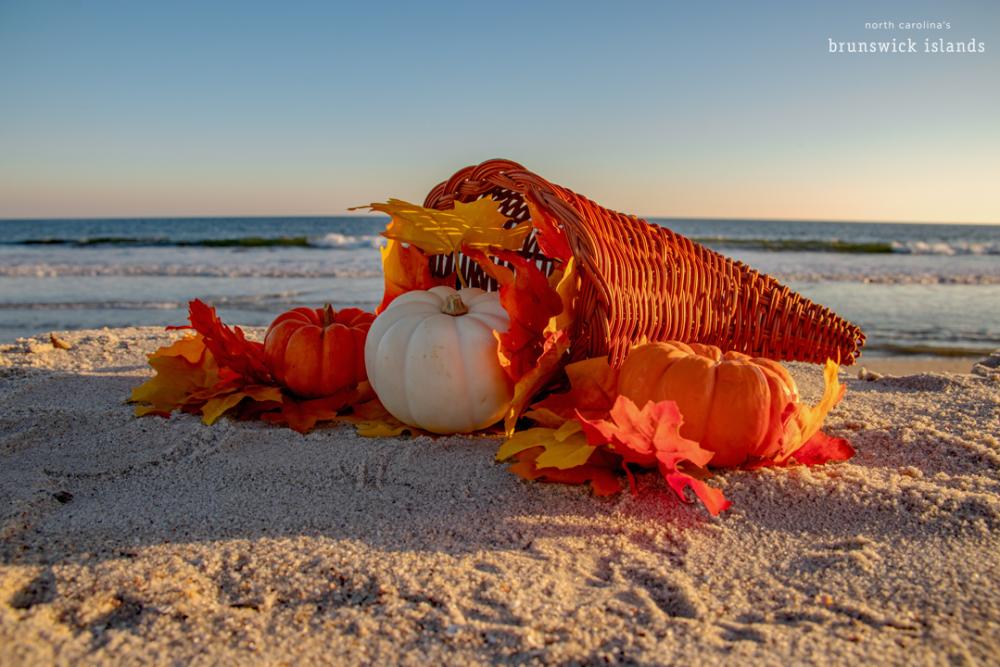 The Perfect Homemade Holiday
When thinking of a traditional Thanksgiving feast, pictures of oven-roasted turkey surrounded by all the trimmings usually come to mind. What most people don't know is that culinary historians believe that much of the original Thanksgiving meal consisted of seafood. With that in mind, we invite you to dive in and celebrate the holidays as the early settlers did - with an abundance of fresh, local seafood. But don't worry, there is still plenty of roasted turkey, stuffing, squash, and green bean casserole to go around as well!
Start off with a first course from one of North Carolina's first seaport towns, Southport, and the iconic Ports of Call restaurant. Featured on their Thanksgiving Menu, the Pumpkin and Apple Bisque celebrates the flavors of fall by blending pumpkin, cinnamon, and crisp gala apples and then topping it off with candied walnuts and a dollop of crème Fraiche.
From Sunset Beach, turn to the pages of the Old Bridge Historical Society's cookbook for some favorite local recipes. Oven Fried Scallops and Coconut (un)Fried Shrimp feature the freshest seafood and offer healthier versions of usual deep-fried favorites that are light enough to leave room for heaping helpings of all the scrumptious side dishes!  
Speaking of sides, in Calabash, a town long celebrated for its abundance of seafood restaurants and signature cooking style, The Oyster Rock offers a bountiful dine-in Thanksgiving dinner along the banks of the Calabash River, as well as tasty take-out options. If you are doing the cooking, they graciously shared their secret recipe to make traditional Carolina Oyster & Sausage Cornbread Dressing (Stuffing) at home! Satisfy the Thanksgiving traditionalist with Roasted Brussel Sprouts with Crumbled Bacon from The Purple Onion Cafe in Shallotte. Make it at home or stop by and pick it up as part of a full Thanksgiving feast to-go.
For a crowd-pleasing dish that will steal the show, replace the roast turkey with a Calabash Steam Pot, a low country boil recipe provided by the Waterfront Seafood Shack. Loaded with shrimp, crab, potatoes, corn, and sausage this seafood extravaganza will convert even the hard-core turkey traditionalists in your household.
Every Thanksgiving feast needs the perfect pairing of libations. Choose from award-winning reds, whites, and sparking wines from Silver Coast Winery. Looking to toast the holiday with a cocktail? Shake up a Bridgtini, a popular recipe in the Old Bridge Historical Society's cookbook, which combines vodka, cranberry juice, peach schnapps, and a dash of bubbly for a festive toast to the holiday season.
Enjoy your peachy beverage with another recipe from the Old Bridge Historical Society's cookbook and try your hand at a Cranberry Apple Casserole, a delicious seasonal dessert that pairs perfectly with the Calabash Moscato from Silver Coast Winery. Make sure to check the hours for both Silver Coast before heading to pick up libations as hours are likely to change the week of Thanksgiving!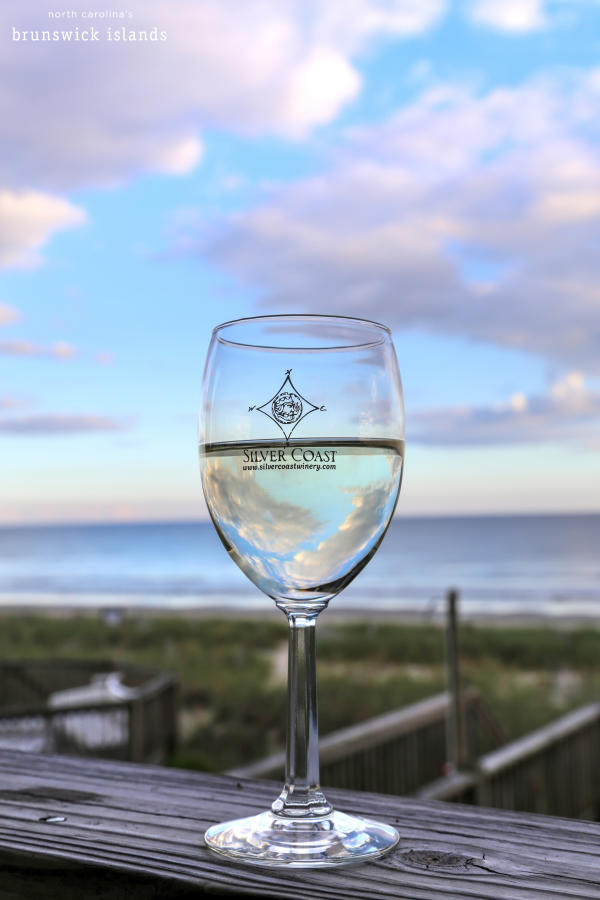 Dine-in or Takeout on Thanksgiving in Brunswick
If you'd rather ditch the pots and pans, NC's Brunswick Islands offers delicious options for a delectable takeout Thanksgiving meal so that you can spend less time in the kitchen and more time making memories with your family! Traditionally, The Boundary House, Ports of Call, Jinks Creek, The Oyster Rock, Salt64, The Purple Onion Cafe, Calabash Deli, Chance's Steak and Sea, and Shagger Jacks all either serve, offer to-go, or have catering options for a fabulous Thanksgiving meal without the fuss (check back for updates to this list). There are plenty of options for traditional Thanksgiving fixings of green bean amandine and buttered whole kernel corn, as well as additional options like tangy shrimp skewers and crab dip you can find only in the Brunswick Islands. Anything you get is sure to fill your heart and your stomach over the joyous holiday weekend.
An After-Dinner Adventure
Want to walk off that Thanksgiving feast? There is nowhere better for a stroll than the Brunswick Islands' 45 miles of pristine beaches, and fall brings with it a special treat. Due to the earth's rotation and the unique east-west orientation of the Brunswick islands, the sun both sets and rises over the ocean this time of year. This special "fall-nomenon" is a rarity on the east coast and makes for a beautiful after-meal stroll along the shoreline. And as captivating as the sunset is, don't forget to look down while out on the beach. The shells are bountiful this time of year, and with moderate water temperatures, you can still stick your toes in the ocean without getting cold before heading back home and hopefully finding that someone has done the dishes while you were out.
Whether celebrating time-honored holiday traditions or starting new ones, NC's Brunswick Islands has something special to make your Thanksgiving memorable. For more information on North Carolina's Brunswick Islands and to start planning your next getaway, visit here.