Outstanding food, beautiful views, and a rich history lead to a memorable dining experience and few places can match Calabash in these attributes, especially for seafood lovers.
For generations, visitors to the Brunswick Islands and surrounding counties have made the trek to Calabash for its world renowned seafood. At first, local fishermen and their families served up fresh seafood straight from the boat right on the banks of the Calabash River. Then in the 1930s, these families opened restaurants near the waterfront serving uniquely delicious, lightly breaded fried seafood. This style of cooking became known as Calabash-style seafood and led to the sleepy fishing village earning the nickname "Seafood Capital of the World." Other restaurants have tried to imitate the Calabash-style of preparing seafood, but nothing compares to enjoying authentic Calabash seafood where it all originated.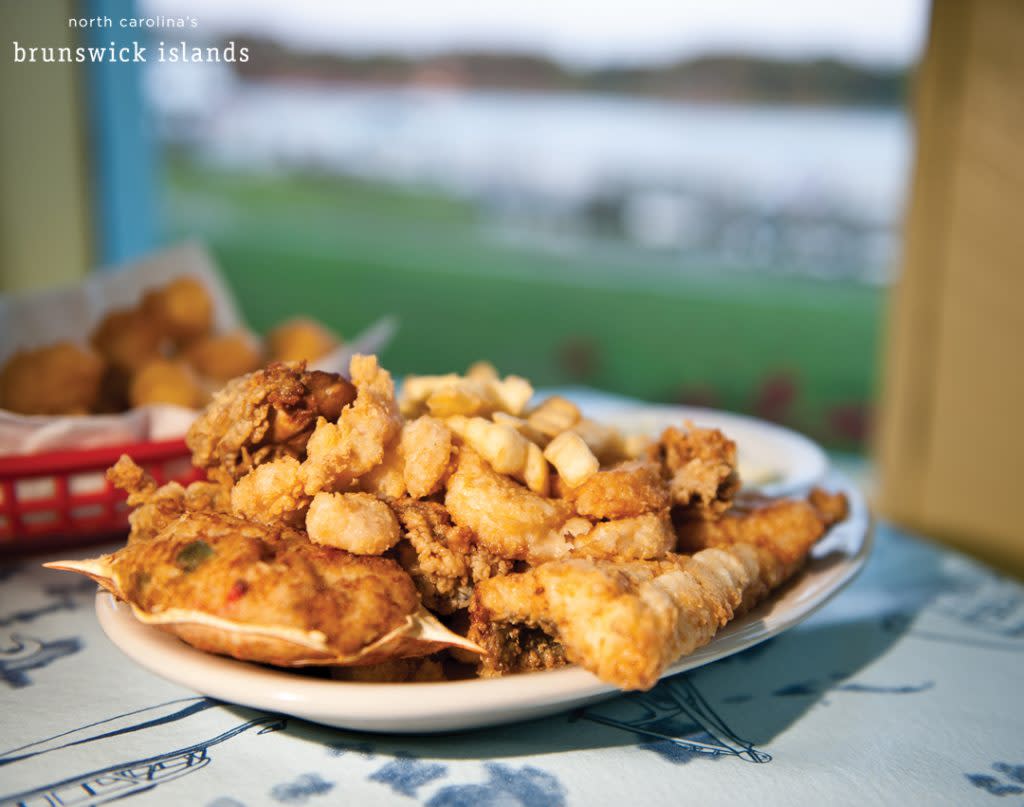 Even today, shrimp boats still call the Calabash waterfront their home and their daily catch can be purchased fresh from the boats right on the docks. These days, the shrimp boats are joined by fishing charters and head boats providing half day and full day fishing excursions. Not a fisherman? Try a two hour dolphin cruise or a sunset cruise that will delight the whole family! Or simply take in the quiet beauty of a walk on the docks after a perfect meal of shrimp, clams, oysters, fish or scallops. And if you're there in the early morning or in the evening you'll be amazed at how the shrimp boat captains deftly maneuver the large boats along side the docks.
Delight Your Taste Buds
Whether you are a tried and true Calabash traditionalist or looking for a contemporary variation, longstanding and new restaurants abound with seafood choices. From a classic Calabash fried seafood platter to signature oyster dishes to the catch of the day served fried, broiled, blackened or sauteed, you'll be sure to find a dish to dazzle your taste buds along with a friendly atmosphere. Whether you choose a restaurant with a waterfront view or one located "up the hill", you can't go wrong. The restaurants of Calabash routinely make the lists of must visit seafood establishments in publications such as Southern Living and Coastal Living. Be sure that Beck's Restaurant, The Boundary House, Calabash Seafood Hut, Captain Nance's Seafood, Dockside Seafood House, Ella's of Calabash, The Oyster Rock or Waterfront Seafood Shack is on your dining list.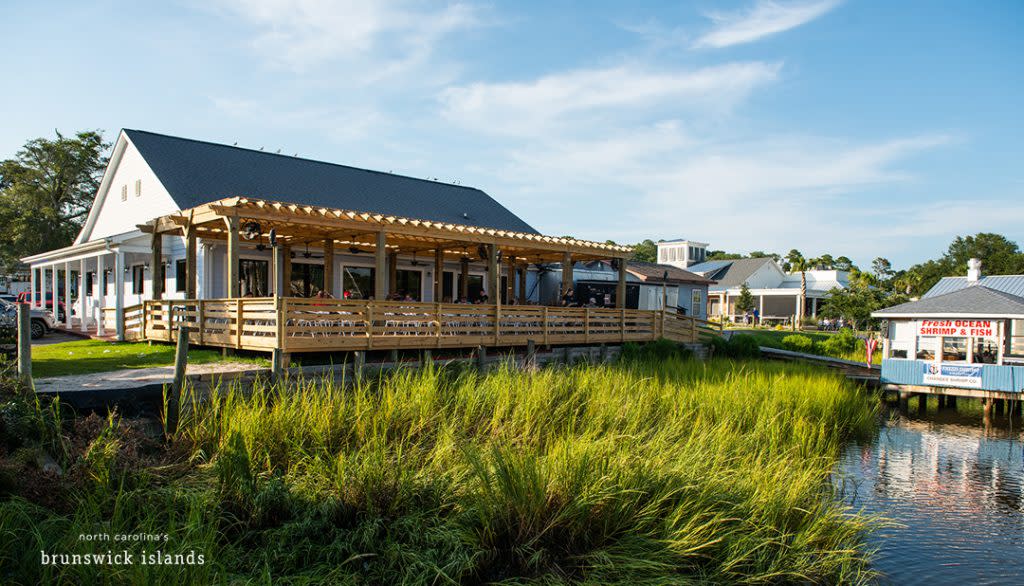 Non-Seafood Offerings
For visitors looking for alternative dining options, Calabash has something that will please every palate! Calabash Gourmet & Sushi Bar offers fresh sushi and sizzling Mongolian fare. Grapevine Restaurant serves up pastas, salads, and seafood with a Mediterranean flair. MMM Que Rico brings the tastes of Peru and Argentina to Calabash. Angus Steakhouse and Seafood serves up steaks as well as seafood on the banks of the Calabash River. There's also places serving deli favorites, pizza, southern fare, bagels, hot dogs, burgers and more. If you are in the mood for something sweet, try the delicious ice cream flavors at Calabash Creamery. Its Cow-a-Bash Crunch ice cream was included by USA Today in its list of "50 irresistible ice cream flavors." Then once you've completed your culinary adventure through Calabash, grab a brew at the craft beer bottle shop, Coastal Craft Beverage Co.
Half the fun of vacation is discovering new dining spots to taste culinary creations and local flavors of the area, and if Calabash isn't on your foodie radar yet, it should be. To explore all of the dining options in Calabash or to plan your trip to North Carolina's Brunswick Islands, please visit www.ncbrunswick.com.