Looking for a beach vacation that every age group in your family will enjoy? Look no further than North Carolina's Brunswick Islands! Our beaches and towns are home to plenty of kid-friendly adventures that are perfect for both children and adults. With exciting attractions like lighthouses and a Swamp Park to adventurous activities like surf lessons and fishing excursions, you can guarantee that no child will be bored this summer! Check out the 5 adventures below that are sure to keep your younger family members entertained throughout your trip to the Brunswick Islands.
Fishing Charters
If your crew includes children on the adventurous side, then consider treating them to the ultimate blue water adventure on a fishing charter with one of the local charter captains in the area. Take your pick from larger boats that navigate in waters as far out as the Gulf Stream, or smaller charters that offer inshore fishing adventures along marsh creeks and inlets. You'll find plenty of options to meet your schedule, from half-day to all-day excursions on private charters to head boats that offer excursions where the children can be part of a larger group. Be sure to check out the full range of available charters in the Brunswick Islands so you can find and book one that offers the best services for your group. Children who wish to go fishing but prefer to stay closer to land can opt to fish from one of our ocean piers, or spend the day casting into the surf from one of our pristine beaches.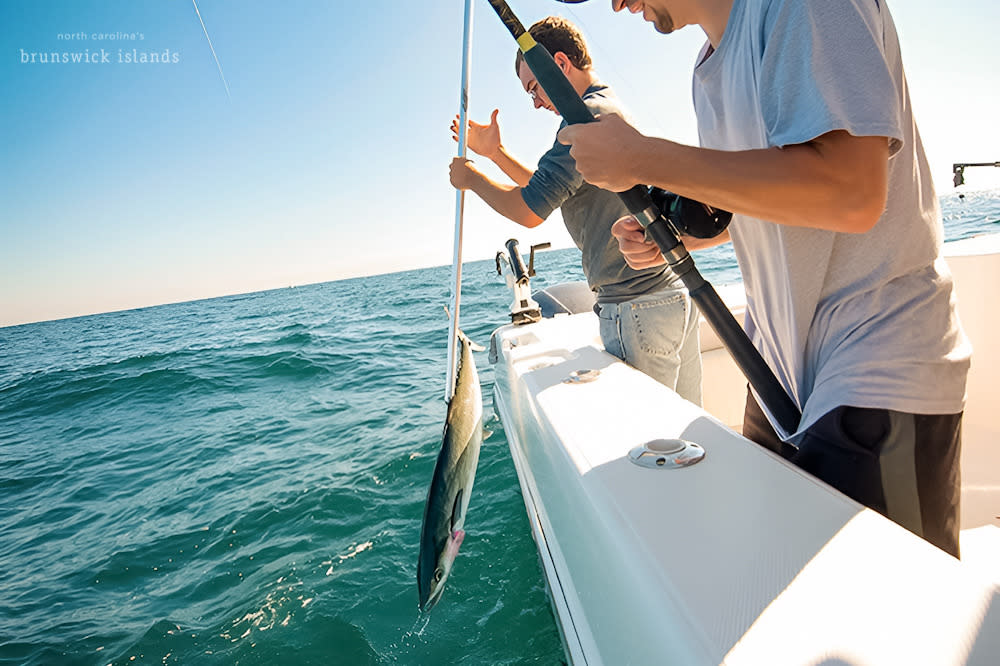 Surfing Lessons
Do your children get excited when they have the opportunity to try something new? If so, they'll be in for a real treat when you surprise them with a surfing lesson! The Brunswick Islands are home to several local outfitters in the area who offer surfing lessons to all ages and skill levels. Best of all, the beaches in North Carolina's Brunswick Islands have gentle slopes, relatively smaller waves, and warm waters, so it's perfect for beginner surfers who are ready to start catching and riding waves. If your children prefer to stay dry while they paddle through the water, then consider treating them to a kayak excursion instead where they can explore our area's local creeks and rivers, salt marshes, and the Intracoastal Waterway. There are several expert adventure outfitters in the area who provide equipment, training, and guide services. 
Lighthouse Climbs
Children who love history and the thrill of standing above sweeping vistas can climb to the top of the oldest or newest lighthouse in North Carolina, as both are located in the Brunswick Islands! The Oak Island Lighthouse, on Caswell Beach, was built in 1958 and is the last lighthouse built in North Carolina. Climbers nine years old and up can navigate up the unique series of ship ladders with 131 steps leading to the top where a breathtaking 360-degree view of the Atlantic Ocean awaits. Be sure to book your tour at least two weeks in advance through the Oak Island Lighthouse website. Prefer to climb the oldest lighthouse standing in the state? Take the ferry over to Bald Head Island and climb to the top of Old Baldy to experience a unique view of the island's natural beauty. Built in 1817, Old Baldy has maintained its original form and location for over 200 years and is open to climbers of all ages. Be sure to visit the Old Baldy Lighthouse & Museum website for current ticket pricing and hours of operation.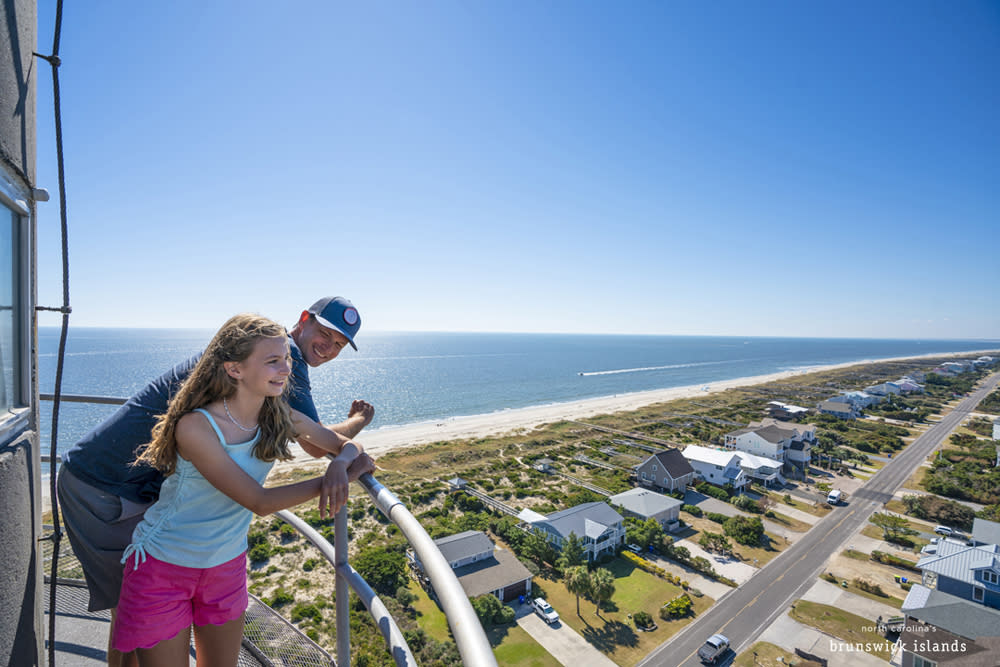 Dolphin Cruises
Searching for an excursion that's sure to bring a smile to everyone's face? An adventure cruise to spot dolphins is perfect for entertaining both children and adults! Head over to Calabash and take your pick from the Calabash Fishing Fleet or the Hurricane Fleet for a daytime cruise. Families will depart from the Calabash waterfront and venture along the Intracoastal Waterway and out into the Atlantic Ocean. You'll typically ride right by the working shrimp boats where dolphins love to feast! For a dolphin sunset cruise, head over to Sunset Beach for an eco-tour and dolphin cruise with Tideline Charters, or make your way to Southport and witness dolphins at play on a sunset cruise with Southport By Seaside Boat Tours. No matter which route you take, nothing will compare to the joy of seeing dolphins flip around! 
Zipline and ATV Tours at The Swamp Park
For children who prefer to remain active and enjoy the great outdoors, there's no better place than The Swamp Park. Located on the mainland area of Ocean Isle Beach, this outdoor adventure center offers excursions for all age groups to enjoy, including zipline, guided ATV, and swamp boat eco-tours, plus an aerial adventure park and more! Kids can take a cypress canopy zipline tour with 10 zipline stations and 3 bridges to catch a bird's eye view of the Shallotte River Swamp and its wildlife, or they can ride through the swamp's pristine forest, up hills, down hills, and through the mud on a guided ATV tour. After that, children can take on the ultimate challenge at the aerial adventure park with 53 different obstacles! The aerial park includes an interactive "Kiddie Park" for younger visitors, and each ticket provides access to the mile-long nature walking trail and the Alligator Sanctuary. Before you book activities for your children, it's best to visit The Swamp Park's website to check the age or height requirements for each excursion. 
Planning a beach trip that will satisfy everyone in your family is easy when you choose North Carolina's Brunswick Islands as your vacation destination. Still in the process of planning your trip? Check out our blog post with helpful information and tips for planning ahead and preparing for your beach vacation to the Brunswick Islands. Once you're ready to start looking and booking, visit here.