This Valentine's Day weekend or for your next anniversary or other special occasions, don't go for the standard box of chocolates and flowers. Set your sights above the mundane and head for the coast with a romantic getaway to North Carolina's Brunswick Islands!  Whether you are looking for a little adventure or relaxation to go with your romance, North Carolina's Brunswick Islands has unique activities that are guaranteed to craft those signature moments with that special someone. Here are 10 things you can do when you sweep your sweetheart away to North Carolina's Brunswick Islands:
1. Silver Coast Winery – Romantic Picnic and Award-Winning Wine
Located near Ocean Isle Beach, Silver Coast Winery is the perfect romantic spot. Pack a picnic and relax in its picturesque gardens. You can also enjoy wine tastings of their award-winning wines. This winery shines with its unique bottle labels that are designed by local artists, as well as a separate art gallery for local artisans.
2. Fly High over NC's Brunswick Islands
If you are looking to do something exciting and adventure-packed, you can hop in a helicopter and take a tour over the breathtaking beaches and local sights. Get your adrenaline pumping with helicopter tours starting at $50 per person with High Tide Helicopters that fly over North Carolina's oldest lighthouse, or dare to take control of the helicopter with the help of the professional flight instructor. You can also make a custom air tour with Brunswick Air to spot exciting views from above such as the shipwreck in the Lockwood Folly inlet, dolphins along the Oak Island shoreline, and the historic east end of Ft. Caswell. 
3. Perfect Scenery, Perfect Moment
Nothing is more romantic than walking along the beach at sunrise or sunset. Spend some quality time together as you spot the sun dancing off the ocean waves and create special memories that will last as long as the views are breathtaking.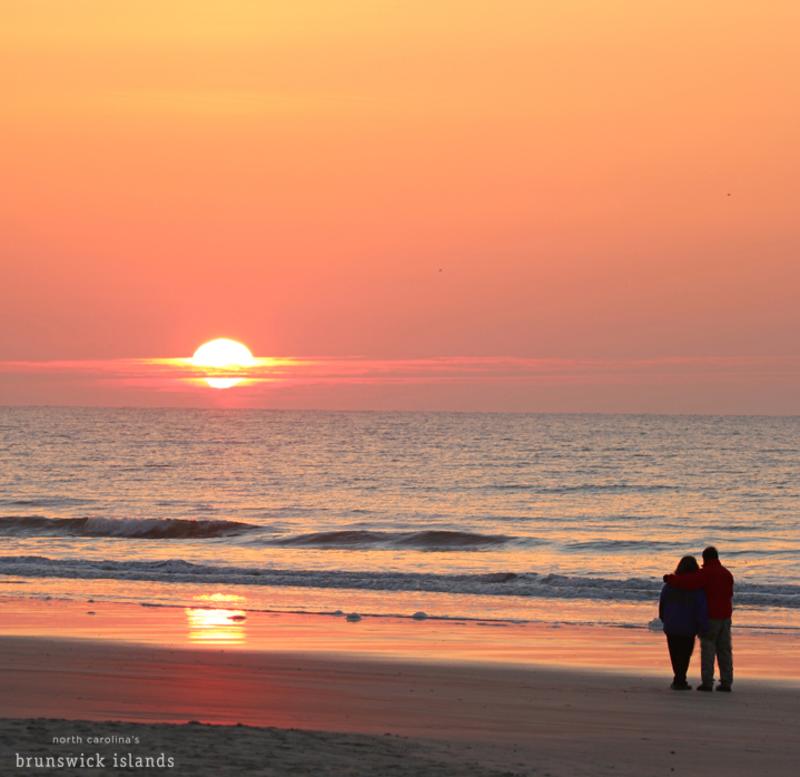 4. Straight Out of the Movies
Relive moments from the movie Safe Haven, based on the Nicholas Sparks romantic novel, on a self-guided tour of the film's locations. Maps are available at the Fort Johnston-Southport Museum and Visitors Center where you can also see props and memorabilia from the movie.
5. Adventures in a Swamp
Adrenaline junkies can go on a tree-top adventure at The Swamp Park. Take a 2 1/2 hour zipline tour that includes 10 lines and three bridges. For couples who want to experience the swamp, but aren't so crazy about the heights, you can stick to the ground and take 50 minute Swamp Boat Eco Tour.
6. Share with a Kindred Spirit
Walk or bike across scenic Bird Island to find a quiet little spot with a mailbox and a bench, secluded from the public eye. The Kindred Spirit Mailbox is the perfect place for you and a loved one to write down your story and deliver it to the mailbox for others to read.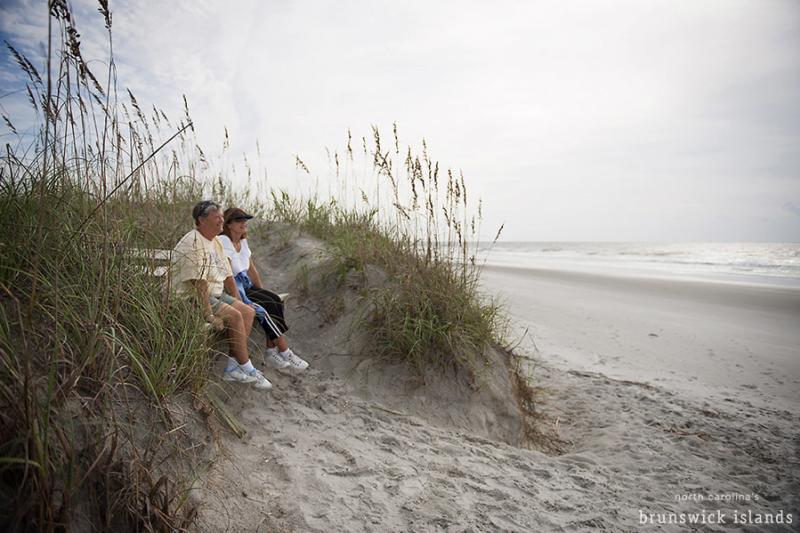 7. Sail into the Sunset
Explore the high seas and learn a new skill with the one you love by enrolling in sailing lessons. Hop aboard the boat and take an adventure as you sail into the sunset together. Or relax and let the crew handle the sailing for you. Make sure to check out the sailing vendors on North Carolina's Brunswick Islands: Endless Summer Sailing, Priority Sailing, and Sailing Vessel Kelly Allen.
8. Paddle Under the Moonlight
Relish the romance of the full moon or the sunset on the water as you paddle through the salt marsh creeks, black water rivers, or the Intracoastal Waterway with The Adventure Kayak Company, Inc. Let a professional tour guide handle all the logistics and you can enjoy your time together under the stars.
9. Climb a Lighthouse
On your getaway, make sure to visit North Carolina's oldest lighthouse, Old Baldy, as well as, Oak Island Lighthouse, the last lighthouse built in the state. Each has unique bird's eye views of wide beaches and lush marshes for you to enjoy with your loved one.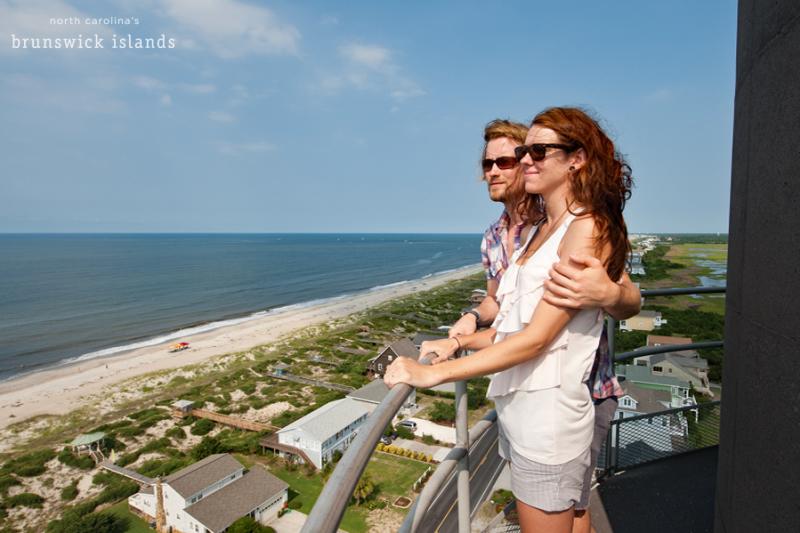 10. Swing the Perfect Date
Maybe your idea of the perfect date is spending it on the fairways sharing a sport you both love. Enjoy the game and nature on courses that wind through marshes and maritime forests and along rivers and creeks and the Intracoastal Waterway. With over 30 courses, there are opportunities for golf throughout North Carolina's Brunswick Islands. Look through the Golf Directory to find the perfect location and course for you.
Make Your Plans
Start planning your perfect couples getaway in NC's Brunswick Islands. There is romantic dining with breathtaking water views and fresh seafood all over North Carolina's Brunswick Islands as well as a host of other cuisines. There are also a variety of cozy and unique accommodations from historic B&Bs to oceanside inns and cottages to resorts and golf villas.  For more activities and Brunswick Islands attractions visit here.