Trade mall crowds and busy holiday stress for the gift of sunshine and seashells in North Carolina's Brunswick Islands this holiday season. From magnificent lighthouses to glorious sunsets and everything in between, a trip to NC's Brunswick Islands is the perfect getaway gift for beach lovers and big travelers on your list. Happiness from material purchases diminishes over time but memories last a lifetime. Take the stress out of the holiday and make amazing, lasting memories in NC's Brunswick Islands.
Give the Gift of Experience
Have a thrill-seeker on your list? Gift your beloved adrenaline junkie an exciting experience at The Swamp Park. Soar through the treetops on an exhilarating 10-line, three bridge zipline tour or test your coordination and agility on the 49-element adventure park. If heights aren't your thing, The Swamp Park offers an ecological swamp boat tour through the Shallotte River Swamp. Or you can stroll along the mile long River walk trail. Enjoy the sights and sounds of the natural swamp environment, home to many reptiles, birds and other critters. If you're interested in getting muddy, try the new guided ATV tours offered at The Swamp Park.
Exciting experiences are plentiful in NC's Brunswick Islands! There's no shortage of fun and memorable activities, such as golfing, fishing, kayaking, or watching newly hatched sea turtles make their way to the ocean. And throughout the year, there are events, festivals, and parades to entertain the whole family.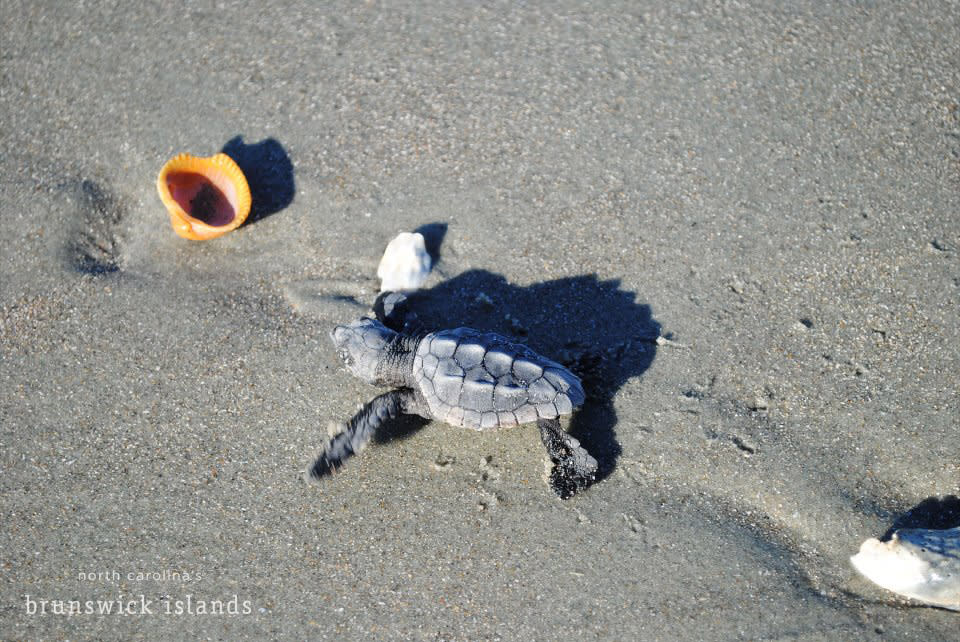 Give the Gift of Secrets Shared
Featured in the Nicholas Sparks novel, "Every Breath," the Kindred Spirit Mailbox invites guests to take a scenic beach walk to this famed, trip-worthy site in Sunset Beach. Those who can find the elusive mailbox will find notebooks filled with the personal reflections and thoughts of past visitors from near and far. Sit upon the nearby bench on this serene beach and jot down a few thoughts, dreams and wishes of your own to be read by future travelers.
Give the Gift of Scenic Views
Climb to new heights with the best gift this holiday: the gift of unparalleled scenic beauty. NC's Brunswick Islands is home to both the oldest and newest lighthouses in the state. Start your lighthouse tour in Caswell Beach with the Oak Island Lighthouse, the most recent lighthouse to be built in North Carolina. From the lighthouse's top tier outside balcony, you can see all the way down to Holden Beach and Oak Island on one side and across the way to Bald Head Island on the other. Climb the 131 ship ladder steps and witness the epic view for yourself. To continue your lighthouse tour, hop aboard the Bald Head Island ferry and make your way to the oldest lighthouse in the state, Old Baldy. Built in 1817, Old Baldy has long stood as a beacon to the area, marking the mouth of the Cape Fear River.
Give the Gift of Waterfront Dining
For all the foodies on your list, NC's Brunswick Islands boasts delicious and unmatched waterfront dining options loved by locals and area visitors every day of the year. Throughout the Brunswick Islands, waterfront restaurants are serving up local fare in scenic settings. The area offers waterfront dining set along the Atlantic, Cape Fear River, Intracoastal Waterway and more, making for memorable meals for any getaway to the Brunswick Islands. Top it off with a visit to Calabash, "The Seafood Capital", and you're in for a treat. After all, no beach vacation is complete without enjoying fresh seafood with a view!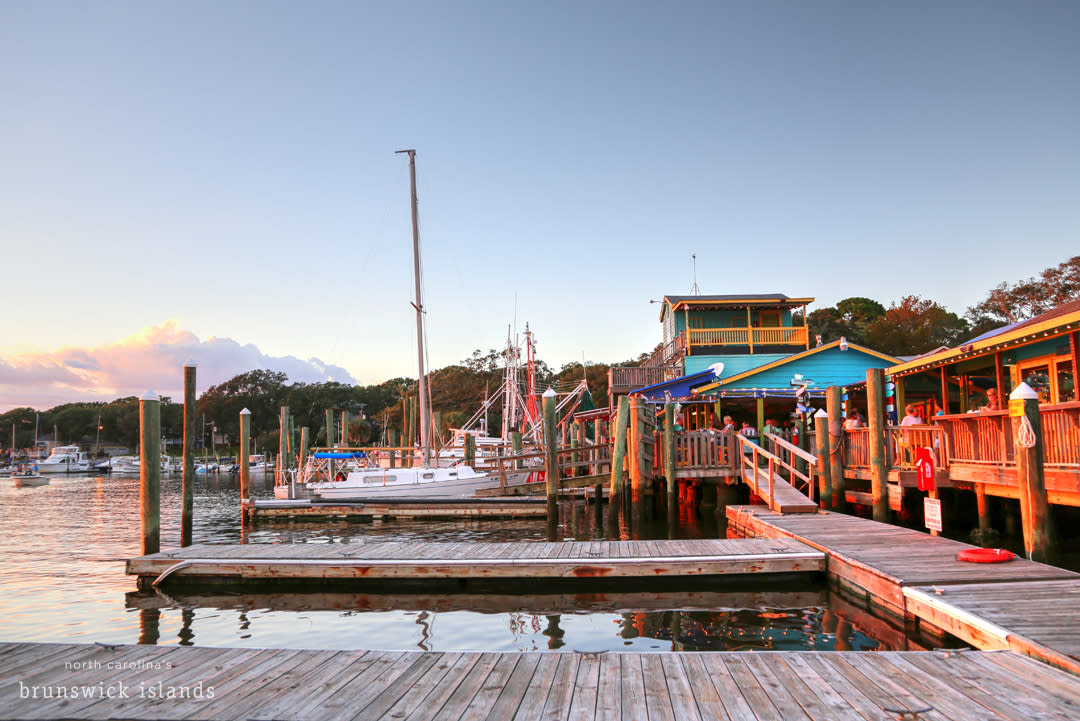 Give the Gift of a Winter Getaway
After a day of laughter, exploration and family fun, spend the night with friends and loved ones in one of NC's Brunswick Islands many vacation rental homes. All group sizes, budgets, and travel styles can be accommodated by the Brunswick Islands' wide variety of vacation rental homes. Along with easy access to the beach, vacation rentals offer the comfort of home with full kitchens and cozy gathering spaces that allow the entire family to spend time together relaxing and enjoying each other's company. Choose from cozy condos and beach cottages to grand oceanfront homes able to accommodate large family reunions and travel groups.
Give the Gift of Local Treasures
While enjoying a getaway in NC's Brunswick Islands, shop for one-of-a-kind treasures from the area's local artisans. Throughout the area's islands and coastal towns, a large selection of specialty shops, art galleries, local craft boutiques and antique treasures await. Whether you are on the hunt for the perfect souvenir or a spectacular gift for loved ones back at home, you are sure to find exactly what you are looking for among beautiful coastal backdrops, stunning southern homes and charming streets. No matter your taste or budget, there is something for everyone to shop for, eat, and experience.
Make the holidays unforgettable this year by giving the gift of sunshine in NC's Brunswick Islands. From one-of-a-kind experiences to unique goods only found in the area's local shops, a getaway to NC's Brunswick Islands is the perfect gift for loved ones this holiday. For more information on gifts or to plan your trip, please visit NCBrunswick.com.