Beach lovers are not the only ones excited for the summertime. For many of us the summer sun brings to mind images of building sandcastles and splashing in the waves, but a unique aspect of North Carolina's Brunswick Islands is the array of beachgoers it attracts… including sea turtles! And like us, these beachgoers are preparing to come back to the beach.
As the weather warms, loggerhead sea turtles are making their way to the pristine beaches of the Brunswick Islands to lay their eggs on the shore. These extraordinary animals travel for miles to nest in the sand and can be found laying their eggs from May to August. Lucky visitors might even catch a glimpse of baby sea turtles hatching from July to October.
The loggerhead sea turtle gets its name for its large head. These sea turtles can live to be over 50 years old, and have been nesting on Brunswick Islands' beaches for centuries, making them some of the oldest and most loyal beach visitors out there! 
There is truly nothing better than watching a 250-pound sea turtle glide through the water, unless it is watching a freshly hatched sea turtle make its way toward the vast ocean. And in NC's Brunswick Islands, you may be able to experience both magnificent moments of a loggerhead sea turtle's life on Bald Head Island, Ocean Isle Beach, Caswell Beach, Holden Beach, Sunset Beach or Oak Island. 
Check out some of our favorite images of sea turtles in the Brunswick Islands as well as some interesting facts below:
Meet the loggerhead sea turtle! These beautiful creatures can be found swimming through the surf and then crawling along the beach to lay their eggs near the sand dunes. Once the mama sea turtle lays her eggs, her job is done and she heads back into the ocean. If you do see a sea turtle on the beach, be sure to give it space, do not disturb it and call your local sea turtle patrol.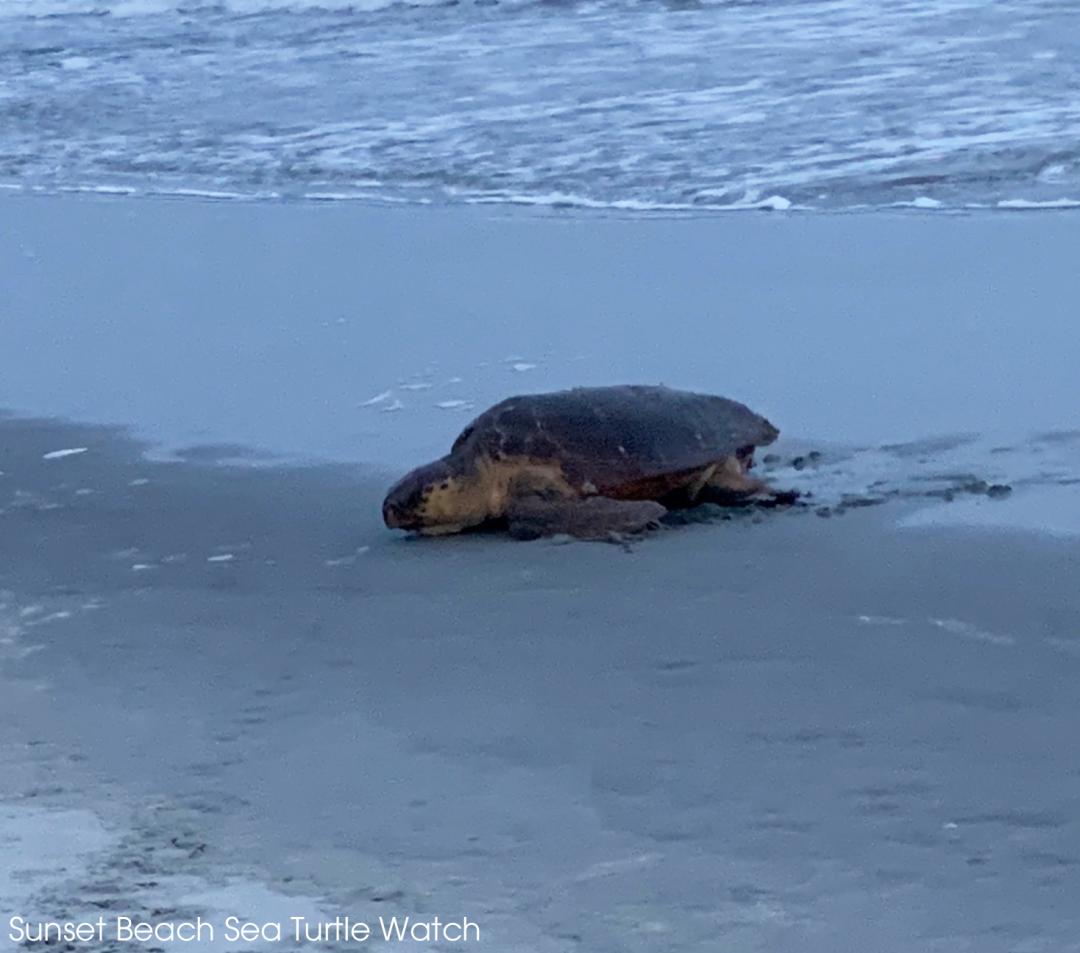 This next image showcases the tracks from a mother sea turtle coming onto the beach and then heading back into the ocean. Most of their nesting will take place in the evening or early morning, as the cover of darkness provides extra protection for laying their eggs as well as the hatchings. After a nest is built it will take an average of 55 to 60 days for the hatchlings to emerge – and boy are they cute when they do.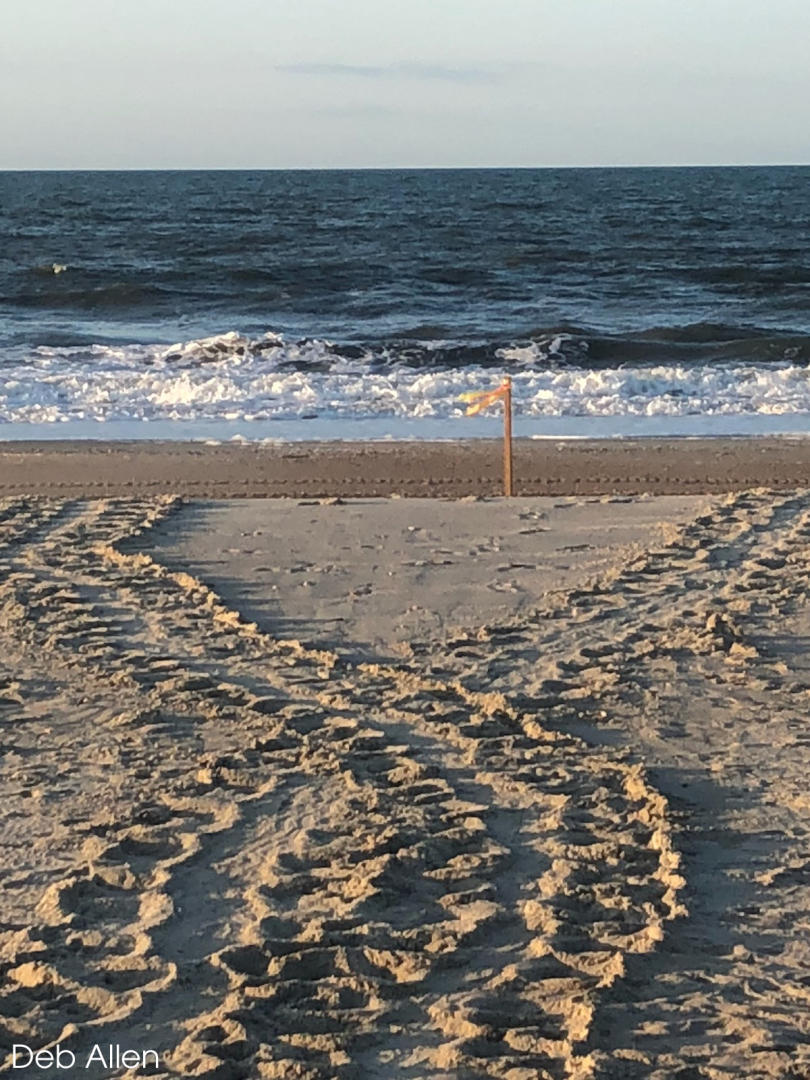 The baby sea turtles pictured here have just emerged from their eggs. Hatchlings break free from their nests and are drawn to light, such as the moonlight and phosphorescence from the ocean. Unfortunately, street lights and house lights can provide fatal distractions to these tiny animals, but thanks to volunteers many are guided safely into the water. When renting an oceanfront home, be sure to turn off your porch lights at night as to not cause confusion to these sea turtles. Sea turtle protection organizations seek to educate locals and visitors about the importance of keeping these charming and threatened sea creatures safe.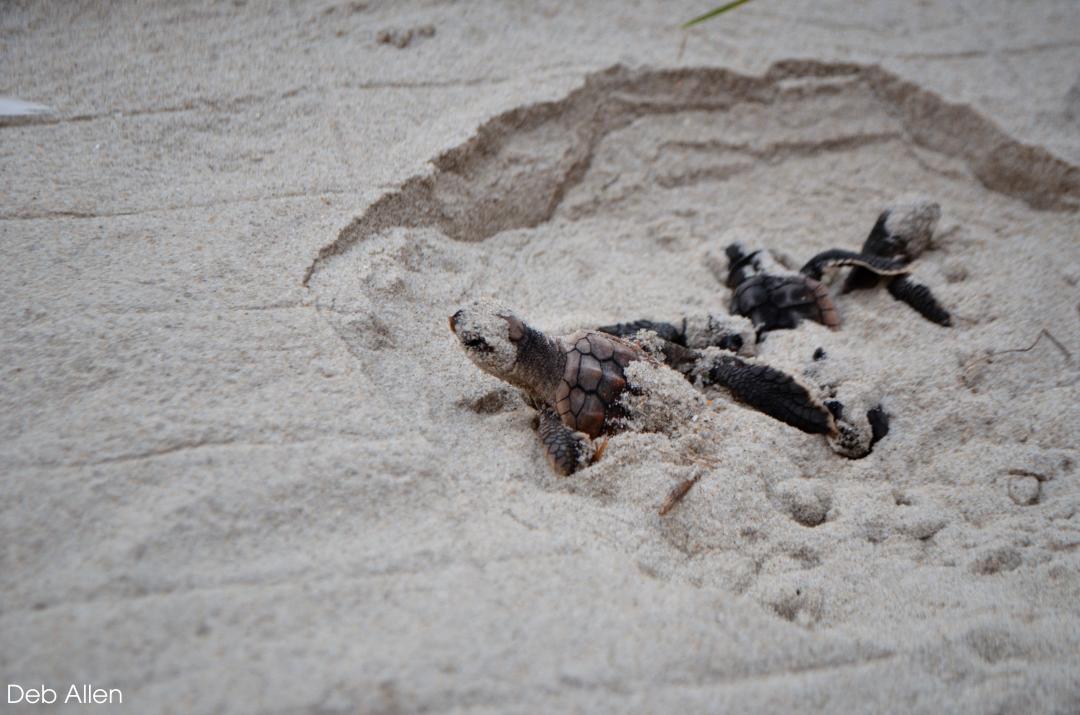 Sea turtle protection organizations and their turtle watch volunteers monitor and protect nests and update information continuously regarding the status of each nest. The volunteers will keep statistics on the number of current nests, known eggs and the total baby sea turtles that have made it into the ocean. When visiting the beach be sure to not disturb any sea turtle nests, do not shine lights on any sea turtles, fill in any holes that you dig and remove all of your stuff from the beach (including litter). Visit the websites for the Sunset Beach, Ocean Isle Beach, Holden Beach, Oak Island, Caswell Beach, and the Bald Head Island sea turtle protection organizations for more information.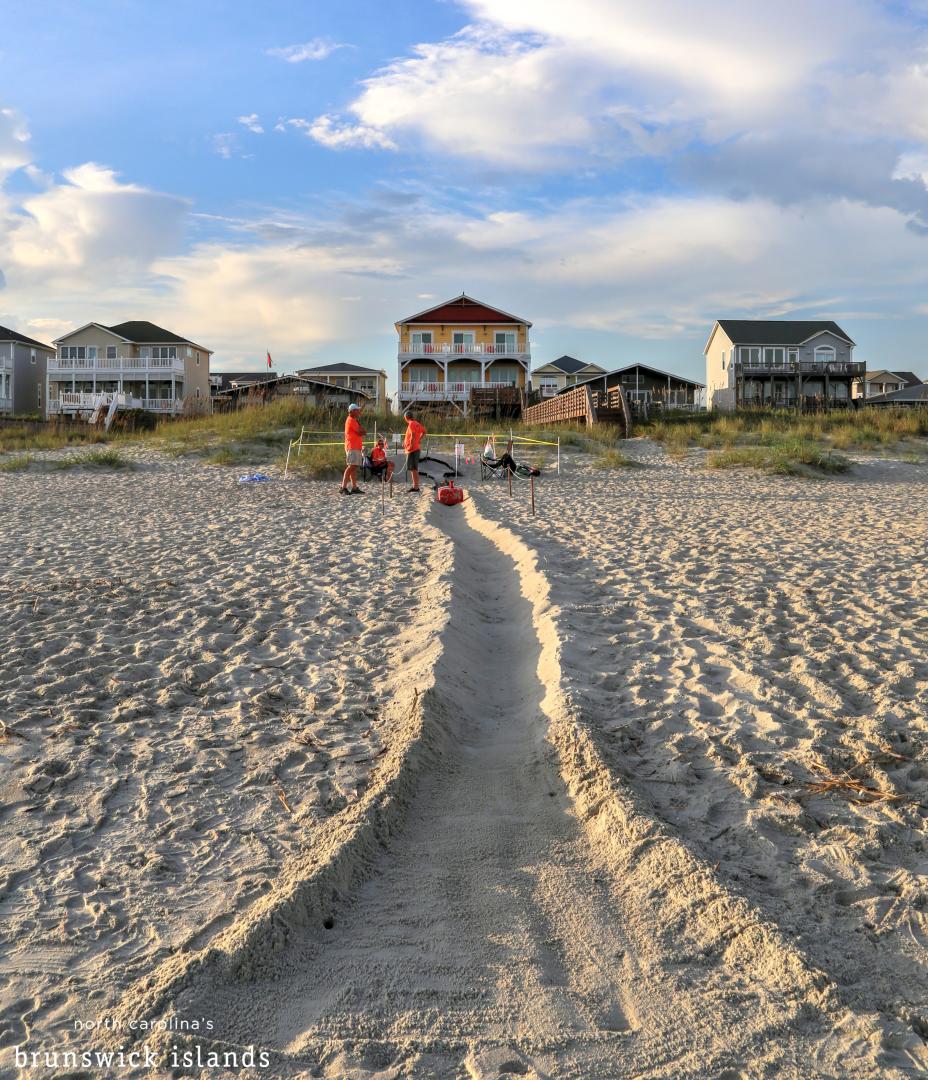 Several of our beaches offer free "Turtle Talks" during the summer, so you and your family can learn more about sea turtle protection efforts by attending these exciting, educational talks during your next visit! Be sure to visit our calendar of events for more details about Turtle Talks. You can also check out this video on sea turtles in the Brunswick Islands to learn more!
For more information on NC's Brunswick Islands and to plan your future trip, please visit www.ncbrunswick.com.
Updated July 12, 2021