North Carolina's Brunswick Islands is excited to announce the winners of the #MyNCBISun photo contest! We asked you to share your best Brunswick Islands sunrise and sunset photos with us on Instagram and Facebook using #MyNCBISun from August 9 through August 23, and we were amazed by the amount of beautiful photo entries we received!
With over 200 photos submitted, it wasn't easy to choose just a few winners, but we are happy to announce that we have chosen our favorite photos from the submissions for a first and second place winner on both platforms, as well as two random drawing winners and four honorable mentions. These lucky winners will receive a variety of North Carolina's Brunswick Islands merchandise. Our first place winners will also receive a $100 gift card. We would like to thank everyone who participated in the contest. It was incredible to see folks loving the Brunswick Islands and the beautiful sunrises and sunsets over the ocean as much as we do!
And now, here are the winners, along with some information about what inspired their photo and why they enjoy the sunrises and sunsets in North Carolina's Brunswick Islands!
1st place from Facebook
Ocean Isle Beach Sunrise by Jason Greene
Jason takes first place with his beautiful sunrise photo taken in Ocean Isle Beach. As a visitor of Brunswick County for 40 years, Jason said there is no other place he loves to see the sunrise and sunset. "Everyday is a different picture so I try to catch as many as possible. The sunrise and sunset at Ocean Isle compares to no other!"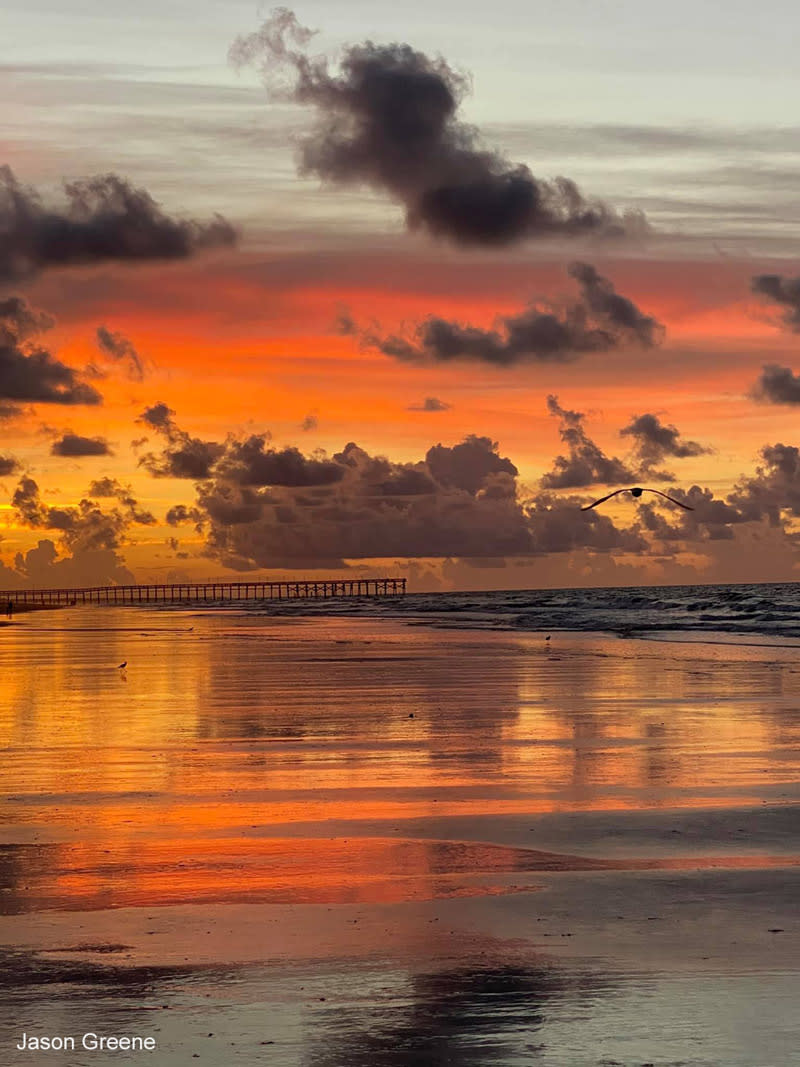 2nd place from Facebook
Caswell Beach Sunset by Kelly Donovan
Kelly takes second place with her stunning sunset photo featuring the Oak Island Lighthouse on Caswell Beach. Kelly took this photo in February 2020, early in the COVID-19 pandemic, after returning home from working abroad. Shortly after arriving home, her mom took her to visit her grandparents' at Caswell Beach. Kelly said as they drove down towards their house, the sky was exploding with color, so they pulled over at the lighthouse to get a photo. "It was a really emotional moment for me. It was like North Carolina was welcoming me home and making sure I knew that everything would be alright; no matter what was to come." Kelly travels abroad for work a lot, and says that looking at photos she has taken over the years of the sunset at Caswell Beach always reminds her of "home, connection, love, and comfort."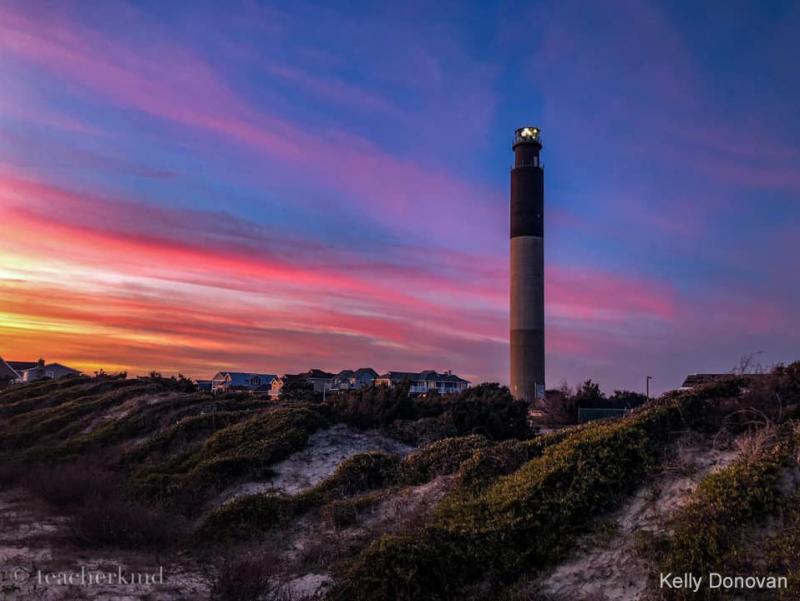 1st place from Instagram
Oak Island Sunset by Andrew Miller (@aem_creative_)
Andrew (@aem_creative_) takes first place with his awesome sunset shot taken in Oak Island. "I usually shoot sunsets with my mirrorless camera but found my old GoPro sitting around and decided to get back into the water and play around with it. I patiently waited in the water for the perfect wave lines and snapped the frame." Andrew said he tries to take photos of the sunset on Oak Island everyday because it brings him a sense of bliss and pure happiness. "From the Oak Island Lighthouse to the multitude of fishing piers and marshes, no sunset is the same. The fall is my favorite time when the sun rises over the east end of the island and sets on the west end allowing for beautiful reflections and colors across the sky."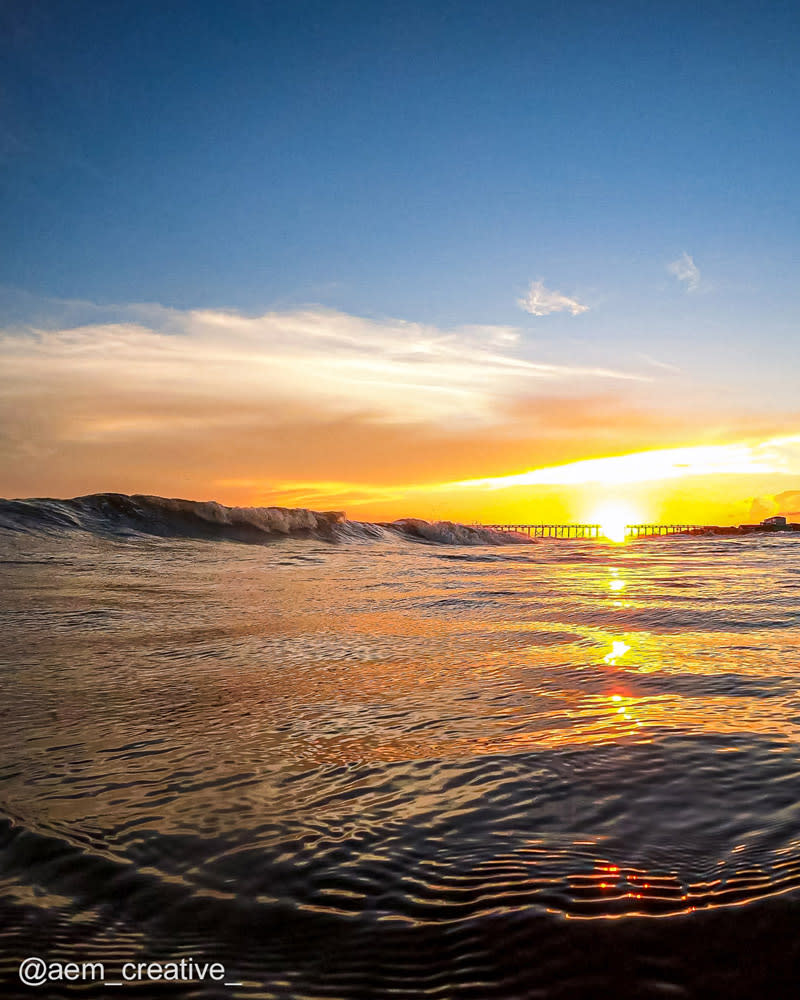 2nd place from Instagram 
Oak Island Sunset by Kim Ramsey (@k.m.r.photos)
Kim (@k.m.r.photos) takes second place with her gorgeous sunset photo taken in Oak Island. Kim said that her passion for photography and her desire to capture the beauty in nature around her is what inspired her to take this photo. "I especially love to catch sunsets at The Point at Oak Island because the color is so pretty reflected on the water!"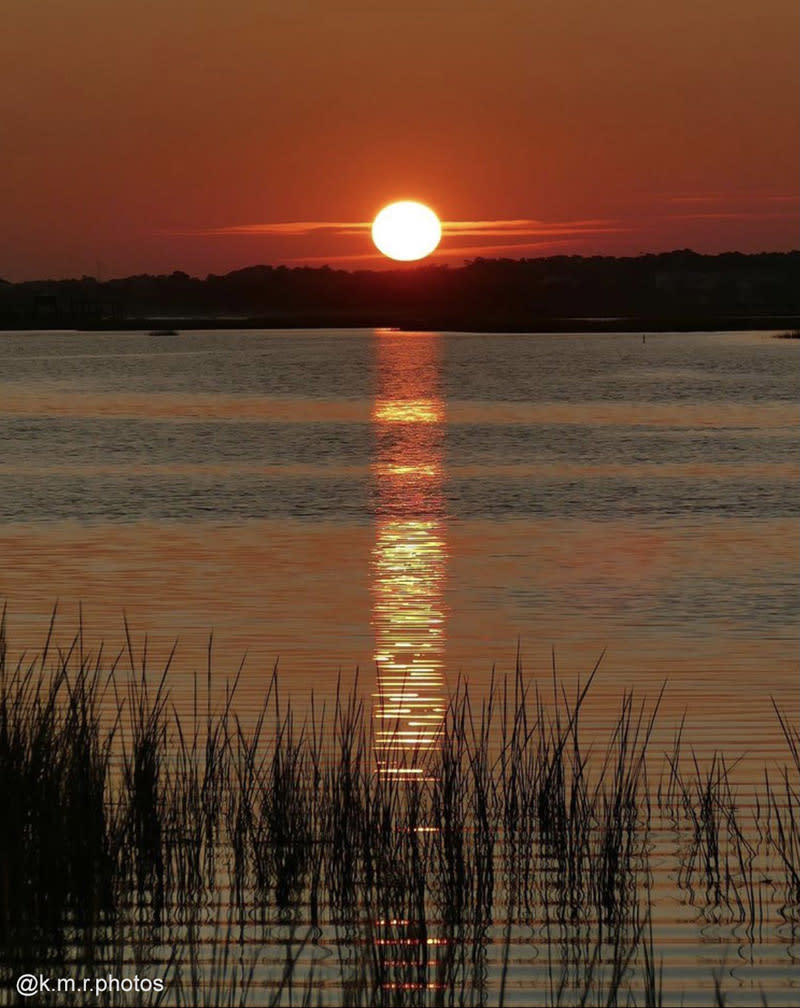 Random drawing winners
Holden Beach Sunset by Shae Evans. 
Shae took this photo right at the edge of the oceanfront beach access from the home where her and her family were staying. Shae says there is just something about seeing the sun set over the beautiful Atlantic waters. "The Brunswick Islands are unique in that you can watch both a sunrise and sunset from the same spot in the sand or while rocking on the back porch."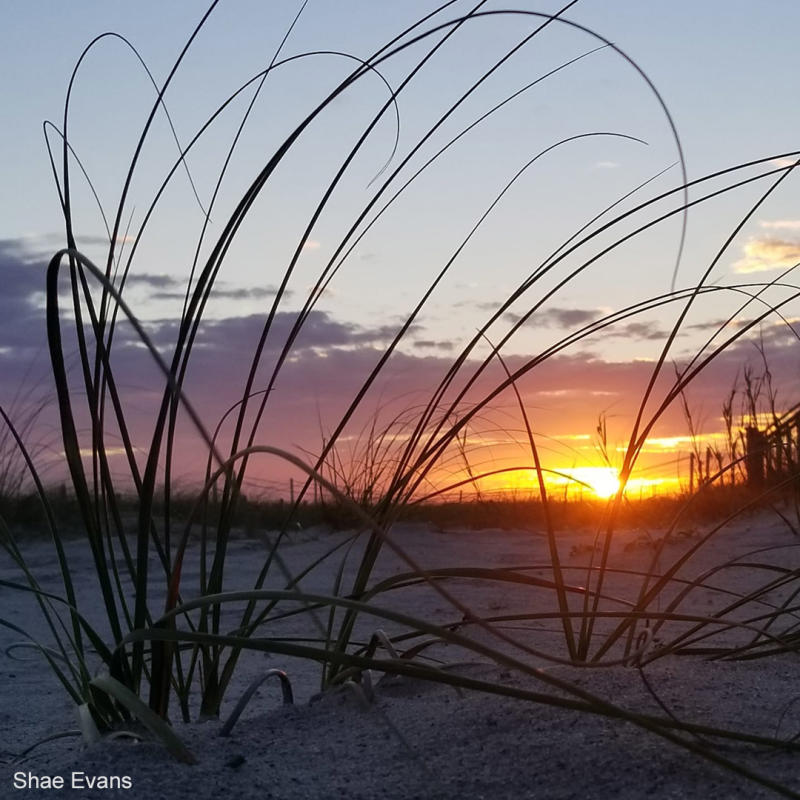 Oak Island Sunset by Justin Parisi (@nfsdudeabides)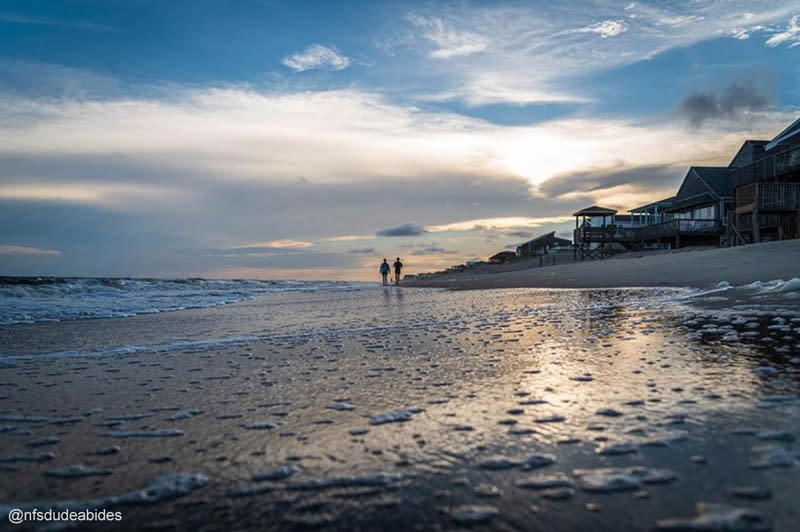 Honorable Mentions
Ocean Isle Beach Sunrise over Saucepan Creek by Mickey Cochran (@oibmickey)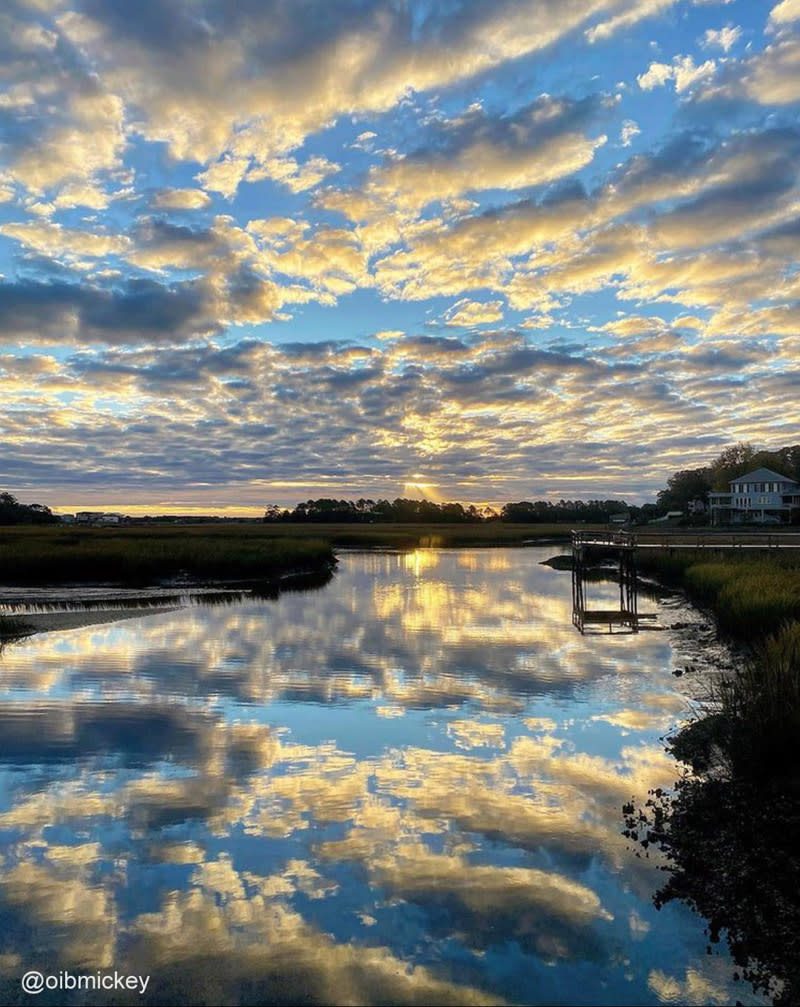 Southport Sunrise from the Southport Yacht Basin by Nick Noble (@nsqr)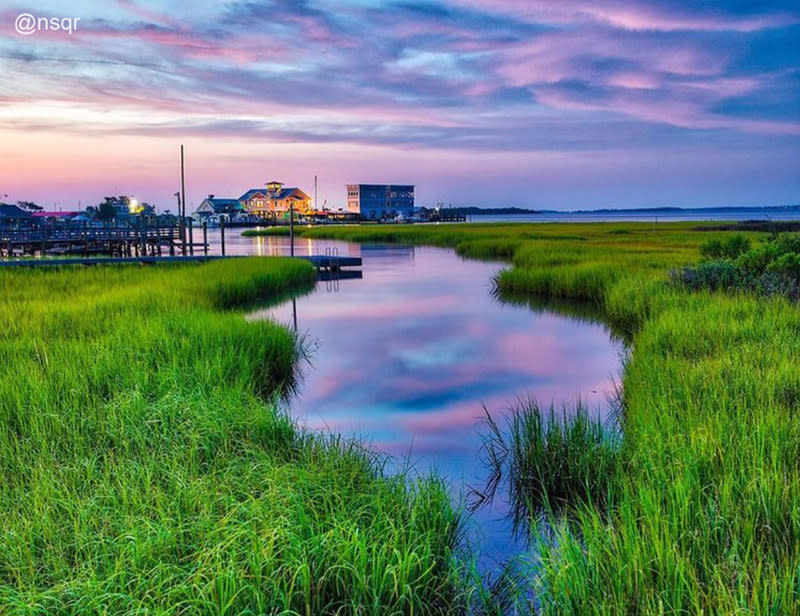 Sunset just beyond the Ocean Isle Beach Fishing Pier by Nicholas Hall (@hallsmadeperfect)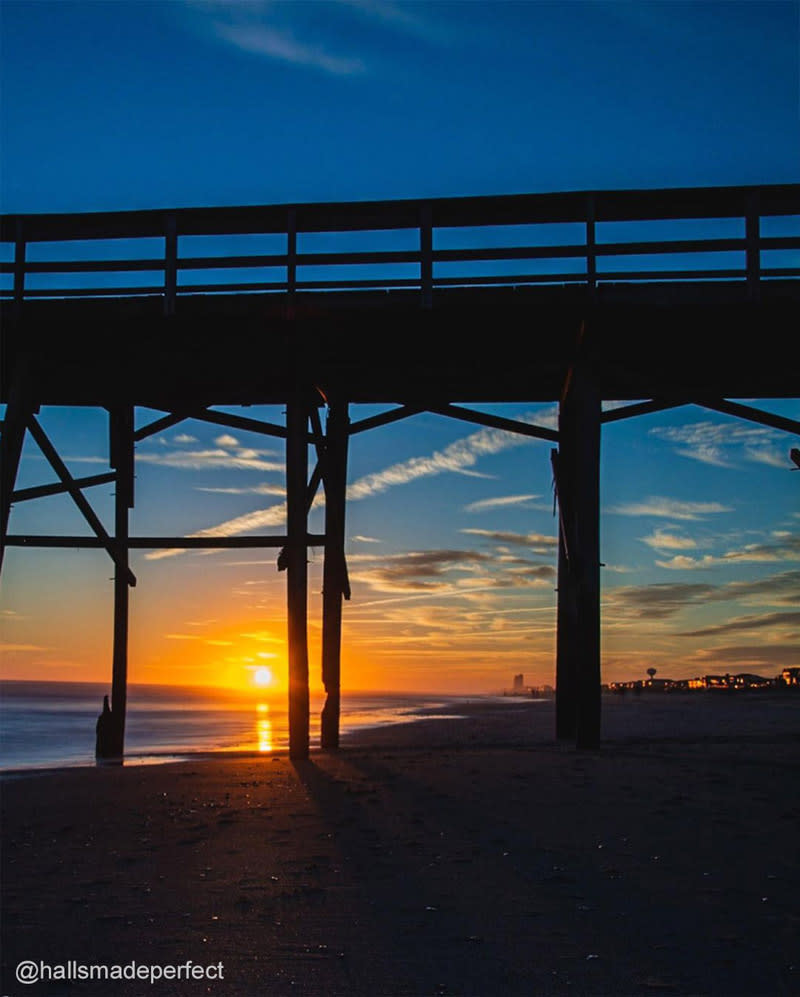 Holden Beach Sunset by Lysa Milner (@lysa10024)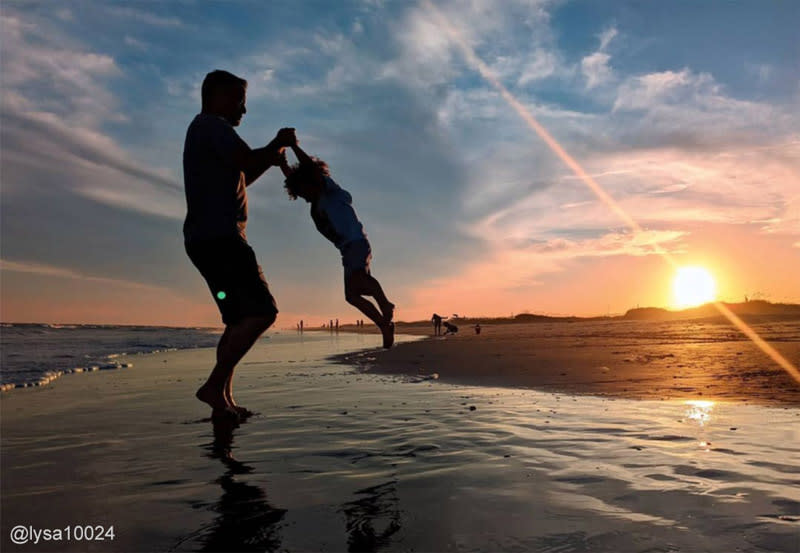 Check out the hashtag #MyNCBISun on Facebook and Instagram to see all of the beautiful entries! On Facebook look for entries under public posts and in the comments of the contest announcements. To stay in the know about our future photo contests, follow our Facebook and Instagram page! 
To learn more about North Carolina's Brunswick Islands, and to plan your trip, visit www.NCBrunswick.com.