North Carolina's Brunswick Islands is excited to announce the winners of the #NCBrunswickIslandsView photo contest! We invited you to share photos of your favorite view in the Brunswick Islands with us on Instagram or Facebook using #NCBrunswickIslandsView from April 21–May 4, and we were delighted by the number of beautiful photo entries we received!
With over 100 entries, it was difficult to choose only a few winners, but we're happy to announce our 1st and 2nd place contest winners from Facebook and Instagram, as well as the two random drawing winners. These lucky folks will receive a variety of North Carolina's Brunswick Islands merchandise, and our 1st place winners will also receive a $100 gift card. We would like to thank everyone who participated in the contest. It was great to see the wide variety of views that people enjoy in the Brunswick Islands. 
And now, here are the winning photos, along with a message from each winner about the view in their photo. 
1st Place on Facebook: Sonia Ford. 
The Cape Point Shrimp Boat at Potter's Seafood in Southport during a beautiful summer sunset. 
"The Cape Point always offers a great photo op, especially at sunset. Southport's Yacht Basin is one of my favorite places for food, scenery, watching boats, and sunsets. In the summer months, it is great to hear the live music and the laughter of all the people enjoying the food and drinks at the Yacht Basin. I also enjoy Southport's Salt Marsh Boardwalk for beautiful panoramic views of the Yacht Basin, Oak Island & OKI lighthouse, the ICW, Southport Marina, and even a distant glimpse of BHI and Old Baldy lighthouse. It is a great place for sunrise and sunset views."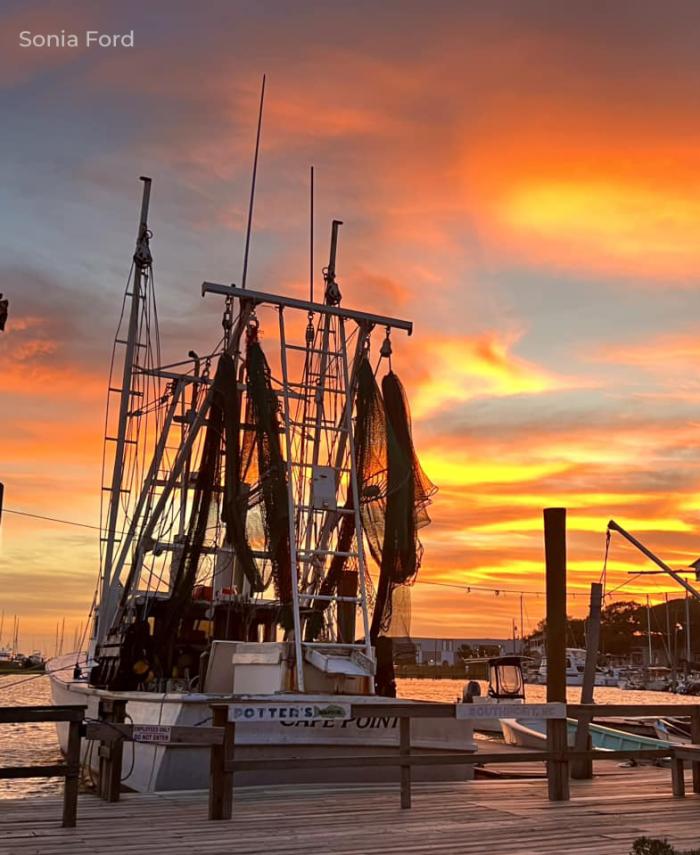 1st Place on Instagram: Nick Noble 
A stunning full moon behind the Oak Island Lighthouse on Caswell Beach.
"I love lighthouses. Fun to watch, fun to photograph!! Add a moon and it is perfect! Trying to align the moon with the lighthouse is a fun, sometimes disappointing but exciting activity! We moved here from Southern Ohio about 12 years ago. Photography was an interest of mine and the landscapes of Brunswick County kicked it into high gear!"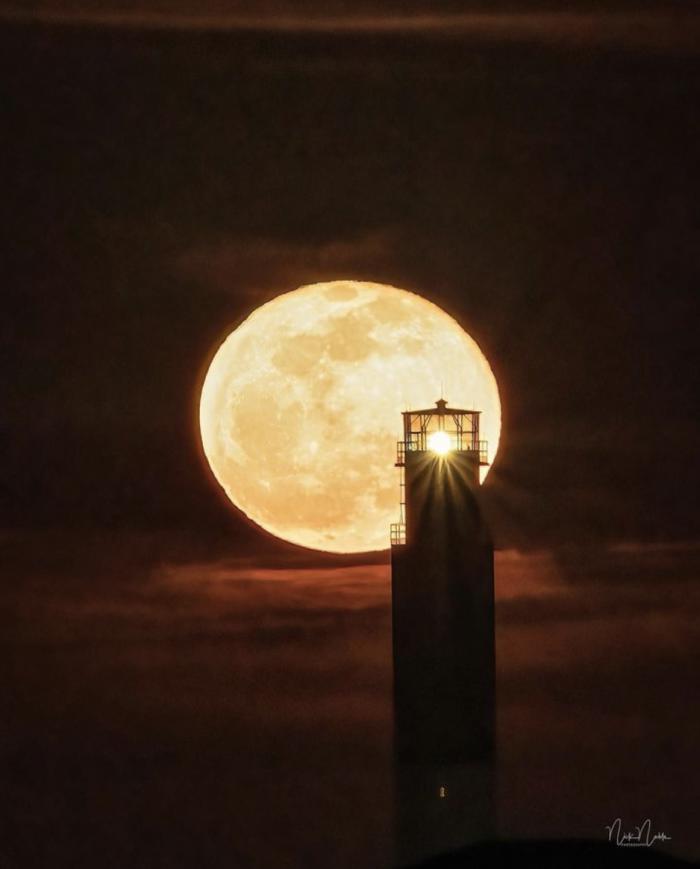 2nd Place on Facebook: Maureen Harris 
A charming ocean view from a beach access path on Ocean Isle Beach.
"This view is at one of our favorite beach access locations at one of my family's favorite vacation spots, Ocean Isle Beach. My kids can never contain their excitement and always run ahead to get to the ocean and take in the views and I love how this photo captures that moment. As soon as your eyes meet that ocean view, a sensation rushes over you that feels like every ounce of stress and worry is leaving your body. I'm so happy to be able to share these moments with my favorite people on our favorite beaches in the state in the Brunswick Islands!" 
2nd Place on Instagram: Adriana Harris 
The soothing sight of spilling waves beneath a colorful sunset sky on Oak Island. 
"I love what the scenery does to me, when I'm down, when I'm happy, when I'm troubled, when I'm at peace, it doesn't matter. This place, the ocean, Oak Island, Southport, and the Cape Fear River, is my Haven. Heaven on Earth. I love this picture in particular because I always hear people say, it's cloudy it won't be pretty, and I know that cloudy or not there is a little gift waiting for me if I run to the beach at sunset or sunrise. On this day I was rushing to catch it, and it was cloudy. I snapped that picture and enlarged it poster size on canvas and gave it to my daughter for her 35th Birthday. This is so special."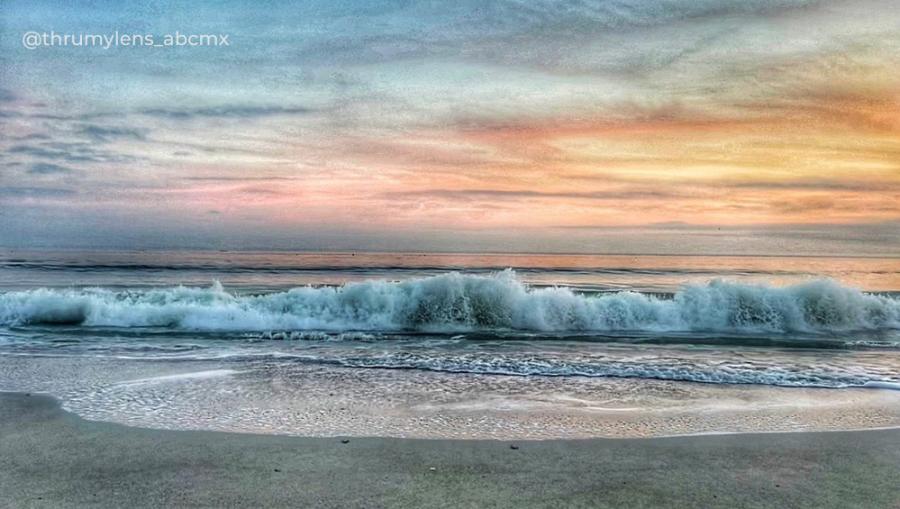 Facebook Random Drawing Prize Winner: Donna Anderson 
A breathtaking sunset over the Atlantic Ocean on Oak Island.
"Oak Island is my favorite place to watch the sunset. The views change, but they are always magnificent."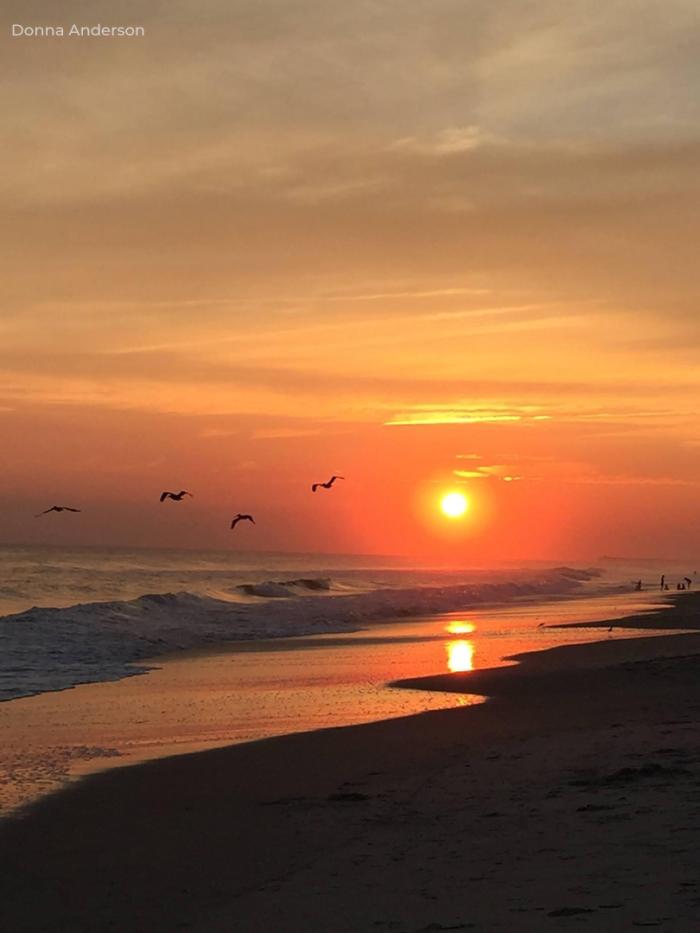 Instagram Random Drawing Prize Winner: David Long 
A scenic ocean view beneath the Holden Beach Pier. 
"I'm drawn to the wooden pier at Holden Beach because it's a symbol of resilience. Despite enduring the relentless pounding of waves and winds, it stands tall, weathered but sturdy."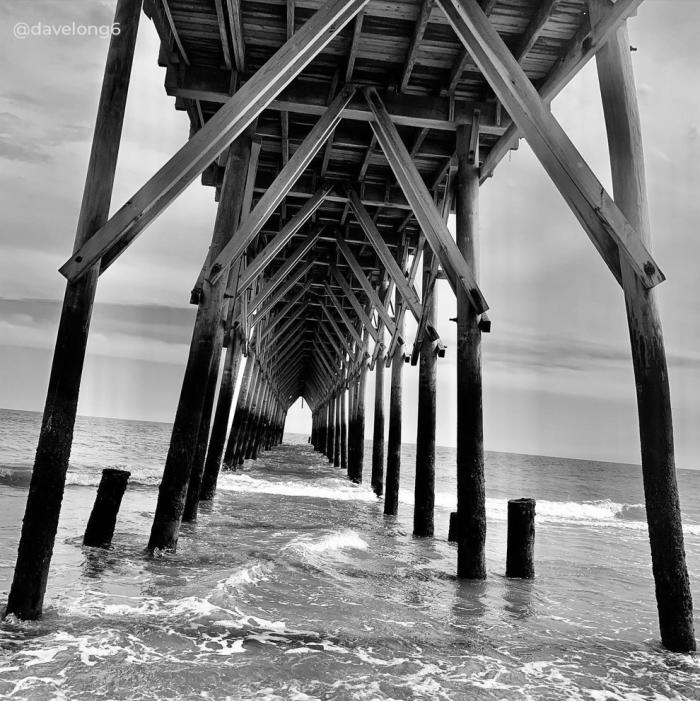 Be sure to visit #NCBrunswickIslandsView on both platforms to see all the incredible entries, and stay in touch with us by following North Carolina's Brunswick Islands on social media at facebook.com/NCBrunswick and instagram.com/ncbrunswickislands.
To learn more about North Carolina's Brunswick Islands, and to plan your trip, visit ncbrunswick.com.