For some, Labor Day marks the end of summer, but in North Carolina's Brunswick Islands, beach season extends well into fall. As the summer vacation season comes to an end, visitors can still enjoy beautiful beach days with mild temperatures that remain in the high 70's through October. Best of all, our 45 miles of beaches are practically yours and yours alone. From fall festivals to sunrises and sunsets over the ocean, discover the many reasons to take a fall beach trip to the Brunswick Islands. 
Soak Up Some Sun
Fall evenings may be cool but the days are warm in the Brunswick Islands. During September, the average high is 85° and the average water temperature is around 80°. And, you'll enjoy average temperatures in the upper 70s throughout October and upper 60s in November, with water temperatures at an average of 75° in October and 70° in November. With this great coastal climate, you don't have to say goodbye to beach season just because summer is over – the Brunswick Islands' mild temperatures make for a perfect fall coastal getaway.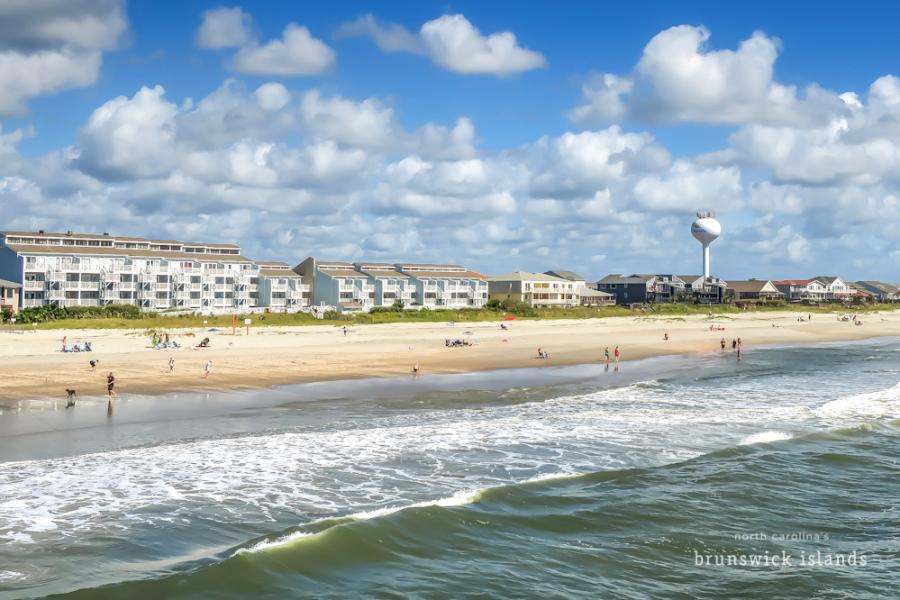 Experience a Weather Wonder
From fall through early spring, beach-goers can take in both sunrises and sunsets over the ocean, thanks to the Brunswick Islands' unique south-facing beaches and the angle of the sun this time of year. In fact, Weather.com named this rare natural phenomenon one of the "10 Incredible Phenomena You Have to See in Fall."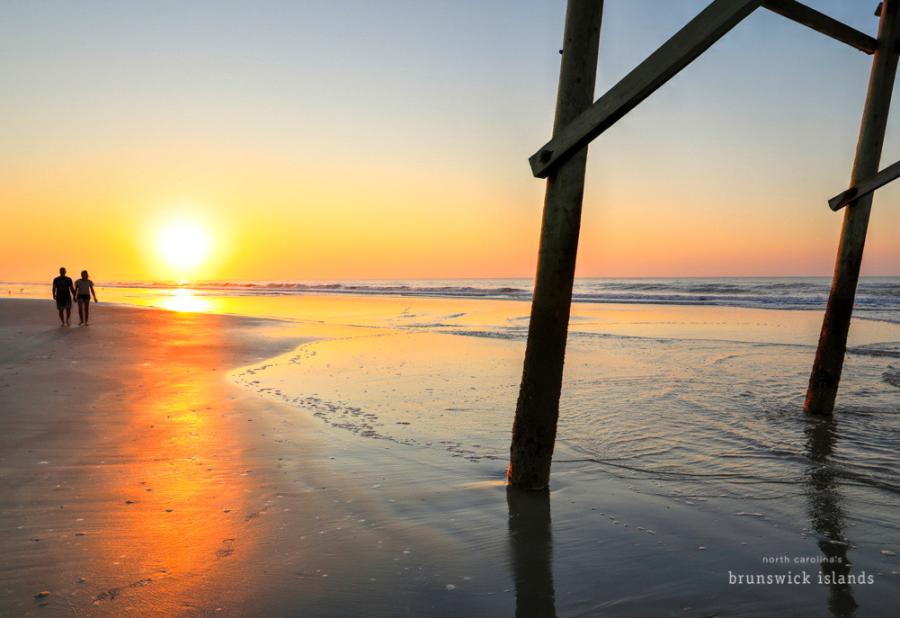 Relax, Explore, Enjoy
Some come to the beach simply to relax, smell the clean salt air, listen to the gentle waves, eat some fresh seafood, and spend time with loved ones. That's a great vacation! For others, there are ample ways to enjoy outdoor activities such as golfing, fishing, ziplining, and kayaking. Or maybe you'd like to climb a lighthouse or two. Or stroll the oak-lined streets of historic Southport. That's also a great vacation!  Plus, fall in the Brunswick Islands includes not to miss events like the North Carolina Oyster Festival and the North Carolina Festival by the Sea both in October, and the Southport Wooden Boat Show in November. Whether you want to fill your days with activities or escape the daily grind by doing nothing but hanging at the beach, the Brunswick Islands will not disappoint.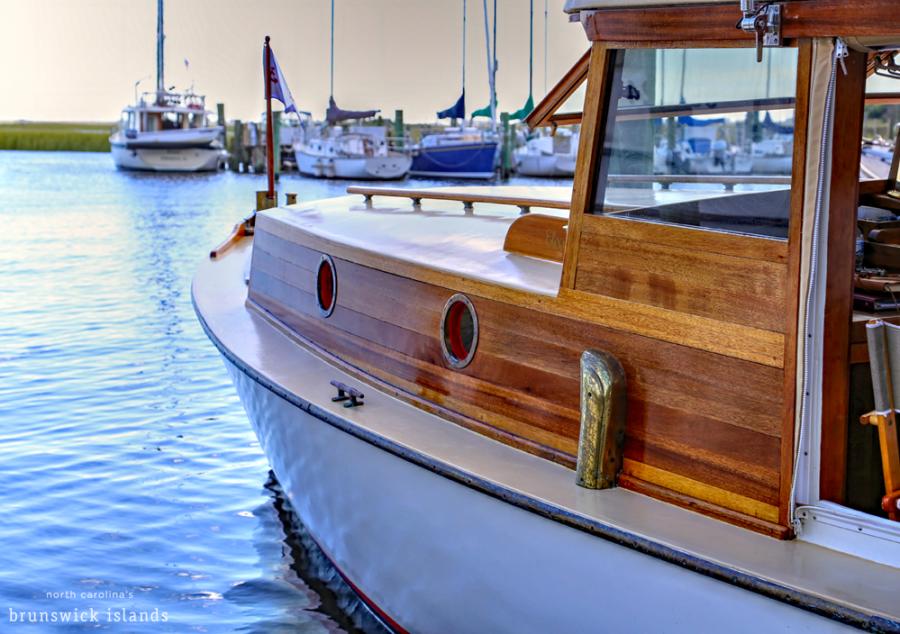 Dog-Friendly Beaches
You don't have to leave your furry family members behind when you visit the Brunswick Islands for a fall vacation. Pet rules and regulations vary from beach to beach, but leashed dogs are allowed on all Brunswick Islands beaches all day in the fall. And, if you want to give your dog some off-leash time, head to Caswell Beach, Oak Island, or Bald Head Island where your best buddies can enjoy a little extra freedom. Just check out our Pets on the Beach page for the exact times you can let your dog off-leash. Of course, dogs should be under the control of their owner at all times. You can also find pet-friendly accommodations and restaurants on our website. From rolling in the sand to splashing in the waves, your puppy pals will love their beach getaway as much as you will!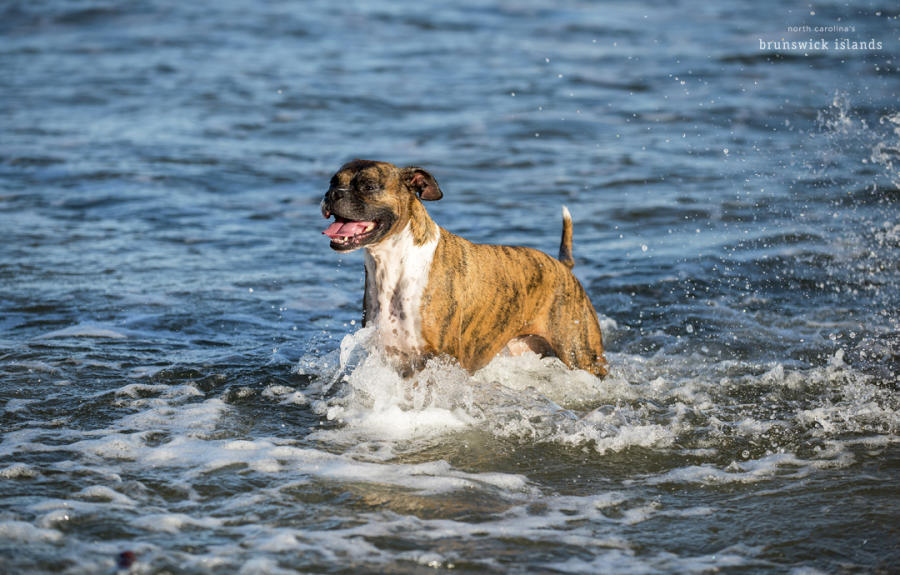 Off-Season Rates
As the season changes from summer to fall, so do the rates. Fall is a perfect time to get that dream oceanfront vacation rental at an off-season rate. The Brunswick Islands offer plenty of charming beach vacation rentals that will fit any group including cozy condos, coastal cottages, and large beach homes that can accommodate your extended family and friends. Swimming pools, fully equipped kitchens, and, of course, beautiful views are just a few of the perks. Whatever your budget or group size, North Carolina's Brunswick Islands has the perfect home away from home for your fall getaway.
For more information about planning your fall getaway to North Carolina's Brunswick Islands, visit ncbrunswick.com.