October kicks off a very special time of year in NC's Brunswick Islands – oyster season! From retailers and markets offering fresh catch you can prepare yourself to the local favorite spots that serve outstanding dishes with waterfront views, seafood lovers can find their fill of oysters in a variety of ways in the area. While oyster season may just be starting, it does end in March, so be sure to enjoy this delicacy while you can! Here are five of the best spots in the Brunswick Islands to take advantage of this season and beyond:
Located in a 19th century pharmacy in downtown Southport, the Moore Street Oyster Bar has been beautifully transformed into a lively, family-friendly restaurant. This spot aims to bring guests the feeling of a family experience while serving elevated bar food consisting of oysters and steamer pots, along with ice-cold beer. Their loaded oysters in particular, with various topping options, are a local favorite – especially the Casino style filled with bacon and peppers. Any adventurous oyster lover must try the Oyster Shooter, which combines Tito's Vodka, lemon horseradish ice, house-made hot sauce and a raw oyster. Whether you prefer them raw, steamed or fried, Moore Street Oyster Bar has a large menu with options to fit everyone's tastebuds.
Like the above spot, when you have oyster in your name, you're probably doing something right. A family-owned and operated Calabash seafood restaurant specializing in excellent seafood and raw bar items, The Oyster Rock is a favorite spot in The Brunswick Islands, one where reservations are highly recommended. The staff here is incredibly knowledgeable, friendly and dedicated to providing you with an unforgettable dining experience in addition to some of the best oyster dishes around. The restaurant overlooks the scenic Calabash River, and guests can get great waterfront views if they choose to take advantage of the outdoor seating options. Dining right by the water comes with a prime view of the Oyster Pit, where they're cleaned and prepped by the restaurant before being served. Oyster lovers must try the house rendition of Oysters Rockefeller – it's to die for and has been rumored to win over even non-seafood lovers. Another must try on Oyster Rock's menu and a Brunswick Islands staple is the soothingly hearty Oyster stew. Adjacent to Oyster Rock, you'll find a slew of other seafood spots serving up oysters, clams, fish, shrimp and more!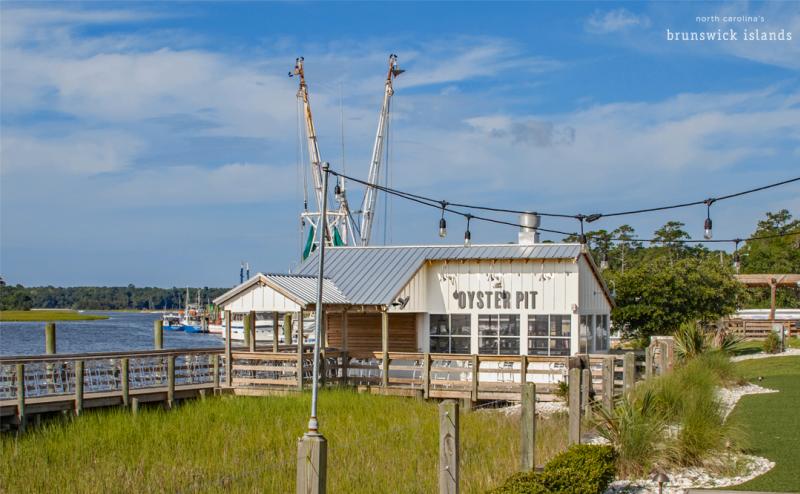 Just outside of Ocean Isle Beach, located on the Shallotte River and overlooking the Intracoastal Waterway, this restaurant has been family owned and operated since 1978, serving fresh seafood straight off their boat, the Captain A.L. Milliken. Inlet View has been described by Brunswick Islanders as a "local joint with a beach bum vibe," and, as a colorful, laid-back eatery with two waterfront decks and a tiki bar, it certainly lives up to the name. The fried oysters are a staple dish that locals and visitors alike can't stop raving about. Be sure to also try an order of their famous Hush Puppies, served free as soon as you sit down! Lean further into the beach bum vibe with their wide selection of draft beer, full-service bar, delicious desserts and one of the best views in the area.
Head on over to Castaways Raw Bar & Grill in Holden Beach for open-air dining and a slew of unique, mouthwatering dishes. Be sure to try the house's famous Steamer's Pot, a fresh twist on a southern staple that consists of oysters, crab legs, clams, mussels, shrimp, corn-on-the-cob, sausages and red potatoes, all steamed together in a pot with Old Bay and herbs. Die-hard seafood lovers will be remiss not to try the Seafood Tower! Served on ice, the tower is built with little neck clams, mussels, peel-n-eat shrimp, oysters on the half shell and a half pound of crab legs. Castaways' goal is to provide an environment where patrons can truly "get lost" and let their vacation begin – offering live music and entertainment nightly from mid-June to mid-August and on the weekends during the spring and fall.
The North Carolina Oyster Festival
What better place to get oysters from than the mecca celebration of all things oyster– North Carolina's annual Oyster Festival. Each October, the delicacy is celebrated with a variety of foods, crafts, contests, children's activities and musical performances at Town Center Park in Ocean Isle Beach. In 2022, the festival celebrates its 41st anniversary October 15th and 16th with signature contests like an Oyster Stew-Off, Oyster Shucking Contest and Oyster Eating Contest. There are always plenty of oyster dishes to sample in addition to foods and treats of all kinds. Bring a chair to sit back and enjoy live music as you dig into this festival's bountiful food options. 
From upscale waterfront restaurants to casual, family-friendly eateries to the all-encompassing festival, there are plenty of great spots in the Brunswick Islands to eat your fill of everyone's favorite mouthwatering mollusk. While these are some of our top picks in the area, the list of amazing restaurants where you can enjoy oysters doesn't end here. For more information on dining, events and more in North Carolina's Brunswick Islands, please visit www.ncbrunswick.com.