Who says you can't have a little adventure on your relaxing beach vacation? This summer, zip through miles of untouched swamp land at North Carolina's Brunswick Islands' newest attraction Shallotte River Swamp Park, which celebrated its grand opening on June 13.
At this uniquely-designed swamp park, you and your family can venture beyond the beach and enjoy a truly educational experience without sacrificing the fun factor. Shallotte River Swamp Park was created to organically work its way into the swamp landscape, enhancing the park's natural surroundings. The park features a sustainable zipline course that navigates through a 300-year-old swamp cypress canopy. It also features swamp boat tours, an educational nature trail and a guided swamp buggy tour showcasing the plant and animal life of the park. For those in need of a more thrilling adventure, the tree-top aerial adventure park offers 53 challenge elements with three varying intensity levels perfect for all ages.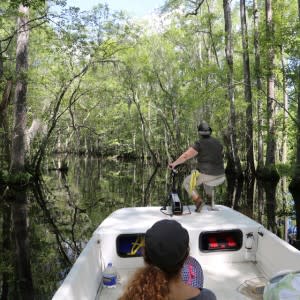 Shallotte River Swamp Park is perfect for all groups and ages, offering a variety of daring adventures and kid-friendly attractions. Whether you are looking to harness your office's team building skills, celebrate a birthday, host a family reunion or simply bond with friends and family, a trip to Shallotte River Swamp Park is guaranteed to make lasting memories for years to come.
The park is located on the mainland at 5550 Watts Road, off Ocean Isle Beach Road between Ocean Isle Beach and Highway17.