With five barrier islands, 45 miles of beaches and several charming coastal towns, there's lots to explore when visiting North Carolina's Brunswick Islands. While self-guided tours are an excellent way to discover the area, let the local experts give you the inside scoop. Guided tours are available throughout the islands and seaside towns, whether you're a history buff, film buff, nature lover or just enjoying learning more about your favorite vacation destination. Below are some tour options that are sure to help you impress friends and family with your Brunswick Islands knowledge.
On Land
Find a historic Southport tour for all visitors in this quaint and charming town along the Cape Fear River. Tours are led by foot, bike and tram to provide in-depth history and fascinating facts about the town with homes and other architecture dating back to the 1800s. Other landmarks that will captivate those looking to learning about the past include the Old Brunswick Jail, Old Smithville Burial Grounds and the Old Yacht Basin, a popular movie filming location. If you're looking for a thrill, be sure to check out the lantern-led Ghost Walk Tour to delve into the legends and lore of Southport. Around the holidays, you can also sign up for a home tour to see the beautiful, festive decorations for the winter season.
During the summer, the Bird Island Preservation Society offers a guided walking tour of Bird Island each Wednesday. Learn about the coastal ecosystem of this beautiful undeveloped 1200 acre nature preserve during the 1 1/2 to 2 hour tour.
Up in the Clouds
For a boost of adrenaline, take your tour to the skies with helicopter and biplane tours. High Tide Helicopters offer incredible aerial tours of the Brunswick Islands. You can even sign up for a Discovery Flight where you can take a pilot lesson with their professional flight instructors. For a scenic flight for two, design a custom tour with Brunswick Air. Whether soaring over the waves or taking in the vibrant marshland, helicopter and biplane tours take your visit to a new level.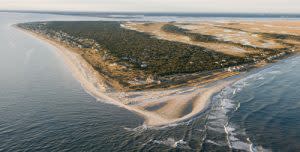 On the Water
See the beauty of the Brunswick Islands by water with several types of boat tours. Local outfitters will guide you through the waterways on kayaks or paddleboards, a great opportunity for wildlife spotting along the Intracoastal Waterway or the many area creeks and rivers. Bring your camera for a sail or motor boat tour where you can spot dolphins, enjoy a sunset cruise and see the spectacular views that are unique to being on the water. To get up-close with another type of ecosystem, Shallotte River Swamp Park in Ocean Isle Beach offers swamp boat eco-tours to give guests a "frog's-eye view" of the park's cypress swamp.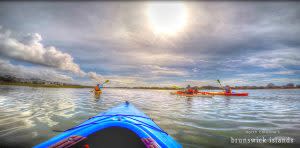 To learn more about planning your Brunswick Islands vacation and setting up a tour during your trip, visit http://www.ncbrunswick.com/fun_and_adventure/attractions.