The math is a no-brainer!
Five barrier islands + four charming coastal towns + six separate beach communities = 45 miles of wide, stunning beaches! This southernmost corner of North Carolina is one of the South's best kept secrets! Sunset Beach, Ocean Isle Beach, Holden Beach, Oak Island, Caswell Beach and Bald Head Island rank among North Carolina's best beaches with uncrowded sand, surf and fun, and the picturesque Southern towns of Southport, Calabash, Shallotte and Leland draw visitors with family-owned, one-of-a-kind restaurants, galleries and shops.
Full-Moon Fever
The beach vacation isn't just for daytime anymore!  North Carolina's Brunswick Islands is also the place to explore by the light of the moon for a new perspective on this pristi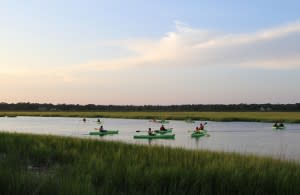 ne coastal getaway. August 10, 2014 and September 8, 2014 are the last two full moons of the summer vacation season and the perfect times to join one of our outdoor adventure outfitters for a moonlight kayak trip to take to the marsh under the twinkling stars. Twilight kayak tours are also available for those that prefer to paddle during the last light of the day.
Purple Feet
For those who need one last blast of summer (and, don't we all?!), North Carolina's Brunswick Islands offers fun and quirky summer festivals and events  for a last great beach vacation including the Purple Feet Festival at Silver Coast Winery where, you guessed it, a grape stomp is part of the festivities!
Phlock to the Beach "A Buffett Style Beach Bash"
Aug 22, 2014 - Aug 23, 2014
Oak Island
25th Annual Oak Island Art Guild Arts & Craft Festival
Aug 30, 2014 - Aug 30, 2014, 9:00 a.m. - 4:00 p.m.
Oak Island
Sep 6, 2014 - Sep 6, 2014, 8:30 a.m. - 5:00 p.m.
Silver Coast Winery; Ocean Isle Beach
Back to school – NOT!
When kids head to school, that's your signal to head to any of our five barrier islands as the already secluded beaches of Brunswick Islands will become even more serene. For a peaceful back to nature experience, visit Sunset Beach where all that separates you from the surf and marsh is a wide stretch of beach and dunes. Connect with nature on Bird Island and take a quiet stroll to the Kindred Spirit Mailbox and get in touch with and share your innermost thoughts.
Tomatoes, blackberries and peaches, oh my!
The flavors of summer are calling from North Carolina's Brunswick Islands. Where ever you are staying for your beach vacation, be sure to get your hands on fresh, locally-sourced produce from the Shallotte, Oak Island, and Southport farmer's markets. For great coastal dining, spruce up a family cookout with the fresh corn, green beans, tomatoes, watermelon, peaches and more. Oak Island Farmer's Market even has honey, while Shallotte has handcrafted items such as pottery, jewelry, glassware and homemade bread, cakes and cookies. For a truly unique farmer's market experience, stop by Southport Waterfront Market for local produce, baked goods, handcrafted items spread under ancient live oak trees and even live music. See the below dates and times for the markets as many close mid-September.
Oak Island Fa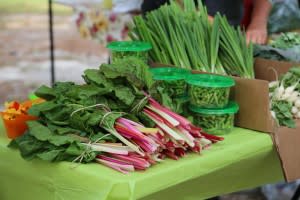 rmer's Market, Saturdays through Sep 8, 2014, 7:00 a.m. - 1:00 p.m.
Shallotte Farmer's Market, Mondays through- Sep 13, 2014, 8 a.m. -12 p.m.
Southport Waterfront Market, Wednesdays through Sep 25, 2014, 8 a.m. 1 p.m.
Of course, if you want a night off from the kitchen, our restaurants offer great coastal and waterfront dining!
Turtle Tracks
Turtle alert – the loggerhead turtle nests that have been laid on our North Carolina beaches will begin to hatch in July and go through October! There is probably no experience more powerful than watching baby sea turtles boiling out of the nest and racing to the water line. Sea turtle conservation is conducted across North Carolina's Brunswick Islands beaches, and, if you see folks camped out on the beach around sundown, stop by for a look. Chances are they are a group of volunteers on "turtle watch" waiting for the hatchlings to emerge and make their way to the ocean. View a video here to see what all the fuss is about!