Date nights may look a little different these days as couples navigate shelter in place and social distancing orders, but the romance does not have to stop when you plan the perfect night in with your special someone! While we look forward to welcoming you back to the Brunswick Islands, for those filled with wanderlust and itching for a change in scenery, we have put together a plan for an idyllic island-inspired escape to North Carolina's Brunswick Islands, all without leaving the comforts of your own home! From working together to make a nice seafood dinner inspired by one of our favorite seafood shacks, to snuggling up with a movie and a glass of local wine, this agenda will make you realize that while the beach is lovely there really is no place like home. 
A Table For Two and Dinner Cooked to Perfection:
Any good date night starts with a nice dinner, and maybe a couple of drinks to go with it! Thankfully, you will find no shortage of delicious local libations in NC's Brunswick Islands. Locals can take advantage of curbside pickup from the area's winery and breweries to enjoy their favorite beverages from home. 34° Experiment Station and Makai Brewing both feature a variety of local craft brews. Makai Brewing is open for pickup Wednesday through Sunday and 34° Experiment Station is open from Thursday through Sunday, so make sure to pick up enough to last you through the closed days, as well! For wine lovers, head to Silver Coast Winery between 12:00 and 3:00 PM Tuesday through Saturday to pick up some of your favorite reds and whites. Not local? No worries! Silver Coast ships their bottles across the United States. Plan ahead and order your wine online for delivery right to your door. Craving a craft brew from the Brunswick Islands? Select grocery stores and taprooms in the Southern states sell Red Hare beers, and folks in the greater Atlanta area can head to Marietta for the original Red Hare taproom located on the same longitude line as the Shallotte location.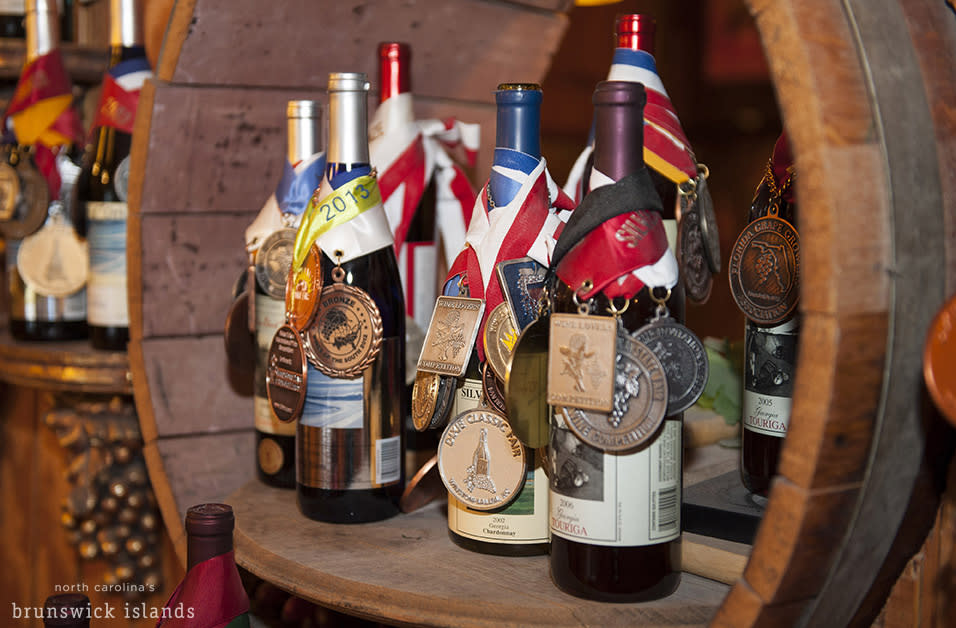 The only way to make a coastal date night in better would be to add some beautiful views to it, and thanks to webcams located around the Brunswick Islands you can do just that! Take a look at the Ocean Isle Inn or the Fishy Fishy Cafe webcams as you enjoy the seafood dinner you caught from your local grocer! And make sure to check for sunset times to ensure you don't miss the beautiful view from wherever your favorite location is. 
While enjoying your favorite beverage, you can get dinner cooking. Cooking as a couple is always a blast and is made even better when you have a recipe guaranteed to fill your belly and warm your soul. The folks at the Waterfront Seafood Shack in Calabash have made it easy to make one of their staples, the Calabash Steampot, at home. If you live nearby the Waterfront Seafood Shack you can even get your seafood from them directly! The Waterfront Seafood Shack's fish boats and market are still operating to bring locals the best high-quality fish and shrimp. Of course, no meal is complete without dessert so try your hand at the Waterfront Seafood Shack's famous grilled pound cake as well! 
Calabash Steam Pot:
Ingredients:
1 ½ lbs red potatoes, cut in half and then sliced
12 littleneck or topneck clams
6 oz smoked sausage, cut into ¼ inch pieces
2 oz seafood seasoning
Garlic and butter as desired 
Steps:
1. Steam potatoes for five minutes, then brown on a flat top grill in garlic butter, cook sausage on flat top grill until browned, and cook corn in fryer at 350 degrees for four minutes.
2. Wash clams thoroughly. 
3. Once browned, place potatoes in steam pan with clams and shrimp and add seafood seasoning. 
4. Steam for four minutes before adding corn and sausage into steampot. 
5. Butter corn and enjoy!
Southern Grilled Pound Cake:
Ingredients: 
2 sticks (1 cup) of butter
2 cups of flour
2 cups sugar
2 tsp baking powder
5 large eggs
½ cup milk
½ tsp vanilla extract
Steps: 
1. Grease 10 inch baking pan and preheat oven to 350 degrees.
2. Add all ingredients in large mixing bowl and beat on high for 8 minutes.
3. Bake for 54 minutes.
4. Cool for 15 minutes before removing from pan.
Insiders Tip: This pound cake is served best when grilled with butter on both sides, and topped with your favorite ice cream and fruit!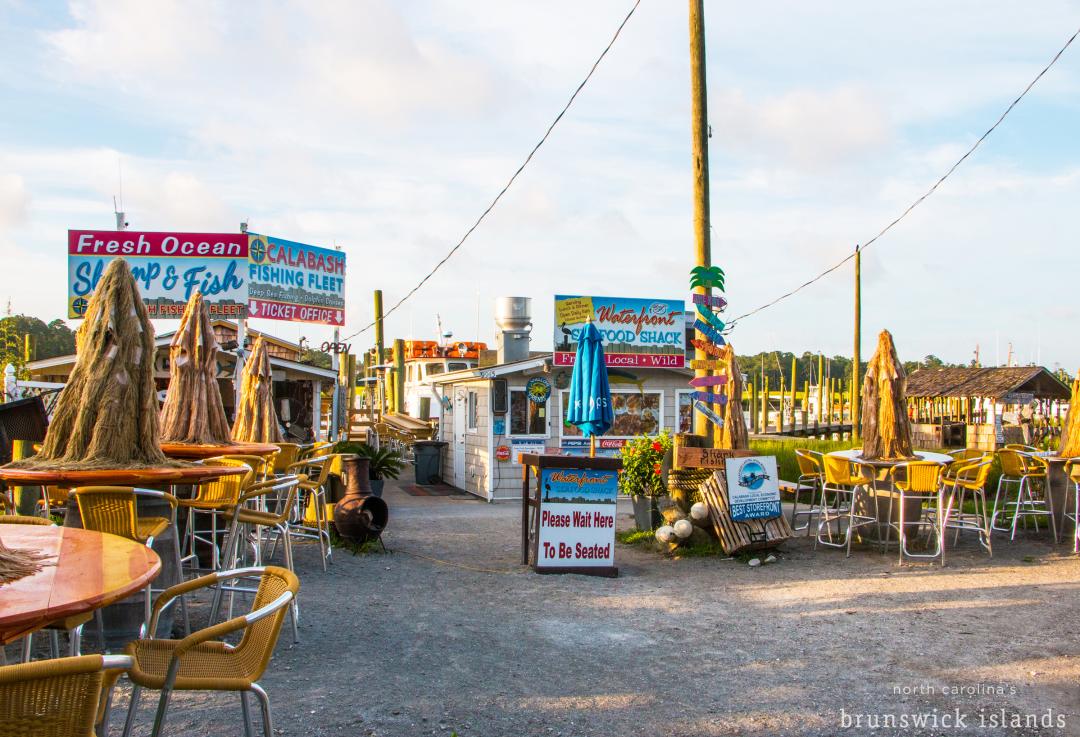 Your Own Personal Movie Theater:
Continue your date night in with a romantic movie that will transport you to NC's Brunswick Islands! The area is not only the ideal location for relaxation and romance, but many of the coastal communities have also been featured in film favorites such as A Walk to Remember and Safe Haven.
Snuggle up with your special someone and turn on Safe Haven, a film based on the iconic novel by Nicholas Sparks. This story of love and discovery takes place in the small town of Southport, where Katie Feldman is determined to make a new life for herself. Her goal to keep a low profile is quickly made unachievable when the close-knit community around her, specifically a widower named Alex, win her over with their warmth and caring nature. Take in the small-town charm and picturesque beauty of the area, as you watch Katie learn to love and trust again and discover whether she can keep her dark past a secret from the people she has learned to love. Trust us, you will want a shoulder to cry on and a person to give some extra hugs to for this one. 
If romantic movies are not your style, try any one of these great series with scenes filmed in Southport! Pour yourself a rum runner (and help yourself to a second serving of pound cake, we won't judge), then settle in to binge-watch Dawson's Creek, a classic teen drama following the lives of a group of friends, starting in high school and continuing into college. If instead you are looking to get a little spooked, turn off the lights and turn on Under the Dome, based on the novel written by horror writer Steven King. 
Still looking for shows and movies to watch during your date night in? Have no fear! Check out our list of additional movies and TV shows that filmed in the Brunswick Islands.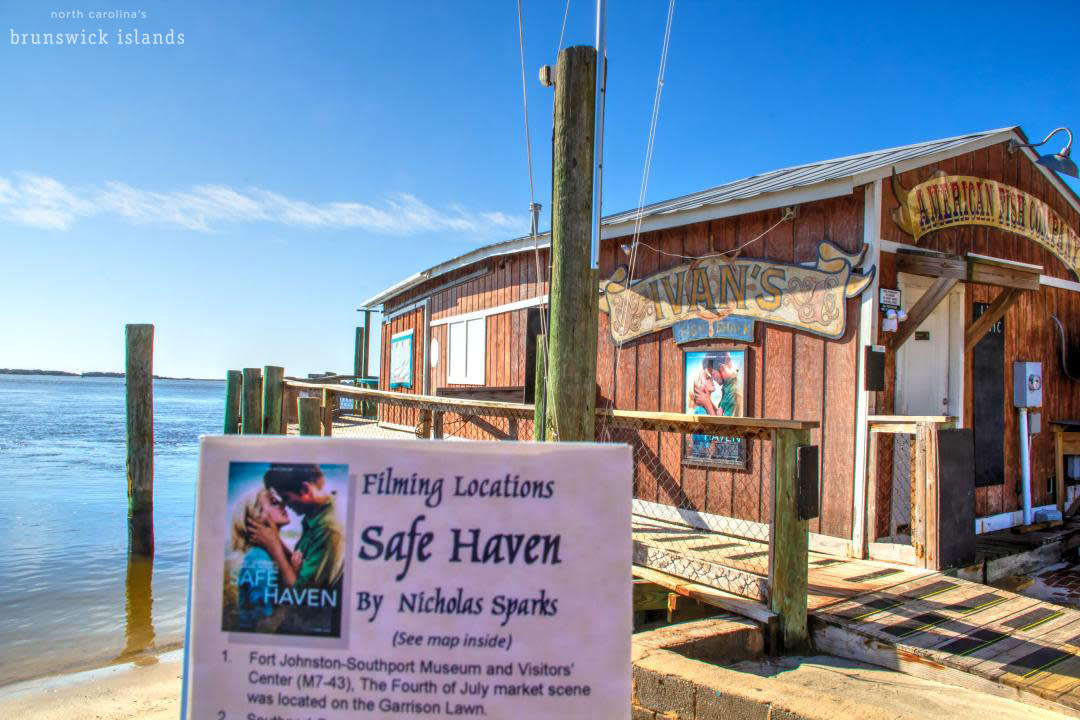 We all know that there is nothing like dipping your toes in the water and dancing off into the sunset, but we hope that our above agenda satisfies your cravings for a coastal date night, and holds you over until it is safe to return to North Carolina's Brunswick Islands' beautiful beaches once again! We look forward to welcoming you back soon. For more information, and to plan your future vacation, please visit www.ncbrunswick.com.