North Carolina's Brunswick Islands is known as North Carolina's Golf Coast, where championship courses have been designed by such greats as Arnold Palmer, Rees Jones, Fred Couples, Dan Maples, and Willard Byrd.  Each offers a wide range of settings, from marsh to maritime forests, to lakes, streams, beaches and the Intracoastal Waterway, and each is unique in its design and playability.
One designer, Tim Cate, who may be lesser-known outside of our area is worth noting. In fact, he is quite renowned along the coast for his sustainable golf course design that completely incorporates the natural terrain, providing an artful challenge for golf enthusiasts.
We like to think he's a best-kept secret, just like our area.
Cate says this, "Unlike the South Carolina courses, this is a unique region with a bit of a roll to the land, which provides some wind break off the water and opportunities for interesting layouts. We have beautiful beaches and low-rise development, so the area has been left in a more natural state."
In 2010, Golf Digest named a golf course in North Carolina's Brunswick Islands "Best design by an architect you've never heard of." Golf course architect Tim Cate, a resident of Sunset Beach, attended West Virginia University and the University of Georgia, graduating with a degree in Landscape Architecture. He then spent eight years under the tutelage of course design greats like Willard Byrd.  According to Jamie Roderick, General Manager of The Thistle Golf Club, "Cate doesn't just move earth. He carefully designs his courses, then supervises like a virtuoso, taking advantage of the lay of the land as it is being sculpted by the construction crew."
For your next North Carolina's Brunswick Islands' vacation, consider one of these several award-winning, Tim Cate-designed courses…
Cape Fear National 
Cape Fear National in Leland is one of the newest golf courses in Brunswick County. Among its prestigious awards, Cape Fear was named among the top "11 best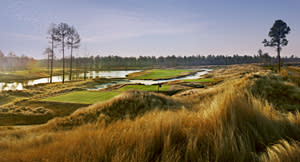 courses you can play in NC" as named by Golfweek magazine. Expect to see ornate grasses, drive-through waste bunkers, two waterfalls and over 1,500 linear feet of bridges as you weave through 18 holes of exceptionally conditioned golf.
According to Director of Sales and Marketing, Brad Walker, "There's really a wow factor here at Cape Fear National. Week after week, we receive rave reviews on the overall conditioning of the golf course, the surrounding natural landscape and the quality of our A1/A4 Bentgrass greens. Tim Cate's attention to detail is impressive and he is an expert when it comes to local landscape in Coastal North Carolina."
The "Big Cats" Courses 
Ocean Ridge Plantation in Sunset Beach offers four championship "Big Cats" golf courses - three designed by Tim Cate.  The three Tim Cate courses each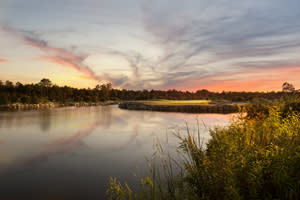 has it's own unique character and feel, but with the unifying Tim Cate signature design features incorporated into their layouts for the thrill of the hunt.
Two courses of note are Tiger's Eye and Leopard's Chase. Tiger's Eye is distinguished by dramatic 60-foot elevation changes reminiscent of the North Carolina sand hills and a stunning combination of natural waste areas, native grasses, wildflowers, pine and oak trees and water, including Carolina bays, two waterfalls and marshland typical of a coastal environment. Leopard's Chase offers stunning natural beauty playing along expansive natural wetlands and features dramatic elevation changes heretofore unseen along the coast.
Thistle Golf Club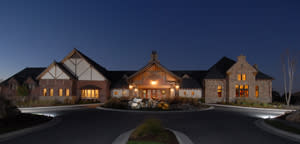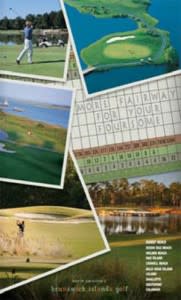 The clubhouse at the venerable Thistle Golf Club in Sunset Beach is of traditional Scottish design, filled with the antiquities, original documents, trophies, ledgers and other memorabilia from the original 1815 Thistle club on Edinburgh's revered Links of Leith. In similar Scottish tradition, architect Tim Cate provided windswept fairways, heather-covered hillsides and generous rolling Bentgrass greens, earning a 4 ½-star rating by Golf Digest.
With 120 miles of fairways and 45 miles of wide, un-crowded beaches, free from high-rise development, dedicated golfers as well as families can all find their paradise. With over 30 golf courses in North Carolina's Brunswick Islands, you could stay for a month and play one course each day. Perks to golfing in Brunswick Islands include more than 30 hotels, inns, bed and breakfasts and golf resorts, as well as countless seaside and inland vacation rental homes and condos for every style and budget.  If golf is your vacation focus, our local golf packagers can arrange for the perfect visit. View a video here about Brunswick Islands' golf.
The North Carolina's Brunswick Islands' Golf Guide is the perfect tool to get your dream golf vacation started.  To order a printed copy of the Golf Guide and/or to sign up for emails click here.