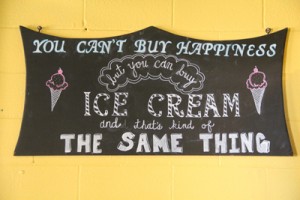 "You can't buy happiness, but you can buy ice cream and that's kind of the same thing!" says the sign outside Flava's Ice Cream in Southport, NC. And who are we to argue? Better to step inside and enjoy a scoop of Death by Chocolate or their most popular flavor, Nutty Coconut, after a day out on the water or any of NC Brunswick Islands' miles of pristine beaches!
In fact, you can easily satisfy your sweet tooth no matter where you are in North Carolina's Brunswick Islands - each town and island has several choices as unique and individual as the islands themselves!
Holden Beach is home to three ice cream shops that are must-stops. Beaches N Cream's all-original, small batch recipes use only the freshest, local ingredients that are free of harmful preservatives, additives and hormones for the ice cream purist. Try the Apple Crisp, Boston Cream Pie, Butter Brickle, or County Fair Funnel Cake – the winner of the 2016 New Flavor Contest! With a new flavor featured almost every day, there is always a reason to go back! Head to Fantasy Isle Ice Cream for a one-of-a-kind miniature golf course experience, shaded and hidden by oak trees. Their ice cream however, is no secret. Hundreds of photos of satisfied customers line the walls, and they boast a solid five-star ranking on Trip Advisor. Or walk right off the beach and get your ice cream with an oceanfront view at Haley's Ice Cream Store.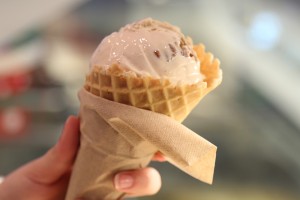 Calabash may be known as the "seafood capital of the world," but Calabash Creamery sets the standard for old-fashioned ice cream by making it with 16 percent butter fat cream to give it a one-of-kind taste. More than 50 year-round and seasonal flavors, including Brownie Batter, Cinnamon Bun, Mango Tango and the home-town favorite, Cow-a-Bash Crunch, offer just as many reasons to stop in.
The cute yellow building that welcomes you onto Ocean Isle Beach is the home of the Ocean Isle Creamery where you will find at least 17 homemade flavors every day! All the ice cream has its start from a dairy farm in Dunn, NC, and some of the creative creaminess includes Pecan Caramel Swirl, DreamSicle, Cotton Candy and the perennial favorite, German Chocolate Cake. The Ice Cream Shoppe, another favorite place to chill out on Ocean Isle Beach, celebrates its 30 plus years at Ocean Isle with a great selection of splits and the best Strawberry Milkshake around!  Build your own sundae at Build a Sundae or have a side of fudge with your ice cream at Pete's Sweets.
Because a trip to Sunset Beach isn't complete without a stop at How Sweet It Is, make sure you sample the brightly primary-colored Play Dough ice cream at this adorable ice cream parlor! How sweet it is to have so many options, indeed! You can't go wrong with their Dutch Chocolate, Banana Pudding or Sea Salt Caramel.
When in Shallotte, try a scoop of Hershey's ice cream with added toppings at The Inside Scoop on Main or an old fashion chocolate dipped cone at Dairy Queen.
From their striped awning and walk-up window, Spike's Dairy Bar in downtown Southport churns out favorites like Almond Joy, Chocolate Chip Cookie Dough and the "to-die-for" Coffee Mud Pie! Be sure to treat your four-legged family member with the 'Pup Cup,' a scoop of vanilla ice cream topped with a dog biscuit!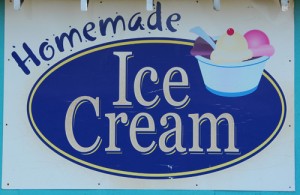 The largest of NC Brunswick Islands' five barrier islands, Oak Island offers several choices. Frosty's is legendary for its ice cream and the tantalizing aroma of house-made waffle cones. Top the cone with a generous scoop of Peanut Butter Chocolate or Butterfinger Ice Cream for the ultimate sweet treat! Also on Oak island, Lil and John's Sweetreat is great for a scoop of homemade ice cream and to pick up some house-made fudge for later.  In addition to ice cream, Tropical Treats offers a lighter take to cooling down with a variety of Italian ices and sno-cones. OKI Scoop Shop and Donuts offers homemade ice cream as well as delicious donuts. For a nostalgic taste, head to Dairy Queen for a Dilly Bar.
If you want to keep even lighter on the calories, touch down at Ocean Isle Creamery, The Daily Scoop on Main (Shallotte) or Back Porch Ice Cream (Calabash) where frozen yogurt is served alongside ice cream.
Maybe you can't buy happiness, but you can certainly find it in NC's Brunswick Islands!
Updated August 21, 2018.