The beginning of spring is just days away and with it's promise of warmer weather, spring also means the beginning of migration and nesting seasons for birds. The five barrier islands that make up NC's Brunswick Islands - Sunset Beach, Ocean Isle Beach, Holden Beach, Oak Island and Bald Head Island- encompass a large network of bird sanctuaries.  Situated along the coast of Southeastern North Carolina, the Brunswick Islands' varied ecosystems make it a natural haven for hundreds of species of birds. In fact, there have been 350 species of birds spotted in Brunswick County.  Brunswick County is also home to eight of the birding sites along the North Carolina Birding Trail!

North Carolina's Brunswick Islands has more than 45 miles of unspoiled shoreline, pristine estuaries, and salt marshes that sustain a wide variety of wading birds and shorebirds during the spring nesting season.  Battery Island, located in the Cape Fear River across from the Southport waterfront, alone is home to nearly 10 percent of the North American population of White Ibis. White Ibis is one of the most visible and prolific species with their bright white plumage that contrasts the colors in the sky. In 2012, there were more than 5,000 documented nesting pairs of this species on the six-acre island. Battery Island is a bird sanctuary protected by the National Audubon Society.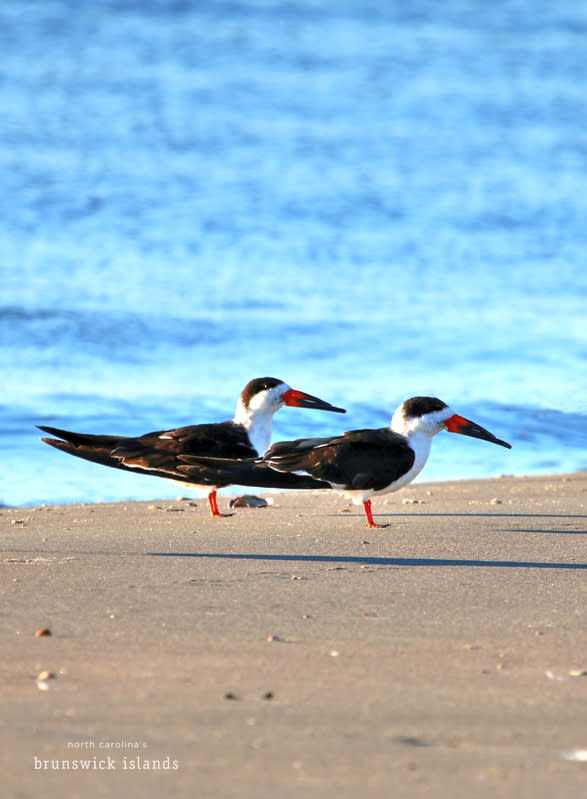 In addition to White Ibis, other shore birds and wading birds visitors to the Brunswick Islands are likely to encounter include several species of terns and gulls, American Oystercatchers, Black Skimmers, Plovers, Egrets, and Herons. Away from the shore, in nature preserves such as the Green Swamp Preserve, Ev-Henwood Nature Preserve, and Boiling Spring Lakes Preserve, visitors may see a variety of warblers and sparrows as well as Brown-headed Nuthatches, Summer Tanagers, and Indigo Buntings.
More on birding and bird walks in the Brunswick Islands with Greg Loomis with Wild Bird & Garden in Southport:
We spoke with local bird enthusiast, Greg Loomis with Wild Bird & Garden in Southport about bird walks, birding in the area, and some of his favorite bird spots. His answers are shared below.
How can a visitor to Brunswick Islands get involved in birding?
"Wild Bird & Garden hosts free monthly bird walks that are open to residents and visitors. These bird walks are held on the third Wednesday of every month at 8:30 a.m. Our group walks down to the waterfront of the Southport Riverwalk & Pier. The people who participate on these walks are so knowledgeable and passionate about birding, some can even identity the type of bird by their song alone."
What species of birds can participants on these walks expect to see?
"We see a lot of different birds on these walks including White Ibis, Glossy Ibis, Seaside Sparrow, Painted Bunting, Carolina Chickadees and more."
What is the rarest bird that you have encountered on a bird walk in the area?
"I once saw a painted bunting in Southport!" (For those who don't know, painted buntings are one of the most spectacularly colored and visually impressive birds in the United States. Males can be easily identified by their blue head, green back, and red rump and belly. )
Are there any suggested materials or equipment participants should bring on the bird walks?
"We suggest that guests bring a pair of binoculars, but visitors or residents are able to rent them from Wild Bird & Garden if they don't bring a pair with them."
To learn more about birding in North Carolina's Brunswick Islands, and to plan your trip, visit www.NCBrunswick.com
Follow NC's Brunswick Islands on social media at www.facebook.com/NCBrunswick/and www.instagram.com/ncbrunswickislands/