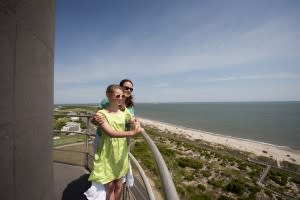 Along the coast of North Carolina's Brunswick Islands is a beach activity perfect for any family looking for adventure or an educational experience. This year, why not add an exhilarating item to your bucket list and discover an elevated, 360-degree scenic view of the Atlantic Ocean and inland waters of the Cape Fear River? The Oak Island Lighthouse, standing just over 150 feet, offers the perfect opportunity to see some amazing coastal views. Venture up the unique 131 steps to the observation platform and capture exceptional aerial photos of Oak Island and the seemingly endless ocean of Caswell Beach. But this isn't your normal lighthouse excursion – within the Oak Island Lighthouse, the steps leading to the observation platform are ships' ladders, not the typical spiral staircase found in most lighthouses.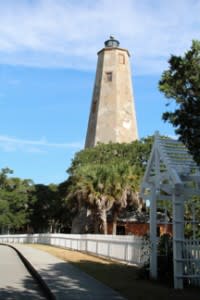 The Oak Island Lighthouse, located on Caswell Beach, is the newest of the North Carolina lighthouses, with construction completed in 1958. For the first five years of the lighthouse's operation, the lights projected to sailors were the brightest in the United States and second brightest in the world. The lighthouse used carbon-arc mercury lamps that generated 70 million candle power. Now, the lighthouse is powered by four 1,000-watt halogen bulbs that produce 2.5 million candle power. The Oak Island Lighthouse light can be seen for 16 miles out to sea and is still one of the most powerful lighthouses in existence.
Tours to the top of the lighthouse are available all year long by appointment for climbers nine years of age and older. Tour appointments must be made through the Oak Island Lighthouse website, at least two weeks in advance.  The Oak Island Lighthouse is located at 300 Caswell Beach Rd, Caswell Beach, NC 28465.
 Just across the waters of the Cape Fear River from the Oak Island Lighthouse stands the oldest lighthouse in North Carolina, Old Baldy. The lighthouse, located on Bald Head Island, was built in 1817 and has maintained its original form and location for over 187 years. This historic landmark has 108 steps, five landings and is 110 feet tall.
While no longer an active lighthouse, Old Baldy is open for visitors to enjoy and climb to the top for a breathtaking view of the area's natural beauty. Take an in-depth island tour with a knowledgeable guide or purchase a ticket to climb to the top. Reservations can be made in advance by calling Deep Point Marina at 910-457-5003 or visiting their website.  Old Baldy Lighthouse is located at 101 Lighthouse Wynd, just a short walk from the island's ferry landing.
Learn more about the Oak Island Lighthouse and Old Baldy by watching this short video on Brunswick Islands' Lighthouses .