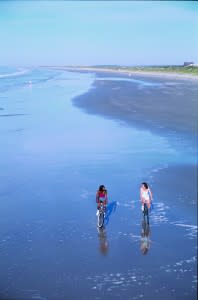 On almost every New Year's resolution list, individuals make the firm decision to become more active and get in shape. North Carolina's Brunswick Islands offers plenty of ways you can start becoming more active and shed those pesky holiday pounds. Most people flock to the coast for rest and relaxation, but there's also a contingency that loves to move while they're on vacation, and there's no better place to "get your move on" than here. This New Year, take the challenge and add these active beach activities to your bucket list:
Sail – Learn to hoist the mast with sailing lessons.
Surf – Mount a board to ride the waves.
Paddle – Tour the waterways via canoes, kayaks and paddle boards.
Putt – Drive your way through more than 30 championship golf courses.
Bike – Cruise the beaches.
Climb – Master the 134 steps to the top of a working lighthouse.
Hike – Lace up for an adventure through one of many nature preserves.
Skate – Strut your moves on skateboards and in-line skates at Oak Island's skate park.
Volley – Play a match at one of a dozen area parks with tennis facilities.
Bark – Stretch your legs and Fido's on Brunswick's dog-friendly beaches.
Birding – View nearly 335 species of birds on birding trail sites, some of which are threatened or endangered.
Reel – Cast a line in the waters of an angler's dream for saltwater, freshwater, and surf fishing.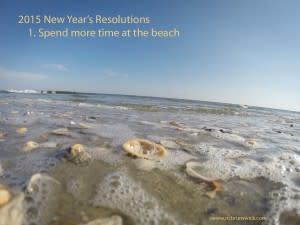 All these activities and more can be found on your next vacation to North Carolina's Brunswick Islands. The memories and rewards of a vacation can last a long time after the suitcase is put away. So no matter what you choose to do, the number one resolution should be to spend more time at the beach with family and friends!