Coastal Living has named Southport, North Carolina, as one of its Top 10 "America's Happiest Seaside Towns" for 2015 in their fourth annual top ten list of America's Happiest Seaside Towns.  The 2015 list of the happiest places to live by the sea is on www.coastalliving.com/happytowns2015 and in the March issue of Coastal Living.
Today through March 31, you can vote for Southport to be named Coastal Living's No. 1 Happiest Seaside Town in America at www.coastalliving.com/happytowns2015. Coastal Living will feature the No. 1 Happiest Seaside Town in the July/August issue of Coastal Living and online.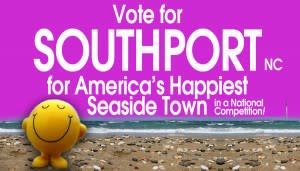 To choose the 2015 finalists for "America's Happiest Seaside Towns" Coastal Living editors begin by reviewing destinations that have been lauded in the past as Coastal Living Dream Towns, along with towns that are nominated by readers via social media. Coastal Living then collects each town's rank on the Gallup-Healthways Well-Being Index, percentage of sunny days, air quality, healthiness of beaches, commute times, crime ratings, walkability, standard of living and financial well-being of the locals, geographic diversity, and Coastal Living editors' assessment of each town's "coastal vibe." This results in the Coastal Living Top Ten "America's Happiest Seaside Towns" list which is then ranked by the public from February 13 through March 31.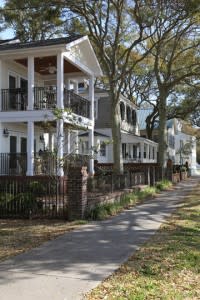 Southport With its dramatic views of the Cape Fear River, ancient live oaks drizzled with Spanish moss, and Victorian homes on flower-edged lanes, the picture-perfect village of Southport charms residents, visitors and even Hollywood. The rich history of Native Americans, pirates, Revolutionary war and blockade runners makes the town, so full of southern coastal appeal, one of the loveliest on the Atlantic coast. Brimming with antique stores, cafes offering locally caught seafood, and unusual boutiques and shops, it's a Norman Rockwell painting come to life. The extraordinary waterfront and early 19th century architecture also draws Hollywood and the television industry. More than 40 productions have filmed here, most recently "Safe Haven" and "Under the Dome." Watch this video and you'll see that Southport's residents are truly happy - as are those who enjoy Southport's charms while on vacation.  If you agree that Southport is "America's Happiest Seaside Town", vote for Southport today!