Looking to relax and refresh this new year with a romantic weekend getaway filled with picturesque views, laid back Southern charm and delicious dining? North Carolina's Brunswick Islands offers visitors more than 45 miles of unsurpassed beaches that are ideal for a romantic getaway worthy of a Nicholas Sparks novel. To make your visit quainter, choose from one of six enchanting and unique Bed & Breakfasts located in the charming town of Southport.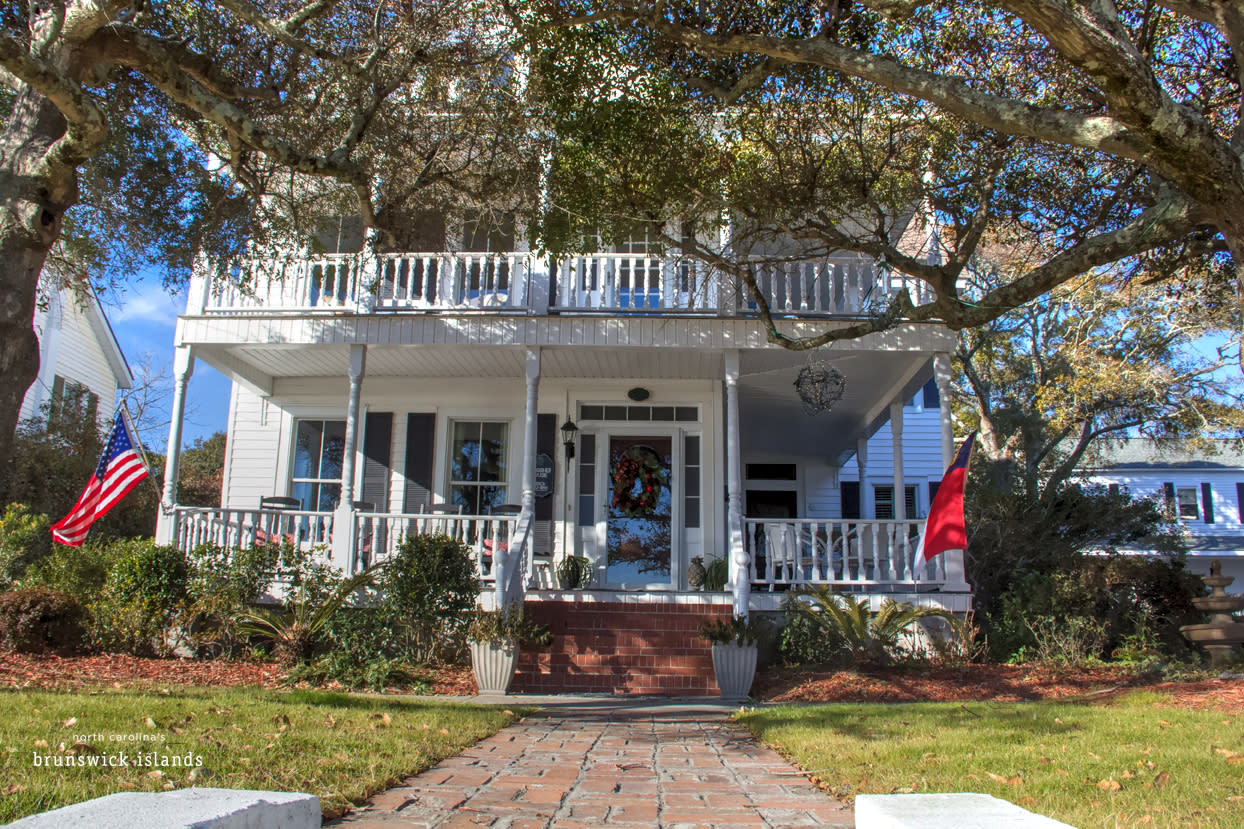 Lois Jane's Riverview Inn
Located along the historic waterfront of Southport, Lois Jane's Riverview Inn was built during the 1890's by Lois Jane's grandfather, and refurbished by her children in 1995. During your stay, relax and unwind as you experience Southern hospitality at its finest. The historic Inn features four bedrooms in the main home with two additional suites in the guest cottage. All rooms are furnished with period furniture and accessories, many of which are family heirlooms. All guests at Lois Jane's enjoy a full Southern-style breakfast served daily, with wine and hors d'oeuvres served in the late afternoon. Reserve your stay in Miss Mary's Room and take in the breath-taking views of the Cape Fear River as you relax with your special someone on the spacious private balcony!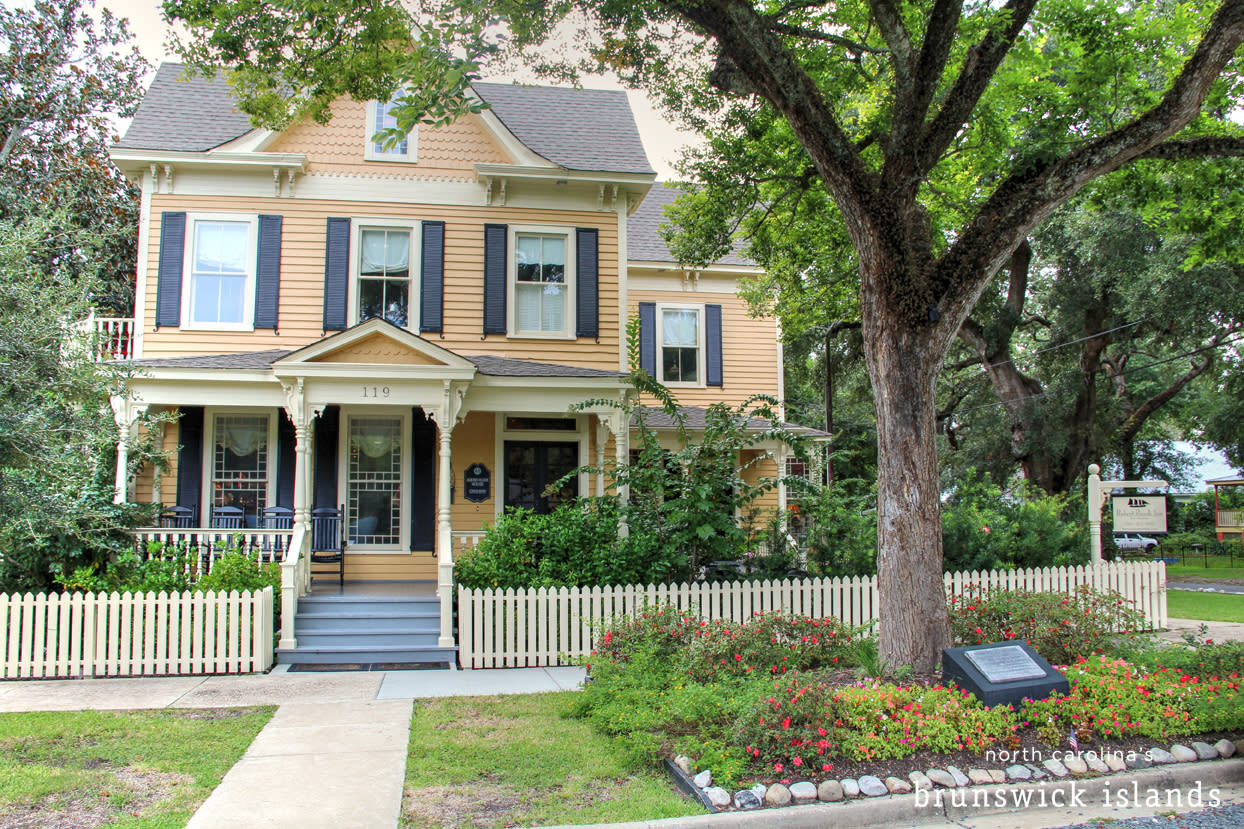 Robert Ruark Inn
Couples who desire an intimate and luxurious romantic getaway will enjoy a stay at the Robert Ruark Inn. Once owned by the family of the late world-renowned writer Robert Ruark, this whimsical bed and breakfast is located along the quiet streets of Southport and is nestled amongst beautiful ancient live oak trees, offering a scenic view of the stunning Cape Fear River. The elegant, Victorian-styled home offers lavish bed and breakfast accommodations, along with a scrumptious multi-course Southern-style breakfast and daily afternoon wine and cheese. Couples can relax in one of the four Robert Ruark Inn's charming bedrooms, professionally decorated in historical antiques. All rooms have private baths with vintage themed wash pieces including granite counters and claw-foot tubs or a spa-like shower. Enjoy the inn's opulent parlor, one of the two rocking-chair porches or cozy up to a loved one by toasty fire pit in the courtyard with a glass of wine.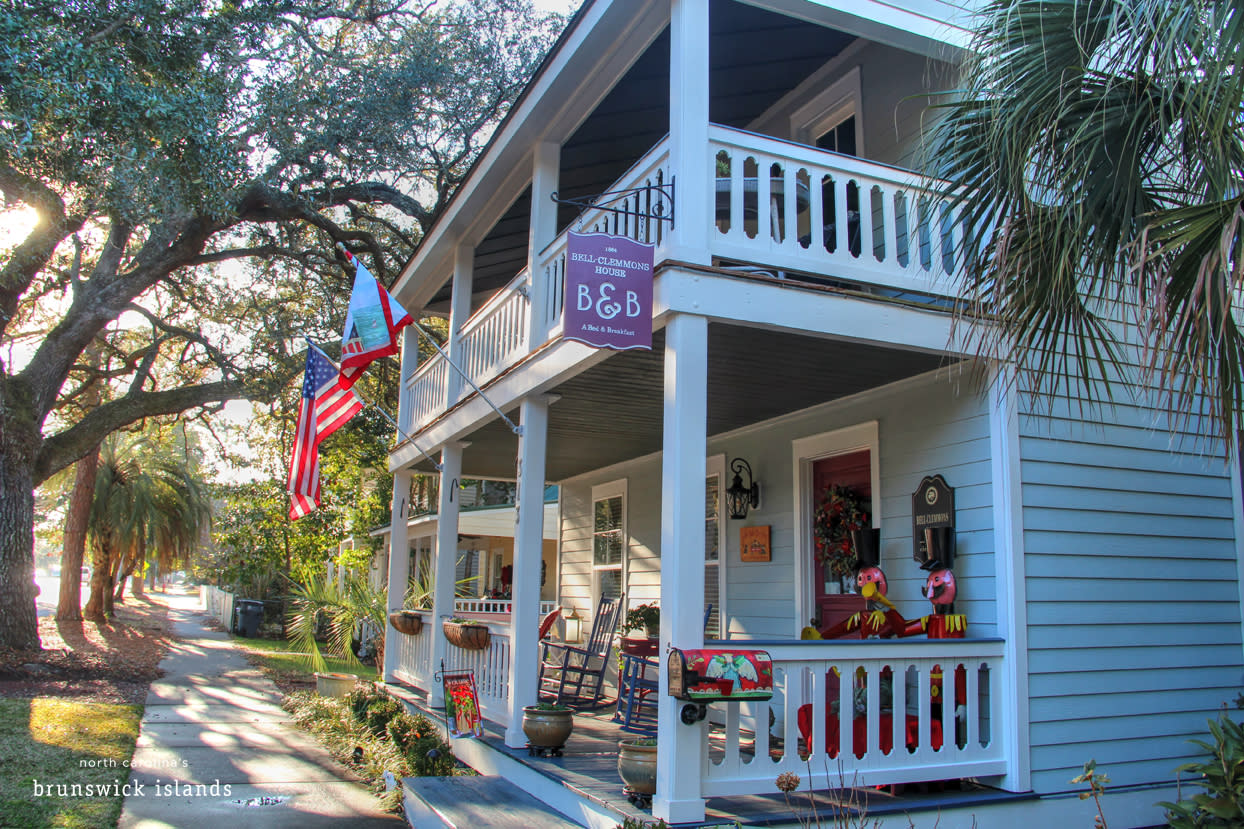 Bell-Clemmons House
Built in 1864 and completely renovated in 2004, the Bell-Clemmons House is located in the heart of historic downtown Southport. Eclectic and delightful, the inn is filled with beachy chic décor complied of locally sourced artwork, furniture and antiques. Each room has its own distinct characteristics and theme. Guests can choose from the Key West, Outer Banks or Savannah rooms each celebrating the bold history of the South. Equipped with a balcony porch, spacious lounge, gourmet kitchen, and a scrumptious three course breakfast, guests will feel right at home. Check out one of the B&B's beach cruisers to ride around Southport and explore during the day with your loved one.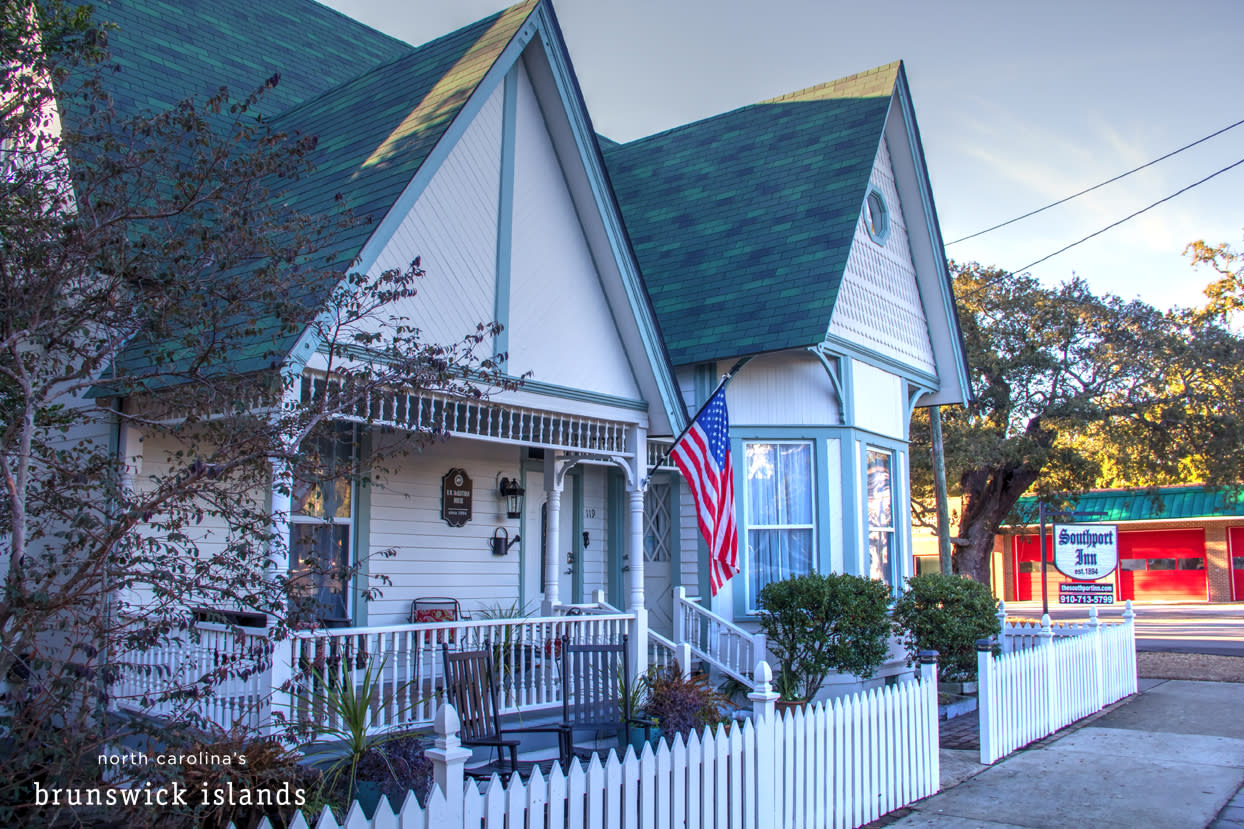 Southport Inn
Located in the middle of Historic Downtown Southport, resides a cozy little bed and breakfast. Southport Inn Bed and Breakfast has been updated accordingly to the architectural integrity and historical significance of when the house was first built in 1894. The old-world charm of this Southport Bed and Breakfast combined with modern comforts makes this the perfect romantic getaway location. Accommodations include four bedrooms all with private bathrooms, high speed wireless internet, continental breakfast with healthy food options and a cozy porch perfect for watching the quiet world go by. This wonderful little hideaway is located within walking distance of exceptional dining, shopping and stunning views of the Cape Fear River.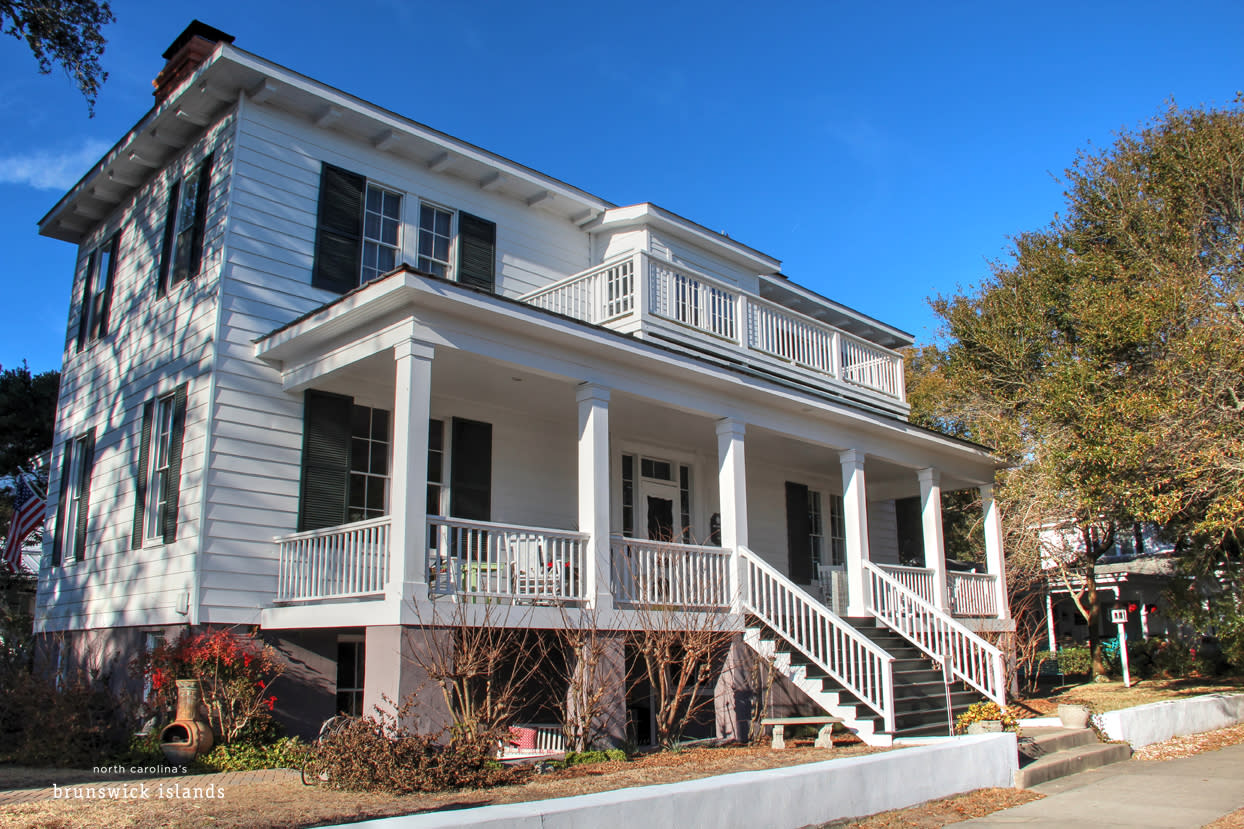 The Brunswick Inn
The Brunswick Inn, which dates back to the mid-1800s, is a beautiful Federal-style mansion that overlooks the Cape Fear River and offers pristine views of Bald Head Island and the Oak Island Lighthouse. The inn has been carefully updated, respecting the historical integrity of this splendid piece of architecture. Accommodations at the Brunswick Inn include three spacious bedrooms with fireplaces and private baths with views of the Cape Fear River which can be seen from every guestroom. Each room is furnished with era furniture and accessories. Couples can enjoy a gourmet, home-cooked breakfast, along with fresh baked goods and in-season fruits, which are included in your stay. Reserve a stay in Lady Brunswick's Room, the inn's most spacious and romantic room that will lull you to sleep.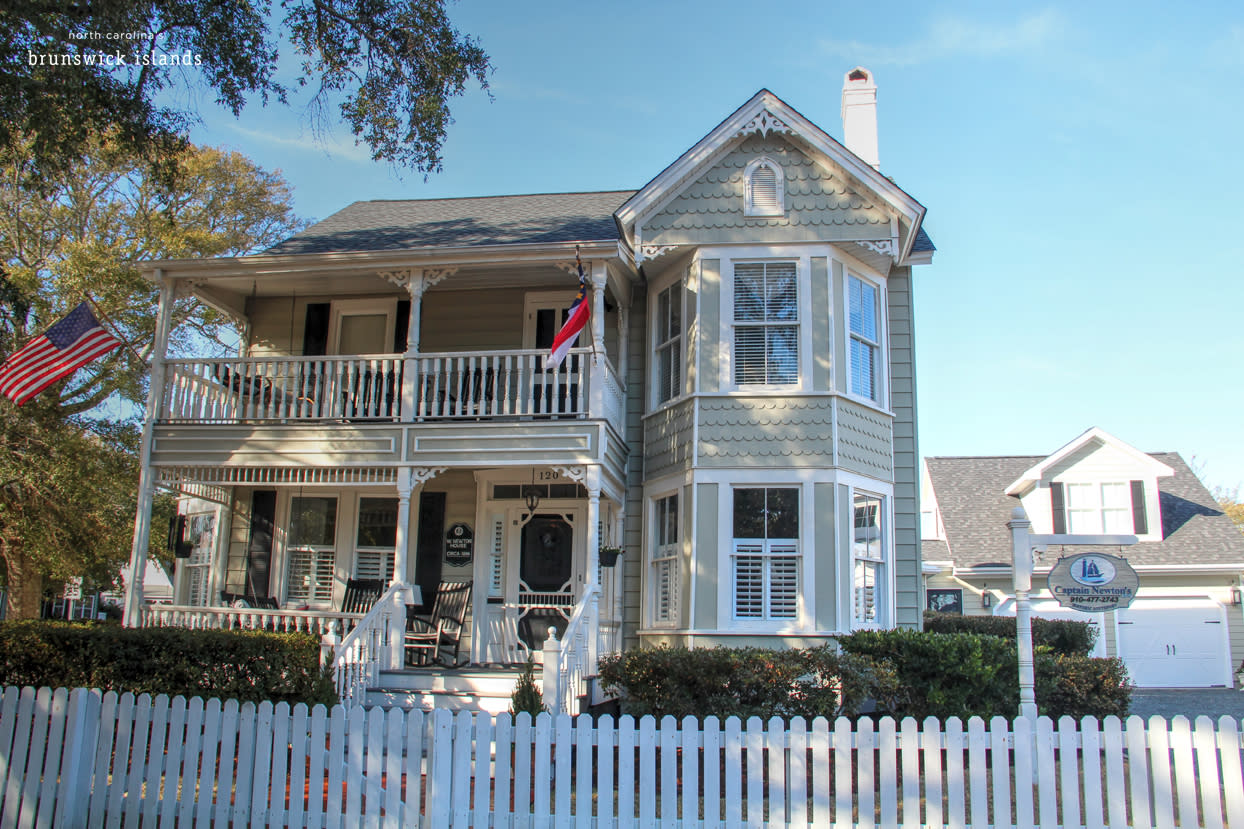 Captain Newton's Inn
Built in 1886 by Captain Walker Newton, a renowned river pilot of his time, and since updated, Captain Newton's Inn is settled on one of the original one hundred lots laid out by the city founders. The cozy inn's nautical décor is reminiscent of the quaint historic fishing community it resides in. This three- bedroom B&B offers guests a daily breakfast and a wine and cheese reception. Check out the second- floor porch equipped with several rocking chairs and a swing for two that is the perfect setting for cozying up with your loved one with a good book and your favorite beverage.
To learn more about accommodations in North Carolina's Brunswick Islands, and to plan your trip, visit NCBrunswick.com.
You can follow the North Carolina's Brunswick Islands on social media at www.facebook.com/NCBrunswick/ and www.instagram.com/ncbrunswickislands/.