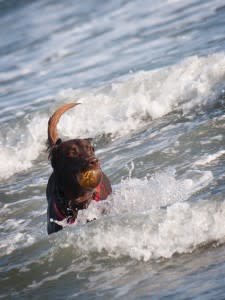 Many people consider their four-legged friends part of the family and love taking them everywhere they go. If you're looking for a dog-friendly spot to bring Fido to this fall, the beaches of North Carolina's Brunswick Islands allow man's best friend to enjoy the sun and sand right along with you.
Dog-friendly beaches open up a whole new world to explore for dog owners and their four-legged friends. Here are five Fido-approved activities to take part in while soaking up the sun.
Running - Running is a favorite beach-time activity for many vacationers and our beaches offer the perfect setting for taking a jog with your dog. The packed sand along the water creates a great running surface your dog will enjoy just as much as you.
Swimming - If your dog is a fan of the saltwater then taking your pup for a splash in the Atlantic will be a wonderful treat. Make sure you bring freshwater along for your dog as too much saltwater is unhealthy!
Playing fetch - This activity can be done in the water or on land and is equally as fun for you as it is for your furry companion. Bring a flying disc or bouncing ball along for a great game that is sure to wear out you and your fur friend!
Building sandcastles - Although this is a job better suited for hands than paws, your dog will enjoy helping dig holes to get to the optimal sand. At the end of your building endeavor, you can give your lovable pet the pleasure of destroying your work.
Sunbathing - While you work on your tan, man's best friend can get their own dose of Vitamin D by chilling out and enjoying the sun's rays and cool breeze. They'll be wagging their tales in no time! Just remember that dogs can get sunburned too - especially white and thin coated dogs.
Although all the beaches in NC's Brunswick Islands are dog friendly, regulations may vary by town. You can check out all the rules and details here. Our website also includes listings of pet-friendly accommodations and pet-friendly restaurants (filter for the pet-friendly under categories).
So if you're looking for a new place to play fetch or spend quality time with your furry friend while enjoying a beautiful view, you can head to the NC's Brunswick Islands. Dog friendly beaches and accommodations await you.