It's obvious from the entries in our Pets of NCBI photo contest that our visitors love their pets and their pets love the pet friendly beaches of NC's Brunswick Islands.  With 125 entries, it wasn't easy to choose just a few winners but we sure enjoyed looking through all the photos of adorable pets. Thank you to everyone who shared their photos for our contest! And now, here are the winners, along with the inspiration behind their photos and why the Brunswick Islands are their pet-friendly beaches of choice.
1st Place: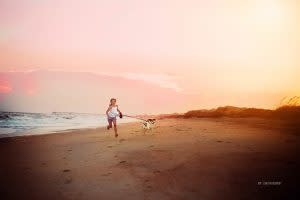 Ava and Gabby, a Jack Russel Terrier and Beagle mix rescued from the Brunswick County Sheriff's Animal Protective Services, enjoy the sunset on Caswell Beach - photo by Instagram user @amy_jeanphotography. "The Brunswick Islands is a great place to bring your pets because of the amount of beaches, there is a dog park in Southport, a great pet shop in Southport, and absolutely beautiful weather year round. The beaches in the area are exceptional, the temperature of the water, the soft sand and friendliness from people.  It is just a very pet friendly area to bring your companion. We love it!!"
2nd Place: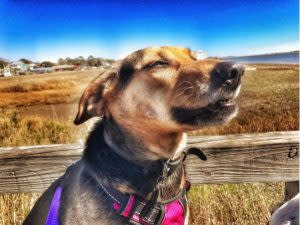 Buttercup enjoying the Marsh Walk in Southport. "In this photo you see my pup, Buttercup really taking in the atmosphere and obviously loving every second of it. She just loves it when we go on walks down in Southport or out on Oak Island.  My husband and I love coming and visiting Southport and Oak Island. It's a nice escape from reality for us and we love LOVE the fact that our dogs can come and escape with us. In my picture you can really see the happiness in Buttercups face and that pretty much says it all." Instagram user @j__to_the__ess
3rd Place: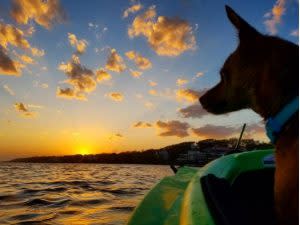 "Moby loves going out for a paddle on our kayaks, taking walks on the beach, hiking in the woods, chasing tennis balls or just simple going on long car rides. I love that the Brunswick Islands is situated in a region that you can appreciate the dynamics of each season, whether it's the...solitude of the beaches in the winter months, or the crisp air, fishing and festivals in the fall. I love watching the stunning array of birds and wildflowers in the spring and ...excitement of the summer." Instagram user @rosemarybarron
Honorable Mentions: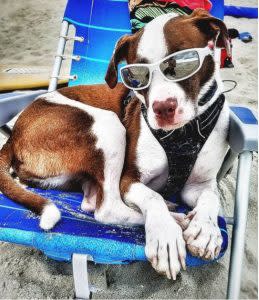 Levi by Instagram User @steveedmonds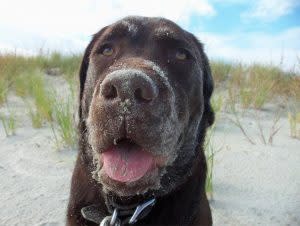 Orvis - Photo by Joanne Bush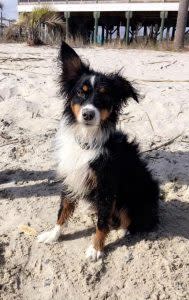 Tucker - Photo by Melinda Hodge Carroll
Our random drawing winners:
Cookie - Photo by Vivica Williams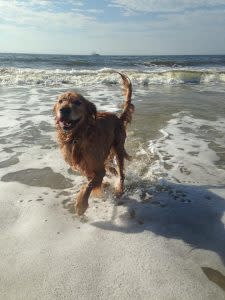 Guinness - Photo by Jaime Sansale Pavol
Congratulations to all our winners!  To learn more about NC's Brunswick Islands visit www.ncbrunswick.com  For pet friendly accommodations click here.