the quaint city streets, peaceful seaside roads and gorgeous weather of North Carolina's Brunswick Islands are made for bicycling. Visitors to the Brunswick Islands can feel the sun on their faces and the wind on their backs as they cycle through the charming seaside streets to the beach or through the moss-draped live oaks on the mainland.
Visitors can bring their own bikes or rent them from a number of different companies. Most companies provide adult and child bikes, as well as child trailers to attach to the back of a bike so the whole family can come along for the ride. Tandem bikes are also available at Beach Fun Rentals, Coastal Urge, and PaddleOKI.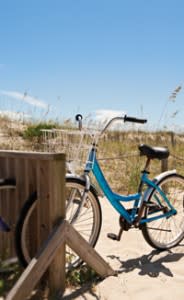 The Adventure Kayak Company even gives guided bike tours in and around Southport, teaching guests about the town's historical blockade runners, river pilots and pirates and showing them the beauty of the live oaks and historical waterfront property.
Once they have their bikes, guests can take them out on the 45 miles of wide, stunning beaches, along the roads near the Intracoastal Waterway, or in scenic area parks. North Carolina's Brunswick Islands has many roads that follow the curve of the coast: Beach Drive and Ocean Drive on Oak Island, Caswell Beach Road on Caswell Beach, Ocean Boulevard on Holden Beach, Ocean Isle Boulevard and First Street on Ocean Isle Beach, Main Street on Sunset Beach, South Bald Head Wynd and Cape Creek Road on Bald Head Island. Click here to see Holden Beach's Bike Route map. There are three different routes on Holden Beach totaling 20 miles. The Brunswick Nature Park offers bike trails through a scenic 900 acre wooded park near Leland. See the Brunswick Nature Park hiking and biking trail map here.
So whether you're in the mood for a leisurely pedal along the beach or a sightseeing adventure, North Carolina's Brunswick Islands is the perfect place for your coastal bike ride.