Kayaking
North Carolina's Brunswick Islands offers some of the best kayaking in the state. With plenty of places to paddle, miles of black water, salt marsh creeks and rivers as well as the Intracoastal Waterway – you'll be bragging about this trip for ages. At twilight, breathtaking sunsets put on a show and birds fly overhead. You will love the serene sunset and moonlight kayaking as the ideal combination of relaxation and adventure. Popular kayak guides and outfitters in North Carolina's Brunswick Islands include: Summertide Adventure Tours, Lighthouse Water Sports and The Adventure Company.
Not an experienced kayaker? Each Brunswick Island's tour guide is sure to offer unique experiences and itineraries, and only require low to moderate fitness levels and no experience is necessary. Your little travelers will love the tandem kayaks available. The tours last around two hours; prices and scenery vary by location.
Insider Tip: Visit North Carolina's Brunswick Islands during a full moon to experience kayaking tours by moonlight.
Sea Turtle Season
You haven't been to a more diverse vacation spot than North Carolina Brunswick Islands! Spend your days on the golf course, on the beach, shopping, or visit the beaches that are home to loggerhead sea turtles, spectacular creatures that have made their way to the shores of Brunswick Islands!
Bald Head Island, Holden Beach, Sunset Beach, Ocean Isle Beach, Caswell Beach and Oak Island  all run Sea Turtle Protection Programs May through October that monitor and record nesting turtles and hatchlings, and they all welcome the opportunity to educate visitors about the turtles and these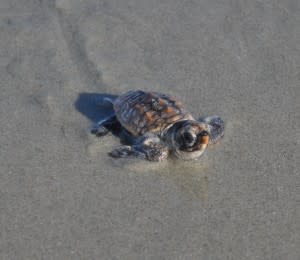 programs.
For centuries, sea turtles have come to our pristine shores to lay their eggs and continue the circle of life. Watching a hatchling, barely larger than a walnut, inch its way to the ocean for the very first time might be one of the greatest sights you'll ever see. You will be able to learn more about the celebrated creatures with a free seminar, tour and information about protecting this mysterious and endangered species by visiting the many sea turtle protection groups in the area.
In Chinese mythology, the sea turtle represents wisdom. Perhaps that's why so many mother turtles come to Brunswick Island's beaches to nest; they know a good place to visit when they see it and you will too!
Insider Tip: The Museum of Coastal Carolina on Ocean Isle is a great coastal primer for children who enjoy dioramas and hands-on experiences including a fabulous sea turtle exhibit!