john Mayer made Atlanta's Peachtree Street shine in his song "Neon," while Katy Perry's hit single "Teenage Dream" highlighted Santa Barbara's beaches, proving that destinations can be muses for musical artists. Now an emerging country artist has showcased beautiful Ocean Isle Beach, North Carolina as the perfect vacation spot with the release of her new single and music video based on the name of the beach house she visited last summer.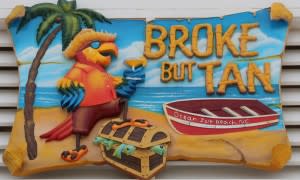 Nashville recording artist Whitney Layne, whose voice is described as "a blend of Bonnie Raitt and Jennifer Nettles," has captured idyllic summer scenes of Ocean Isle Beach, from driving over the bridge and seeing the "Welcome to Ocean Isle Beach" sign, Sunset Slush Italian Ices, Beach Life Resort Wear and Flamingo Row Beach Shop.  Other landmarks featured are Inlet View Marina, Drift Coffee and Kitchen, and Surf Unlimited Surf Shop.
According to Layne, "Last summer I came to Ocean Isle Beach to visit friends who had relocated from Nashville.  Everyone seems to have fun nicknames for their beach houses; the Greens had named theirs 'Broke But Tan.'  As soon as I saw the sign, I said, THAT is a SONG!"
Layne says she loves everything about Ocean Isle Beach, affectionately nicknamed OIB by the locals and those who return often. "The beach is awesome – wide and suited to surfing and stand up paddleboarding, or doing nothing at all," she said.  "And the people are so fun and friendly. I love the inspiration that OIB gives me to write songs. I will sit at the beach or over at Drift with my guitar and a note pad and just soak it all in."
Be sure to catch Whitney Layne's performance at the N.C. Oyster Festival on Ocean Isle Beach, October 18, 2015.
What are the criteria for a great beach town? Location, natural attractions, wide beaches, culture and activities, great restaurants and walkability. Based on these features and more, Ocean Isle Beach should be on everyone's list for a beach vacation. Click here to discover all there is to see and do, from a winery and great restaurants to golf, kids' activities and much more.
Beach rental homes give vacationers a perfect base for exploring, and they come in a variety of sizes and styles in North Carolina's Brunswick Islands. From cozy, one-bedroom condos to lavish, eight-bedroom homes with multiple beds and bunks, there's a perfect rental to accommodate families small or large.  A fun aspect to renting a vacation property is checking out the house names. Property owners often bless their homes with quirky and creative names, displayed on the house on colorful signs. Whether "Isle Be Chillin," "Seas The Day," or "Conch Out," a vacation in Ocean Isle Beach is "A Shore Thing."