With 45 miles of coastline, North Carolina's Brunswick Islands is a prime destination for fishing, whether trying your luck inshore, near shore or out in the Gulf Stream. The area attracts fishermen from across the east coast and around the country who come to the Brunswick Islands in search of their prized catch. Outfitters and tackle shops throughout the islands offer equipment rentals for those traveling to the area or for more novice fishermen looking to get into the sport for the first time. Charter boats are available for half-day and full-day charter trips with options for both group and private excursions to near shore locations and out to the Gulf Stream for a trophy fishing experience. The Brunswick Islands' expert fishing guides are ready to lead skilled fishermen to the top spots, or show beginners the ins and outs of hooking an impressive catch.
We asked a couple of our local fishing experts, Captain Brant McMullan, manager at Ocean Isle Fishing Center, and Captain Cane Faircloth with Ollie Raja Charters out of Holden Beach, to tell us more about their favorite fishing spots and advice for making the most out of a day of fishing in North Carolina's Brunswick Islands.
Why is late summer and fall such a great time for fishing in the Brunswick Islands?
Brant: We have really good Spanish Mackerel and King Mackerel fishing during this time within sight of land. The fish are easy to access, fun to catch and great to eat.
Where is your favorite place to fish in the Brunswick Islands in the late summer and fall?
Cane: Yaupon Reef.
(This is said to be one of the state's most popular artificial reefs and is only 1.5 miles off the coast from Oak Island.)
What can fisherman expect to catch during this season?
Cane: King Mackerel in deep sea locations, and Flounder, Trout and Red Drum at inshore locations.
Why is the Brunswick Islands such a prime fishing destination?
Brant: We have a large variety of fishing options from the Gulf Stream (50-60 miles off the coast) right to the inshore marshes.
Cane: The three rivers that run out of the area, the Cape Fear, Shallotte and Lockwood Rivers, are great food sources, as they are nutrient-rich.
What makes for a perfect day on the water for ocean fishing?
Brant: Providing people who truly appreciate the fishing experience with a good day fishing, having good conversation and providing a memorable experience.
Cane: Light to variable wind, 83-degree air temperature, and 70-degree water temperature.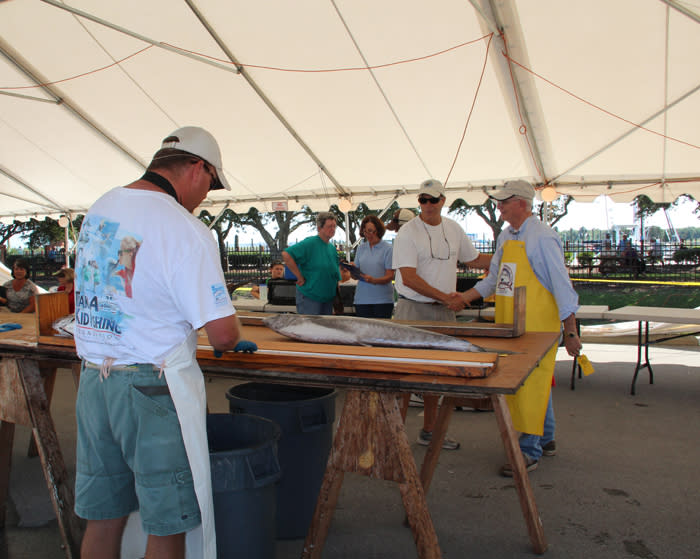 Don't miss the U.S. Open King Mackerel Tournament, October 5-7, 2017 at the Southport Marina. A great event for both participants and spectators, the U.S. Open King Mackerel Tournament started over 35 years ago to highlight the amazing fall fishing opportunities in the waters around Southport and Oak Island. One of the largest kingfish tournaments on the East Coast, more than 400 boats enter the tournament each year. Fishermen looking to try out their skills for the grand prize of $25,000 are encouraged to register online before October 3. Spectators are welcome and encouraged to watch as the fishermen bring in their catches to be measured at the end of each tournament day. See www.ncbrunswick.com/events for information on additional fishing tournaments in the area.
Visit www.ncbrunswick.com/fun_and_adventure/fishing_and_charters to begin planning your fishing excursion in North Carolina's Brunswick Islands. You can also find out more about saltwater fishing permits at www.ncdmf.net.