After a day of salt and sun, kick back and sip on a taste of North Carolina's Brunswick Islands at the area's local winery and brewery! The award-winning Silver Coast Winery and Check Six Brewing Company create beverages that are sure to please any palate, including those of wine and beer connoisseurs. Both the winery and brewery are owned by local residents who take pride in their craft, so be sure to stop by on your next visit to the Brunswick Islands.
Silver Coast Winery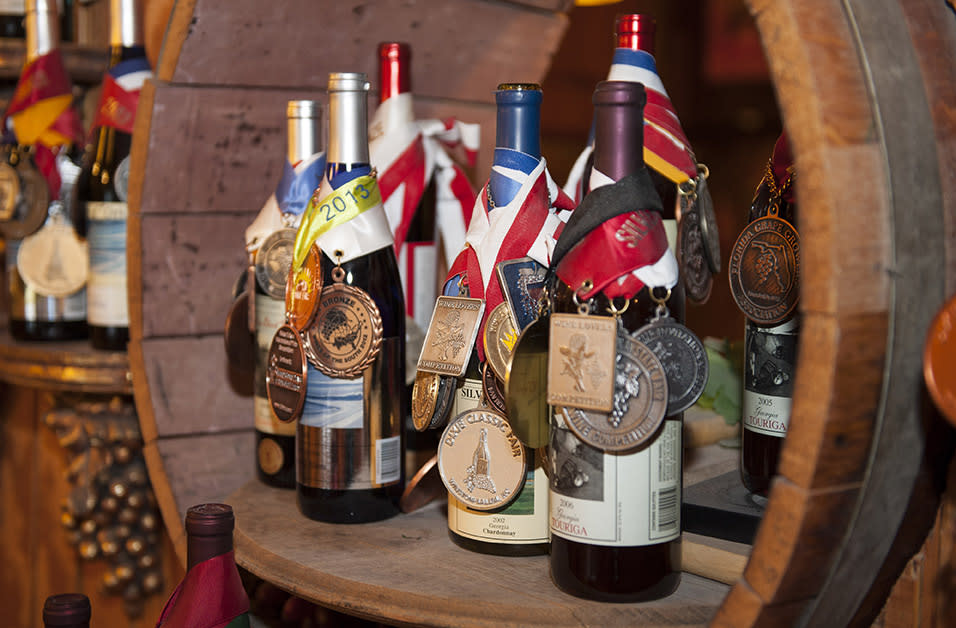 Ocean Isle Beach is home to North Carolina's Brunswick Islands' first winery, Silver Coast. Charming and eclectic, Silver Coast Winery encompasses the relaxed and ultimately unique ambiance of the Brunswick Islands. Owner Maryann Azzato's passion for wine started at an early age. She spent her youth watching her father make wine, and dreamed of one day opening a winery of her own. Azzato's childhood dreams came true in 2000, when her husband and three children gifted her a lovely eight-acre woodland property for Mother's Day. In 2002, Silver Coast opened to the public. Silver Coast wines are modeled after traditional, European styles, but also feature hybrid grapes to create their signature Seyval Blanc and Traminette. The winery has received over 300 regional, national, and international awards and accolades for its white, blush and red wines, each adorned with labels displaying pieces of art from local Brunswick Island artists, including its Cabernet, Chardonnay Touriga, White Merlot and Viognier. With such an array of wine varietals, there is a wine that perfectly pairs with each visitor's palate.
The delicious collection of wines is only one aspect of what makes a visit to Silver Coast a one-of-a-kind experience. Visitors are greeted by an eccentric display of local art adorning the walls of the winery. Silver Coast's Barrel Room is a festive, cavernous space that features an indoor waterfall, wooden folk-art figures, glazed ceramics, handcrafted jewelry, oil paintings, and a collection of psychedelic dog portraits. While the winery offers traditional cheese pairing plates to accompany wine flights, visitors who prefer something out of the ordinary can also request animal crackers and cheese doodles.
Silver Coast Winery is available for weddings and other events. Be sure to swing by Silver Coast and check out The Purple Feet Festival on November 5, 2017 from 12:00-5:00 p.m.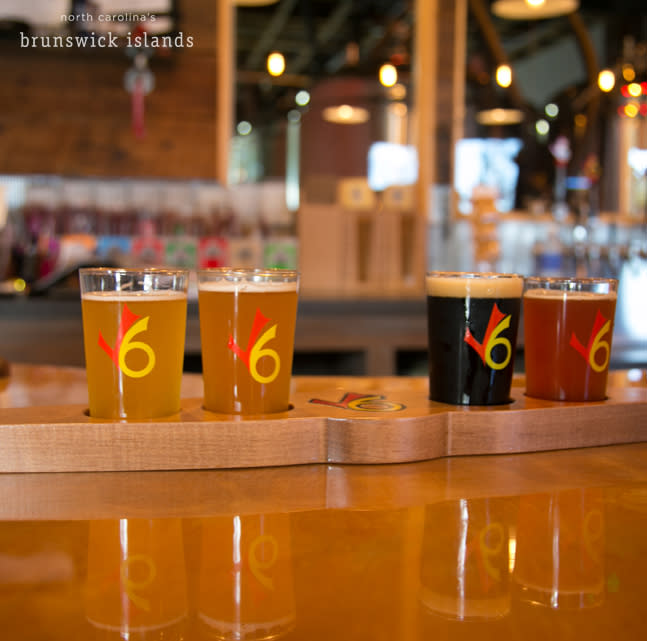 Check Six Brewing Company
Venture to Southport to continue your libation outing through North Carolina's Brunswick Islands. Southport is home to The Brunswick Islands' first brewery, Check Six Brewing Company. Tim Hassel and Noah Goldman opened this family owned and operated brewery in 2015. Check Six is a phrase used by fighter pilots to indicate the need to look behind you for enemy aircraft during flight. The Army, Navy and Coast Guard use the phrase "I've got your six" to indicate their backup. Hassel and Goldman chose this name to show visitors that they have all guests' refreshment needs covered.
The brewery features 10-12 of Check Six's own craft beers on tap, and offers an array of varieties to please every beer aficionado's taste preferences, ranging from blonde ales to stouts and IPAs. All labels coincide with the aviation theme, and each brew celebrates America's rich fighter pilot history. Be sure to check out the Curtiss Jenny Brown Ale. This more hoppy American interpretation of Northern English Brown Ales is named after the very popular American trainer that ninety-five percent of allied pilots learned to fly in WWI. This medium body malty and rich ale has a slightly nutty, toffee-like quality, with hints of chocolate, and a fresh dry-hoped aroma that perfectly complements a long day of fun in the sun.
Check Six hosts many events and weeknight entertainment options; stop by on Thursday nights for Weekly Trivia Night or Fridays for Karaoke.
Coming Soon
North Carolina's Brunswick Islands is also excited to announce that the area's second brewery, Georgia-based Red Hare Brewing Company, is opening a location in Shallotte in 2018.
To learn more about local libations in North Carolina's Brunswick Islands, and to plan your trip, visit www.NCBrunswick.com.
You can follow the North Carolina's Brunswick Islands on social media at https://www.facebook.com/NCBrunswick/ and https://www.instagram.com/ncbrunswickislands/.